WSD is partnering up with the Mattawa Community Medical Clinic to host a COVID-19c Vaccination Clinic.
The vaccine clinic will be at the Wahluke High School Commons.
• Tuesday, June 8th
• Thursday, June 10th
From 3:30 PM - 5:30 PM
– No appointment is necessary.
– Parents or guardians will need to be available for consent for students younger than 18.
Also, visit our page below to view the Pfizer-BioNTECH COVID-19 Vaccine fact sheet. Information is available in English and Spanish.
Thank you, and if you have questions, please send us a message on ParentSquare or email us at infomration@wahkuke.net or call your student's office building.
---
Clínica de Vacunación COVID-19 en WSD
WSD se está asociando con la Clínica Médica Comunitaria de Mattawa para albergar una Clínica de Vacunación COVID-19c.
La clínica de vacunas estará en Wahluke High School Commons.
• Martes 8 de junio
• Jueves 10 de junio
De 3:30 PM a 5:30 PM
- No es necesaria cita previa.
- Los padres o tutores deberán estar disponibles para el consentimiento de los estudiantes menores de 18 años.
Además, visite nuestra página a continuación para ver la hoja de datos de la vacuna Pfizer-BioNTECH COVID-19. La información está disponible en inglés y español.
Gracias, y si tiene preguntas, envíenos un mensaje a ParentSquare o envíenos un correo electrónico a infomration@wahkuke.net o llame a la oficina de su estudiante.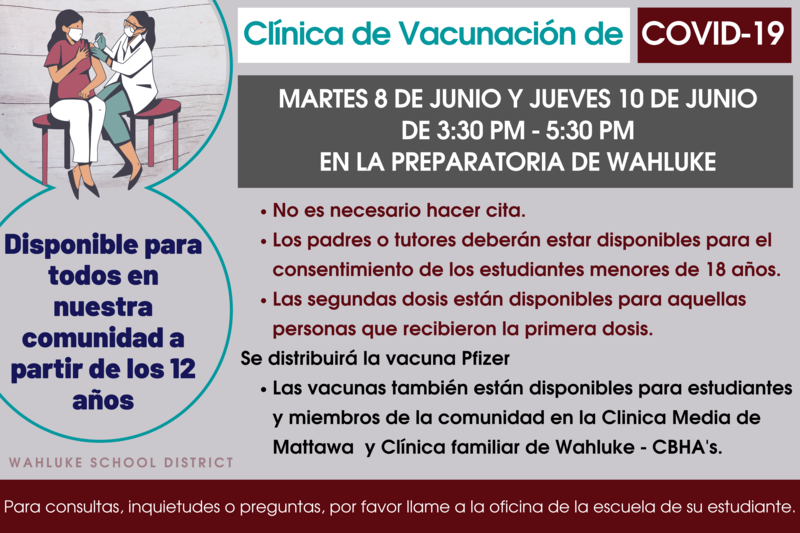 Fact sheet for Recipients: Pfizer-BioNTECH COVID-19 Vaccine
Hoja informativa para destinatarios: vacuna Pfizer-BioNTECH COVID-19