Sports Opportunities for Students! 👟🏃🏽‍♂️🏃🏻‍♀️👟 ➡️ Track & Field for Kinder through 6th Grade Students ➡️➡️ Starting September 7th through September 30th, ➡️ Practice will be after school from 3:15 - 4:15 PM ⏺ Flyer will be sent home with students to sign up. Or Contact Coach Joel Dugan. _________________ ➡️ Track & Field para estudiantes de kínder a sexto grado ➡️➡️ A partir del 7 de septiembre hasta el 30 de septiembre ➡️ Las prácticas será después de la escuela de 3:15 a 4:15 p.m. ⏺ Se enviará folletos a casa con los estudiantes para que se registren. O comuníquese con el entrenador Joel Dugan.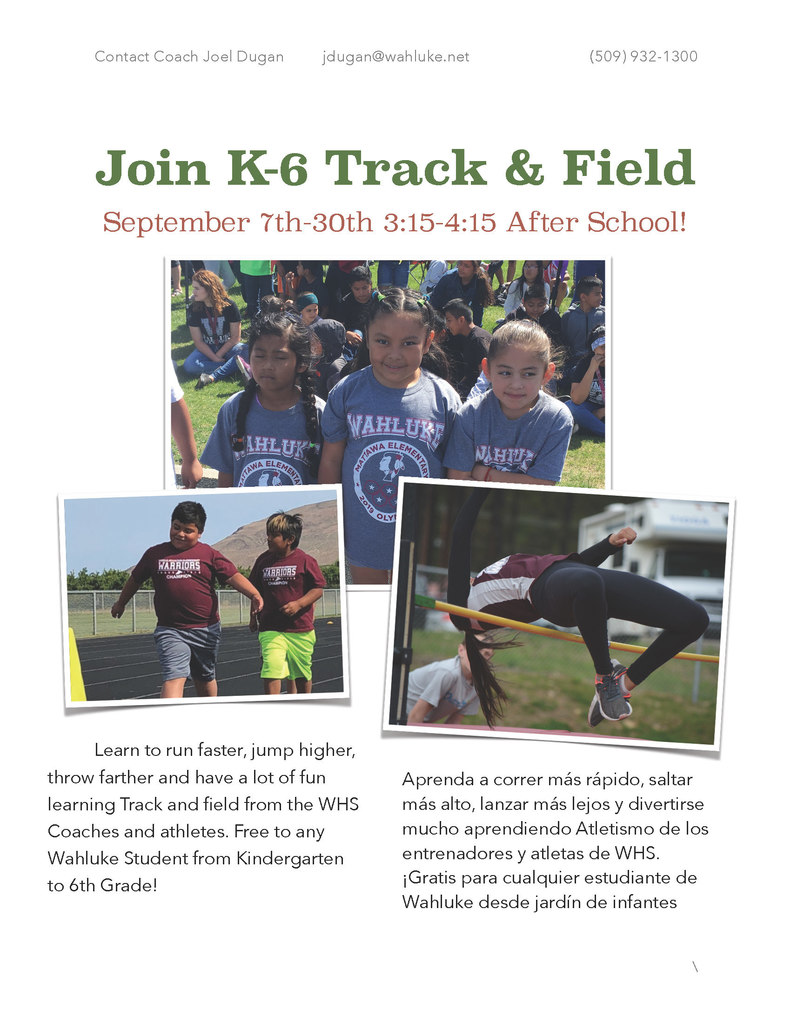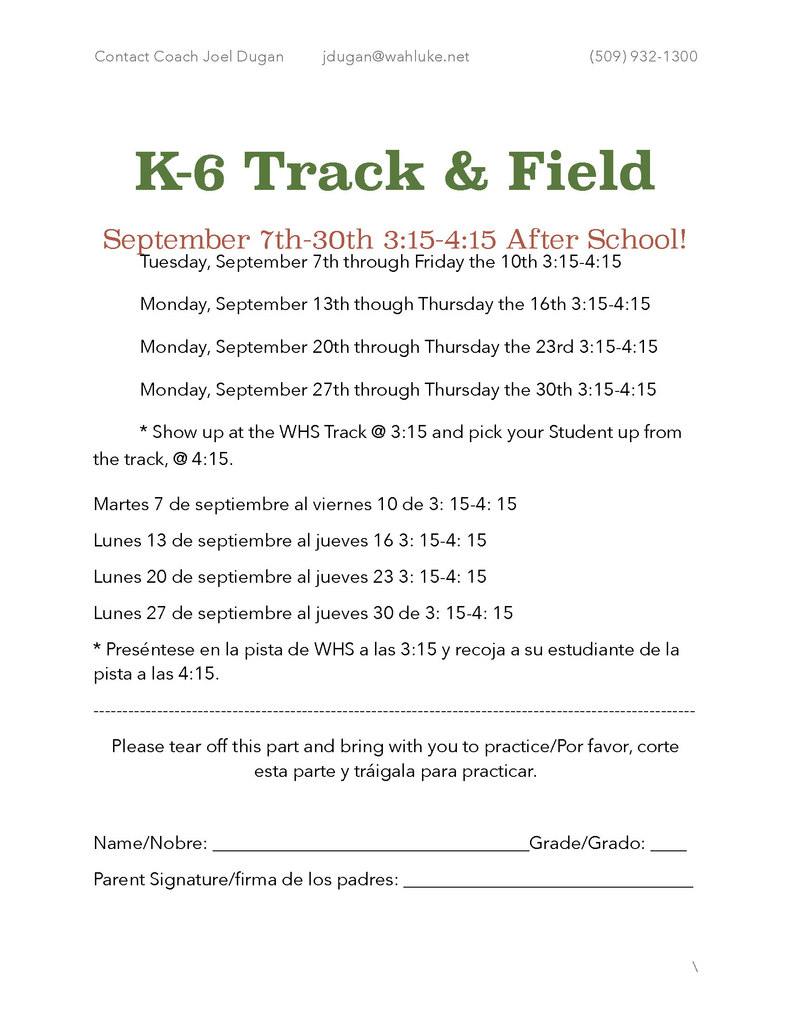 Wahluke Junior High wants to welcome our 7th and 8th Grade students! Check out the flyers below for more information. ___ ¡Wahluke Junior High quiere dar la bienvenida a nuestros estudiantes de 7º y 8º grado! Consulte los folletos a continuación para obtener más información.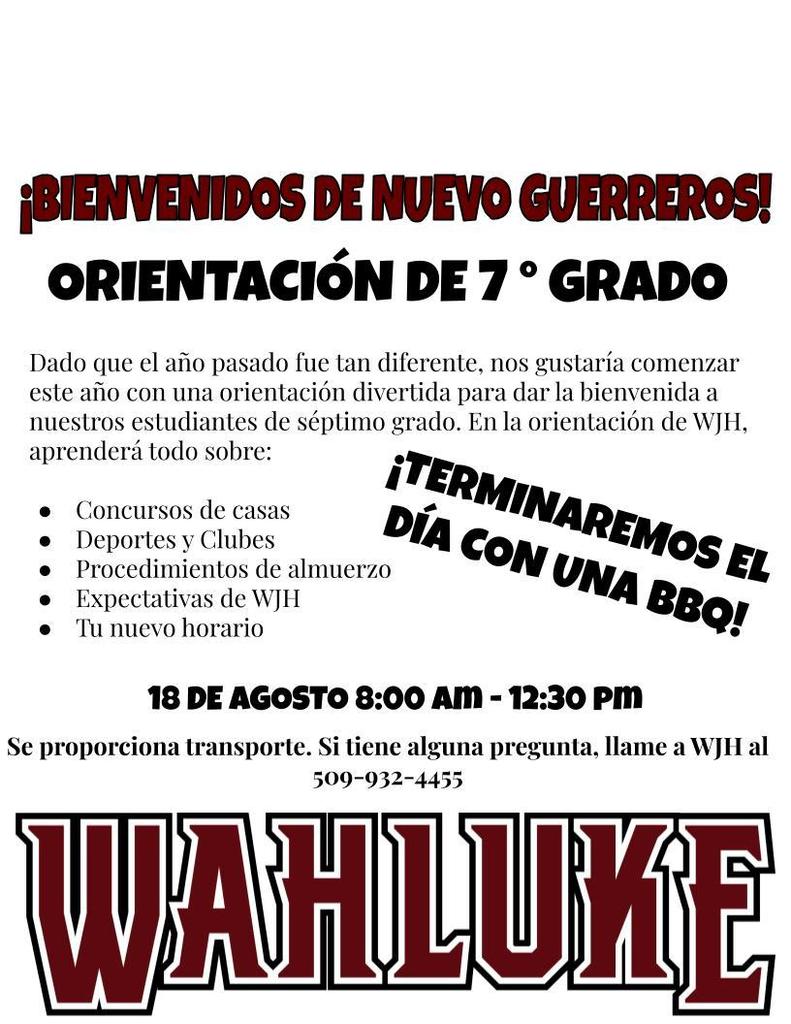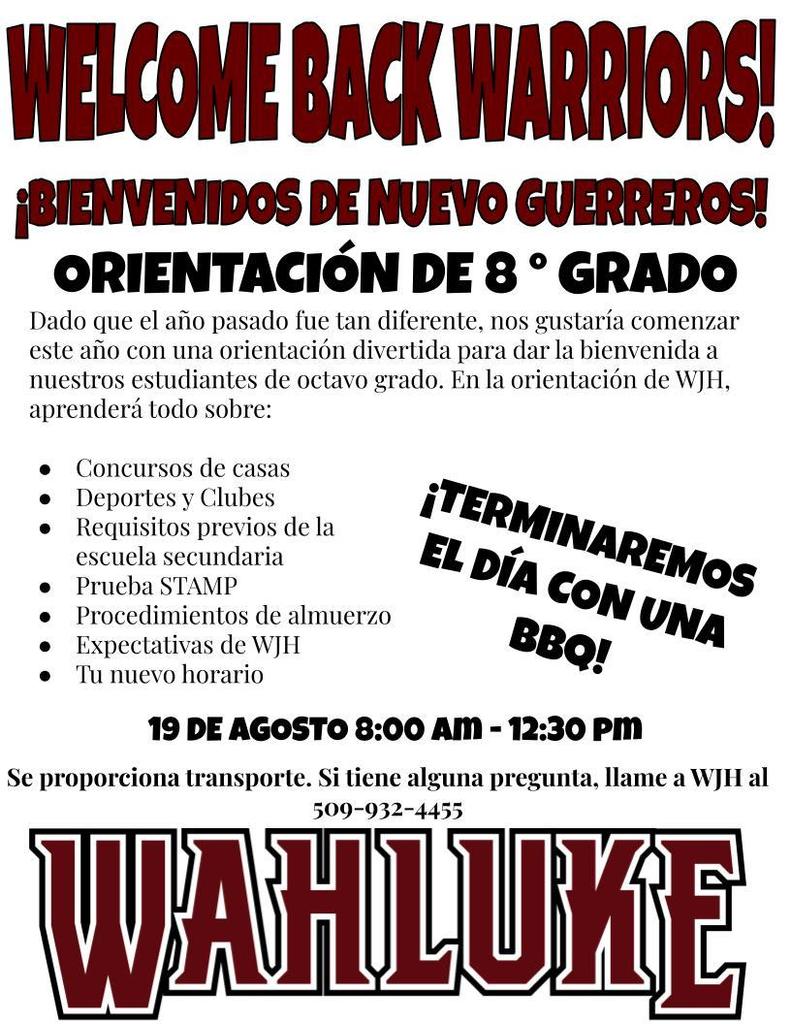 Wahluke Junior High would like to recognize Mrs.Kiesel-Nield for her dedication as an educator for the past 40 plus years. Thank you for being a great music and band teacher. You have inspired many students, and have helped them become better musicians! Congratulations and best wishes on this new phase in your life! 🎼🎶🎼🎶🎼🎶🎼🎶🎼🎶🎼🎶 Wahluke Junior High quisiera reconocer a la señora Kiesel-Nield por su dedicación como educadora durante los últimos 40 años o más. Gracias por ser un grana maestra de música y banda. ¡Has inspirado a muchos estudiantes y los has ayudado a convertirse en mejores músicos! ¡Felicitaciones y mejores deseos en esta nueva etapa de su vida!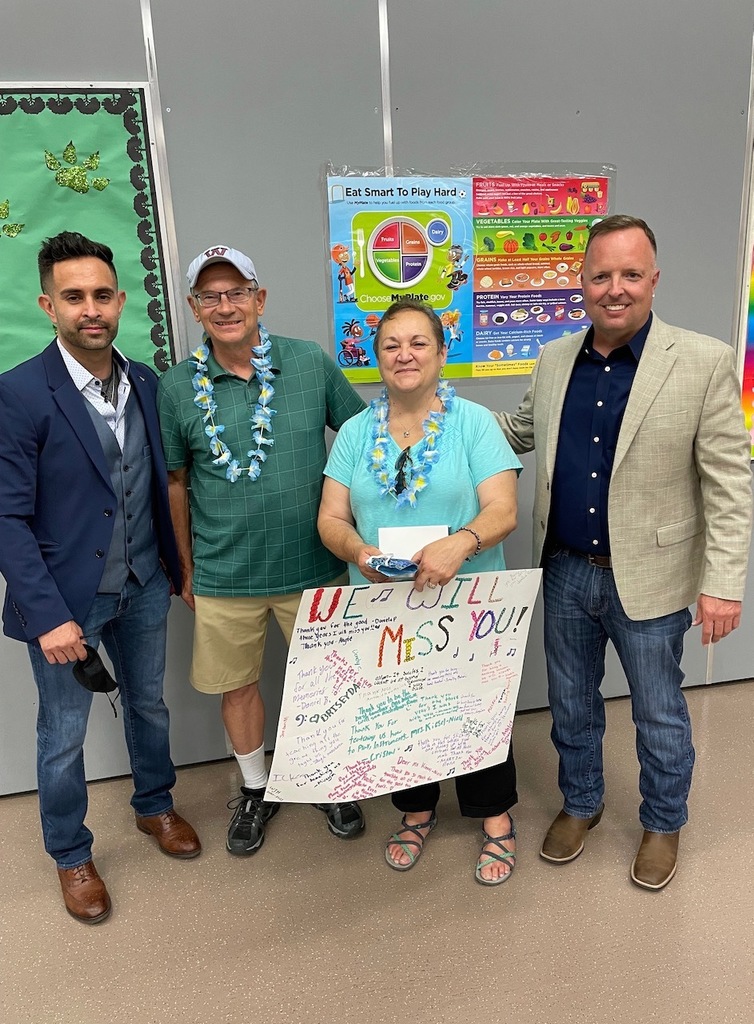 A small recap of the Wahluke Junior High Band Concert! They did an amazing job and were able to share this experience with some special guests. 🎼🎶🎼🎶🎼🎶🎼🎶 ¡Un pequeño resumen del concierto de banda de Wahluke Junior High! Hicieron un trabajo increíble y pudieron compartir esta experiencia con algunos invitados especiales.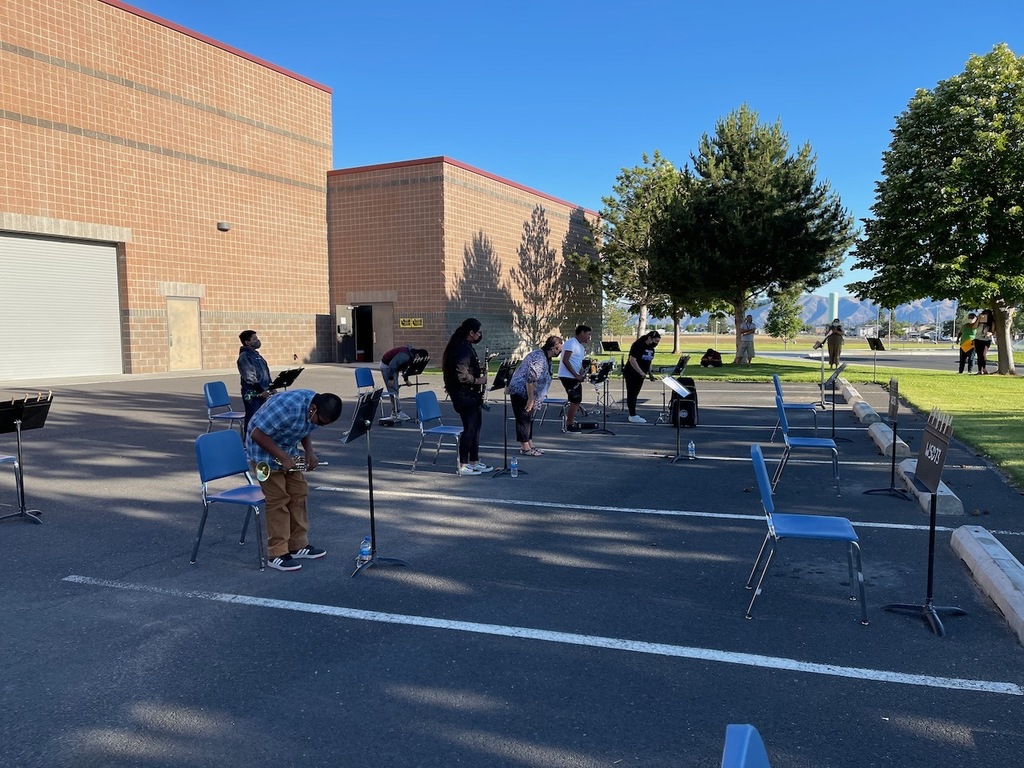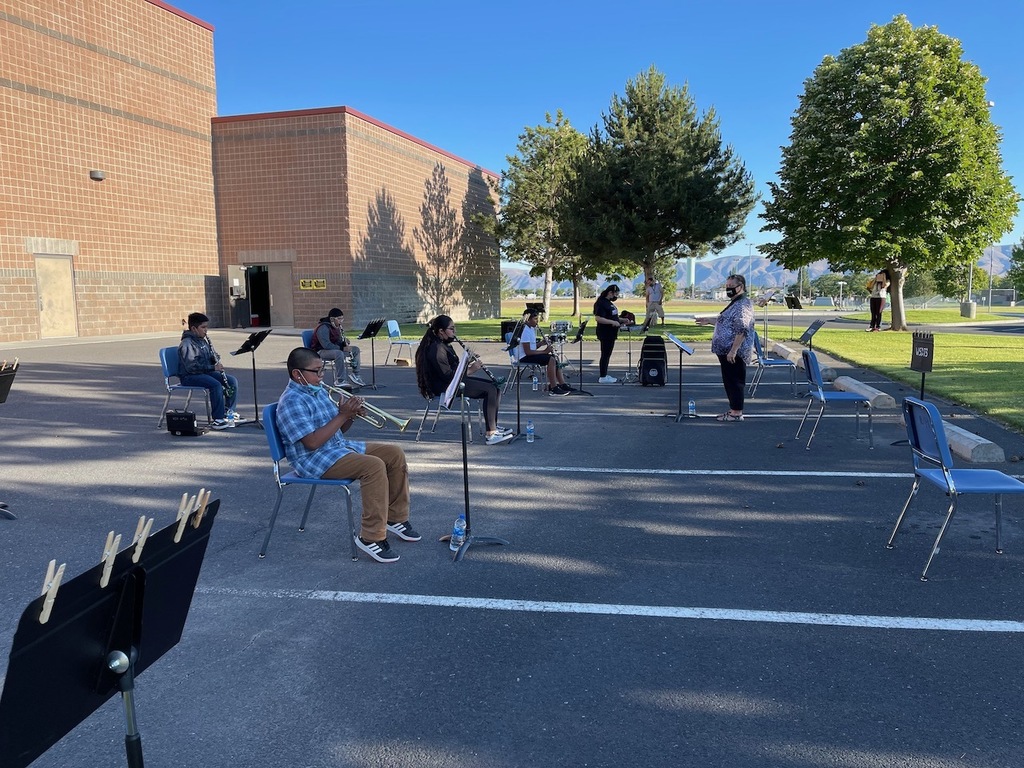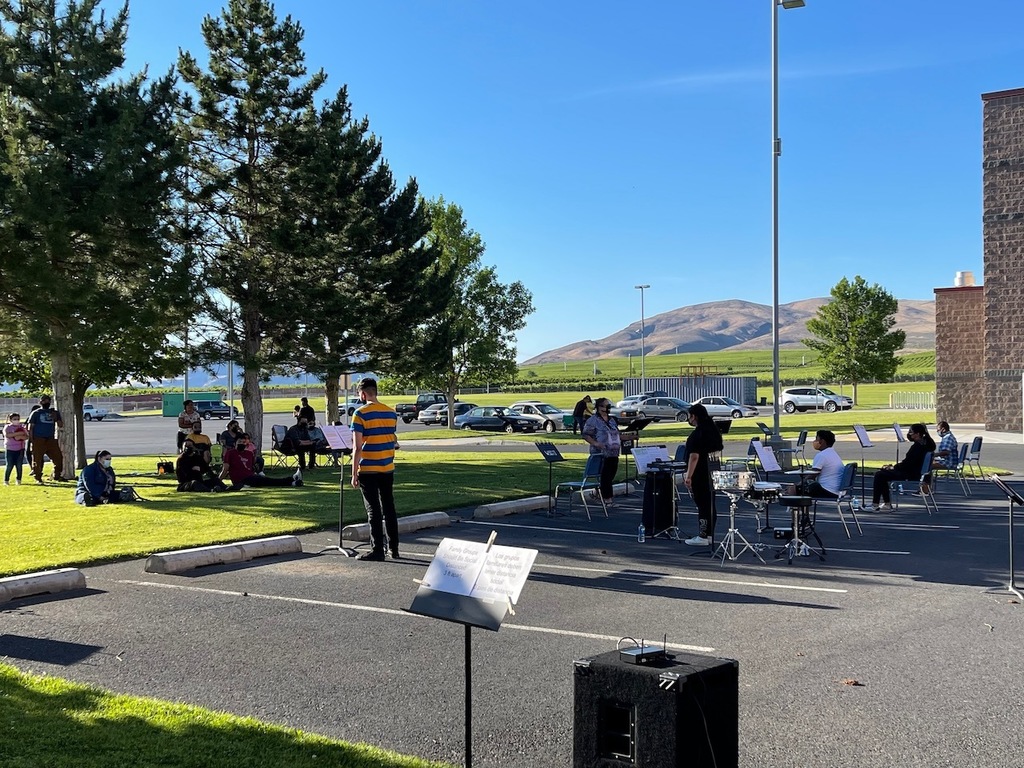 Attention incoming 6th-grade students!! Wahluke Junior High would like to invite you all to their 6th GRADE JUMPSTART CAMP! Check out the flyer below for more information and details. ☀️🍉🏕☀️🍉🏕☀️🍉🏕☀️🍉🏕 ¡¡Atención estudiantes entrantes de 6º grado !! ¡Wahluke Junior High quisiera invitarlos a todos a su CAMPAMENTO JUMPSTART DE 6º GRADO! Consulte el folleto a continuación para obtener más información y detalles.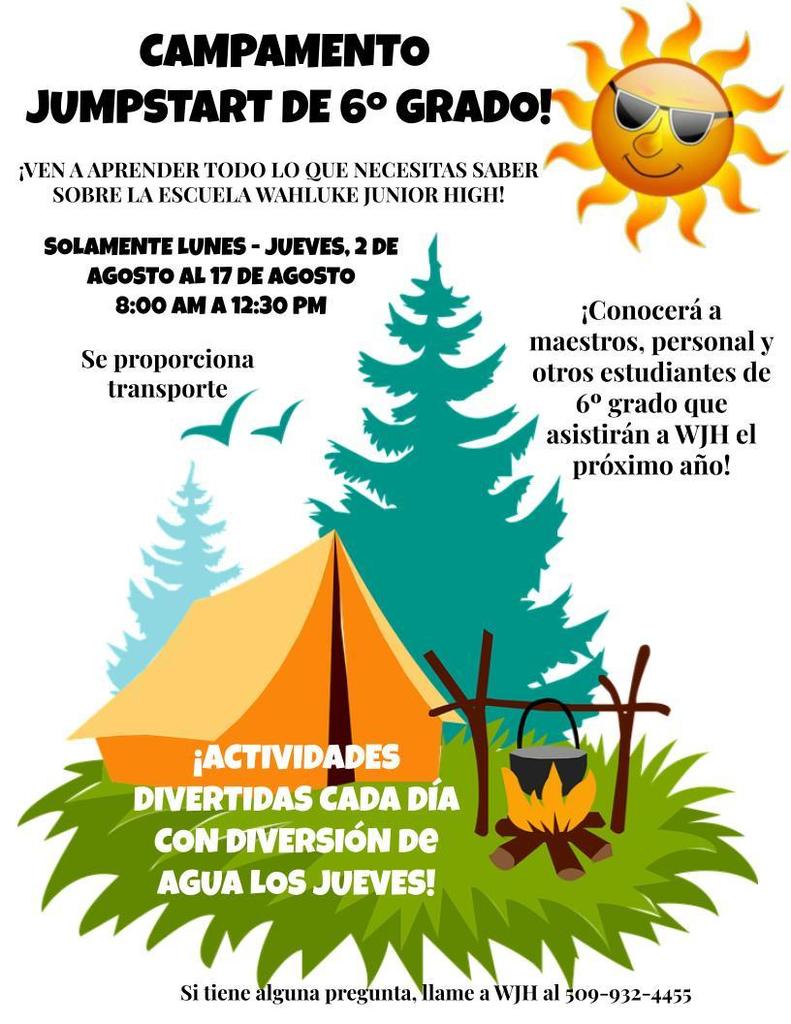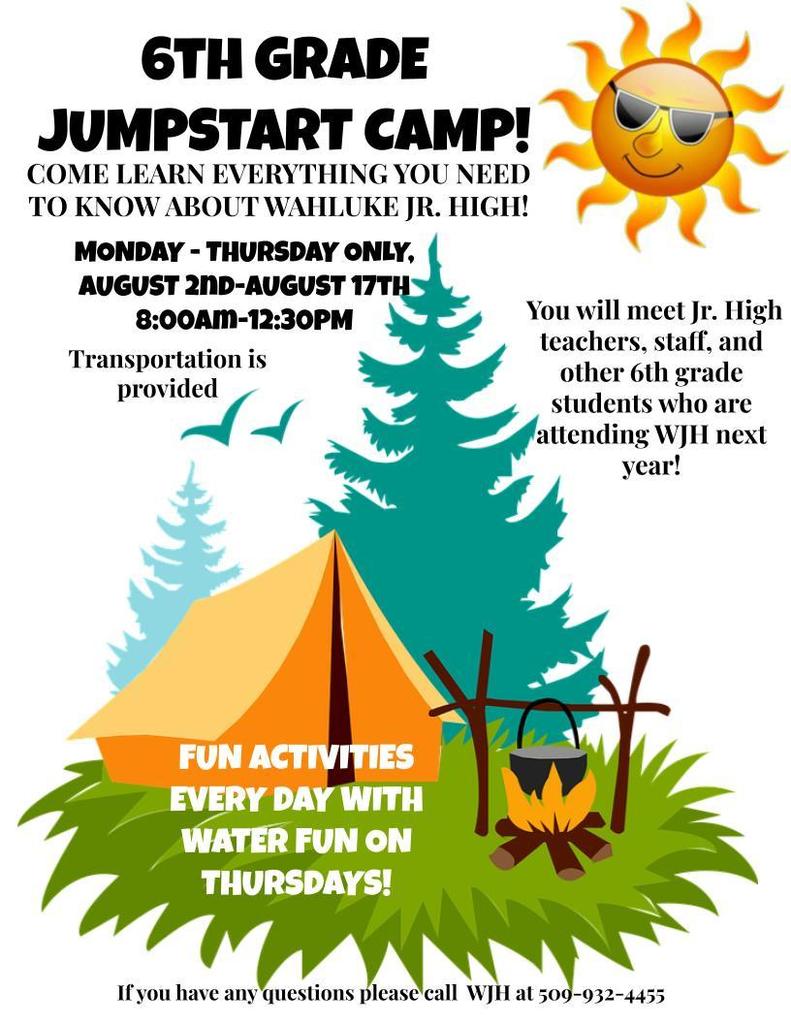 STEP UP Day is soon approaching for current 8th-grade students who will be Freshmen (students in 9th grade) for the 2021-2022 school year. The Wahluke Gear Up Team has fun activities planned and resources for students to be successful as they transition to High School. 🎓📚🗣🎉🗣🎓☀️🎉 El día STEP UP (subir arriba) se acerca pronto para los estudiantes actuales de octavo grado que serán Freshmen (estudiantes de noveno grado) para el año escolar 2021-2022. El equipo de preparación de Wahluke tiene actividades divertidas planificadas y recursos para que los estudiantes tengan éxito en su transición a la escuela secundaria.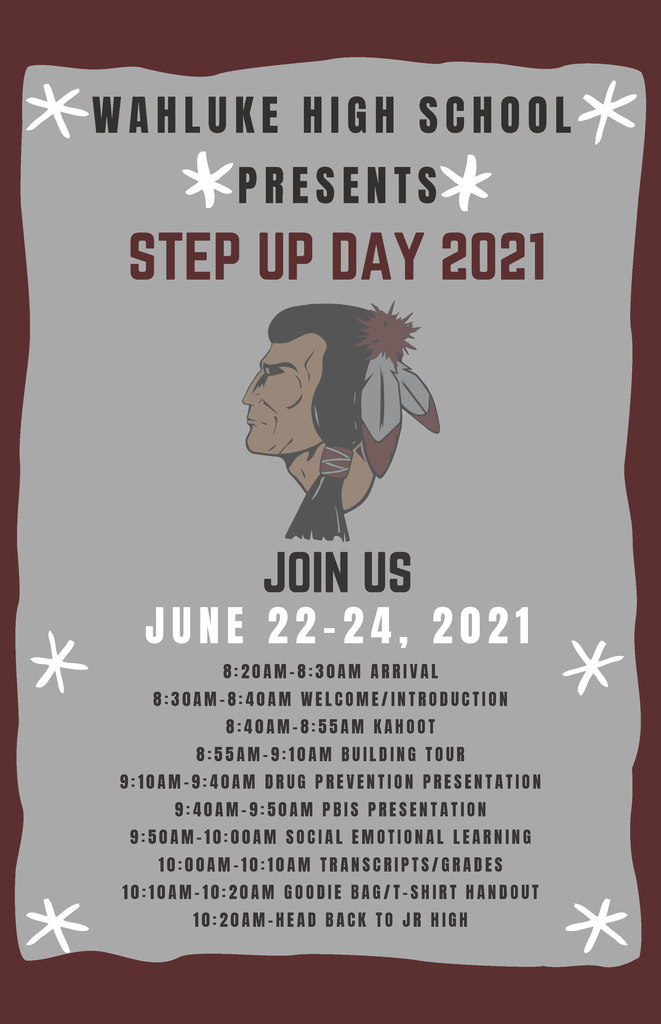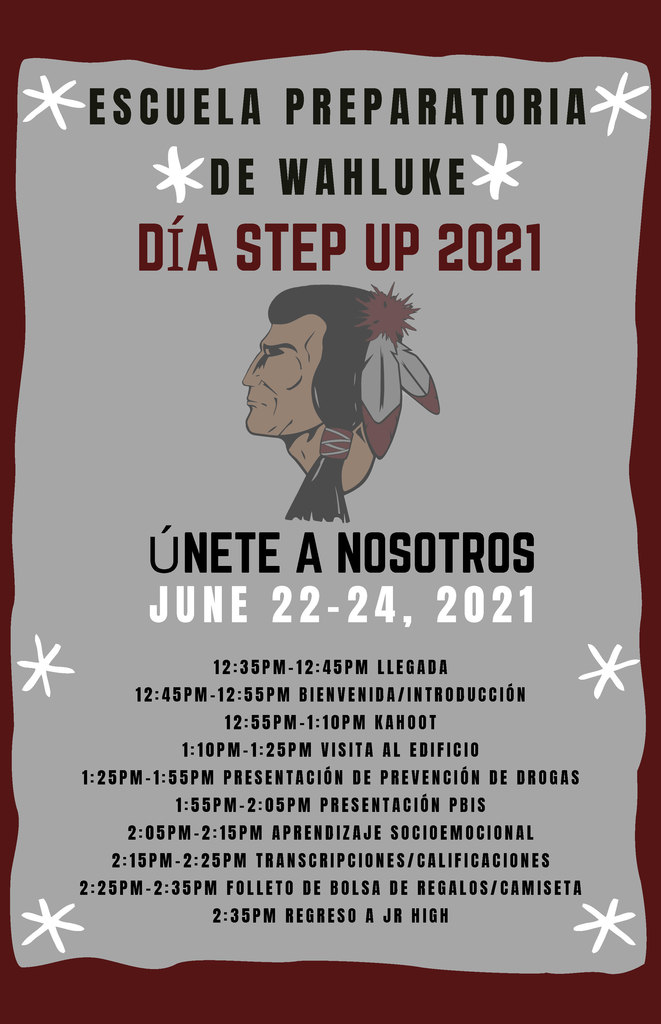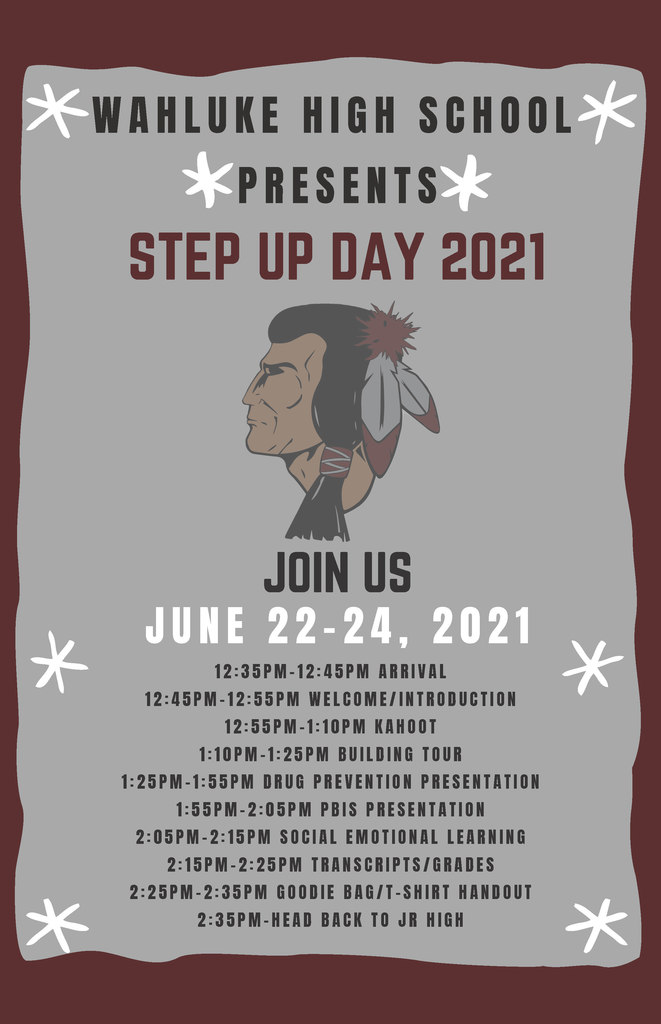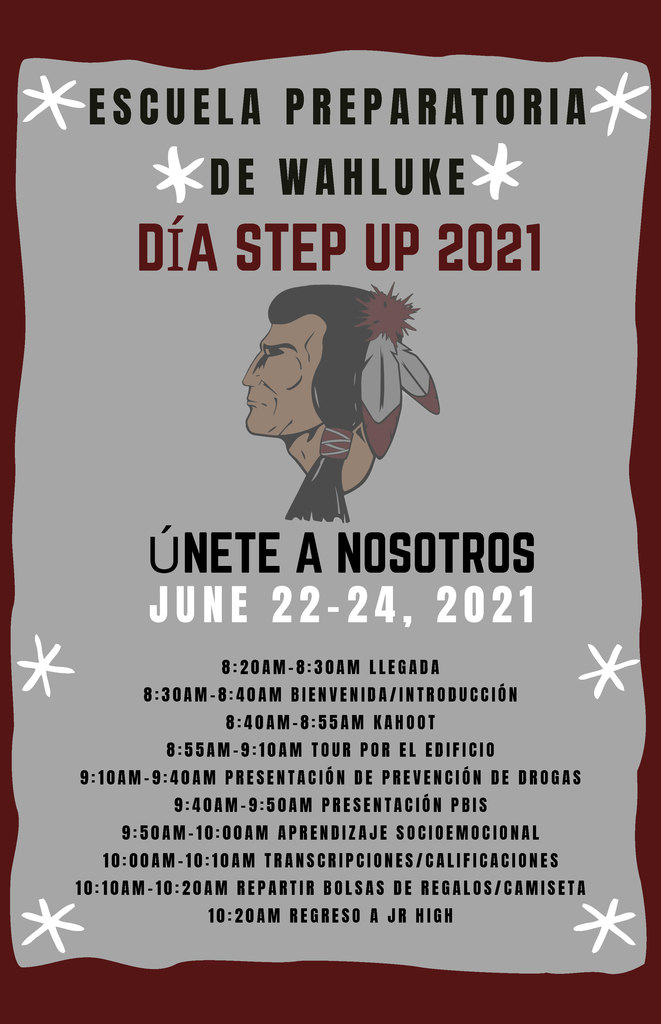 Congratulations to Dayra Ruiz, for competing in the Washington FFA Association Spanish Creed public speaking event. Dayra Ruiz attends WJH and is in 8th grade. She was awarded SECOND IN STATE for completing and reciting the FFA Spanish Creed! She also performed the President role of the FFA Opening Ceremonies in Spanish this year at Session 2 of the Washington FFA State Convention. Ken Hardiman is her FFA Advisor and WJH and WSD are excited to see all the work the FFA Club is doing. Felicitaciones a Dayra Ruiz, por competir en el evento de oratoria en español de la Asociación FFA de Washington. Dayra Ruiz asiste a WJH y está en octavo grado. ¡Fue premiada SEGUNDA EN EL ESTADO por completar y recitar el Credo en español de el club/organización FFA! También desempeñó el papel de Presidenta de las Ceremonias de Apertura de la FFA en español este año en la Sesión 2 de la Convención Estatal de la FFA en Washington. Ken Hardiman es su asesor de la FFA y WJH y WSD están emocionados de ver todo el trabajo que está haciendo el Club FFA.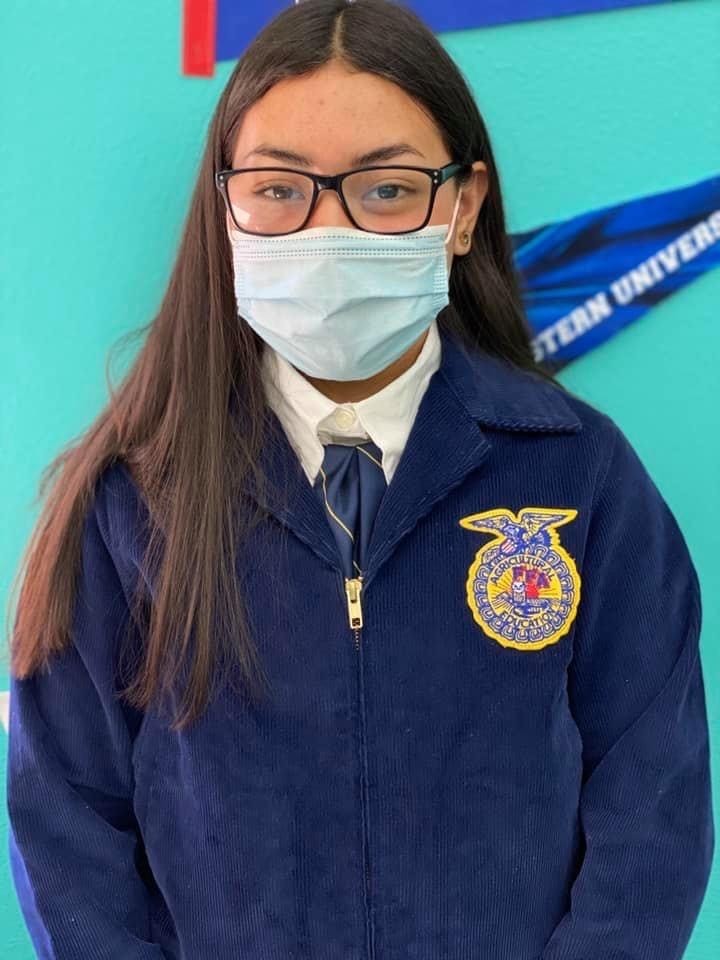 📷📷📷📷Picture Retake day is on Friday, May 21st. Spring Sports picture day is also Friday May 21st from 3:00pm to 5:00pm.📸📸📸 📸📸📸📸El día de fotos si no se las tomaron la primera ves, es el Viernes 21 de mayo. El día de fotos de deportes de primavera también es el viernes 21 de mayo de 3:00 p.m. a 5:00 p.m.📸📸📸📸
⚽⚽"Update!" The 7th grade game on Monday, May 17th has been cancelled do to player ineligibility do to grades. The 8th grade will now play at 4:00 pm. Please come out and support our Junior High student athletes. ⚽⚽ ⚽⚽ "¡Actualizar!" El juego de séptimo grado el lunes 17 de mayo ha sido cancelado debido a la inelegibilidad del jugador debido a los grados. El octavo grado jugará ahora a las 4:00 pm. Por favor venga y apoye a nuestros estudiantes atletas de secundaria. ⚽⚽
⚽⚽Boys Soccer vs Royal on Monday, May 17th. The 7th grade will play at 4:00pm and the 8th grade will play at 5:00 pm⚽⚽ Please come out and support our Junior High student athletes. ⚽⚽Futbol vs Royal el Lunes 17 de Mayo. El séptimo grado jugará a las 4:00 pm y el octavo grado jugará a las 5:00 pm⚽⚽ Por favor, venga y apoye a nuestros equipos de la secundaria.

TODAY IS PICTURE DAY! Information was sent out with students on Tuesday and flyers were posted in our building three weeks ago. 📸📸📸📸📸📸📸 ¡HOY ES EL DÍA DE FOTOS! Se envió información con los estudiantes el martes y se colocaron folletos en nuestro edificio hace tres semanas.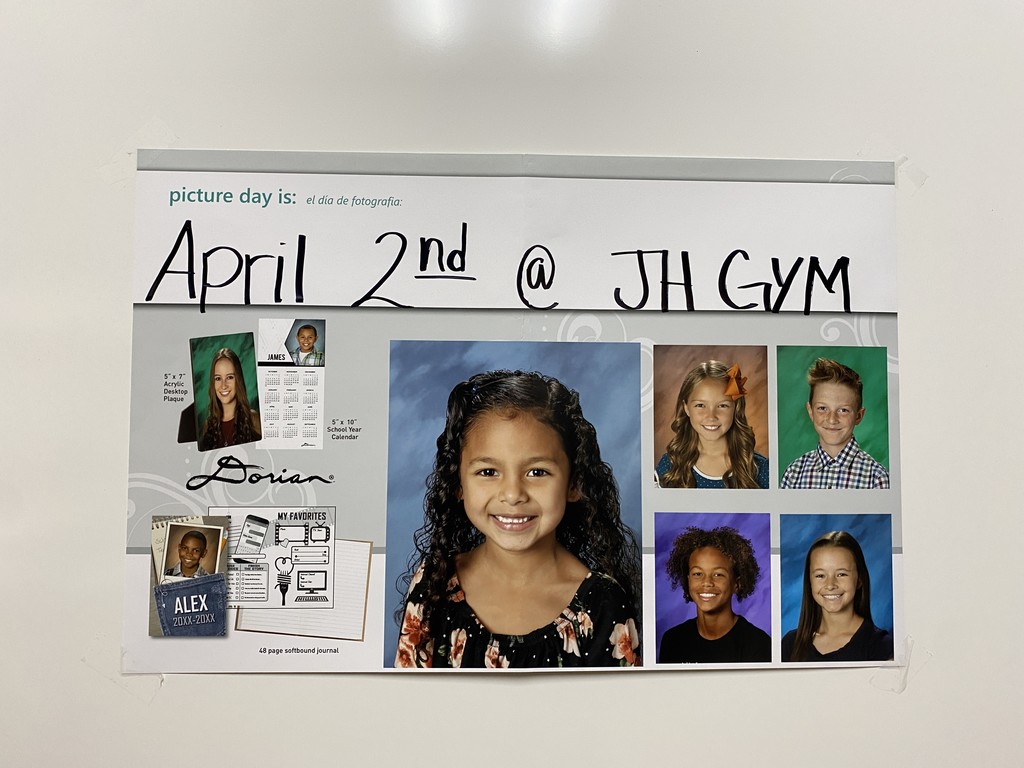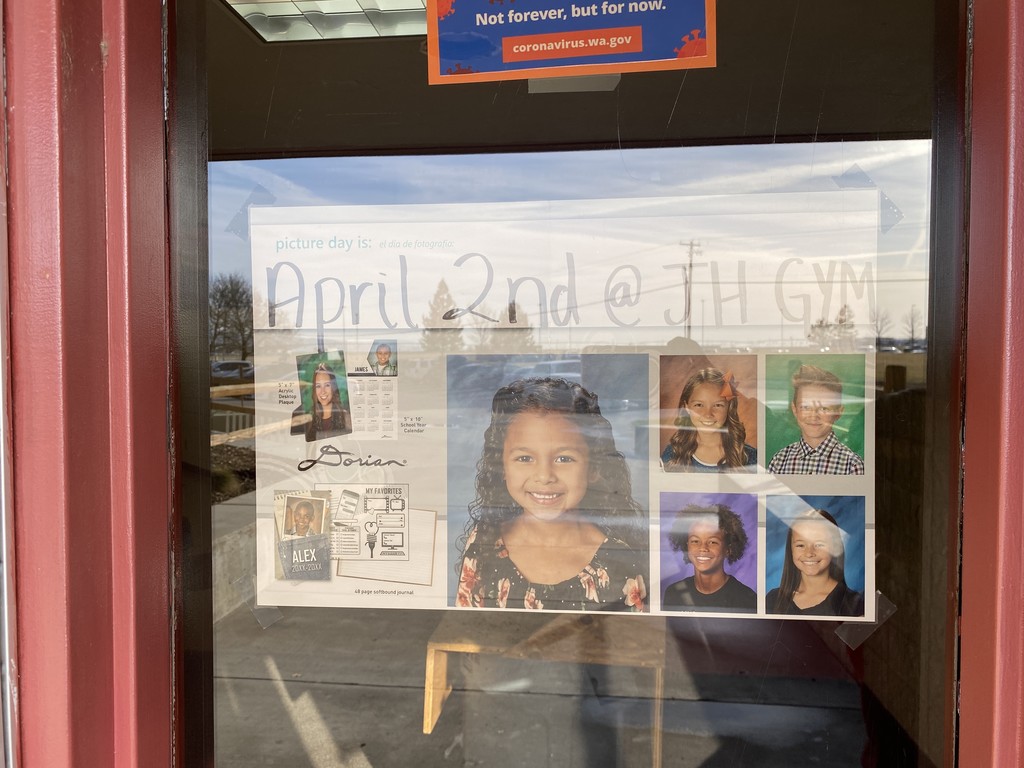 A bit of green 🍀🍃 🌱to end the month of March. Check out these new plants at the WJH greenhouse. Un poco de verde 🍀🍃 🌱 para terminar el mes de marzo. Vea estas nuevas plantas en el invernadero de WJH.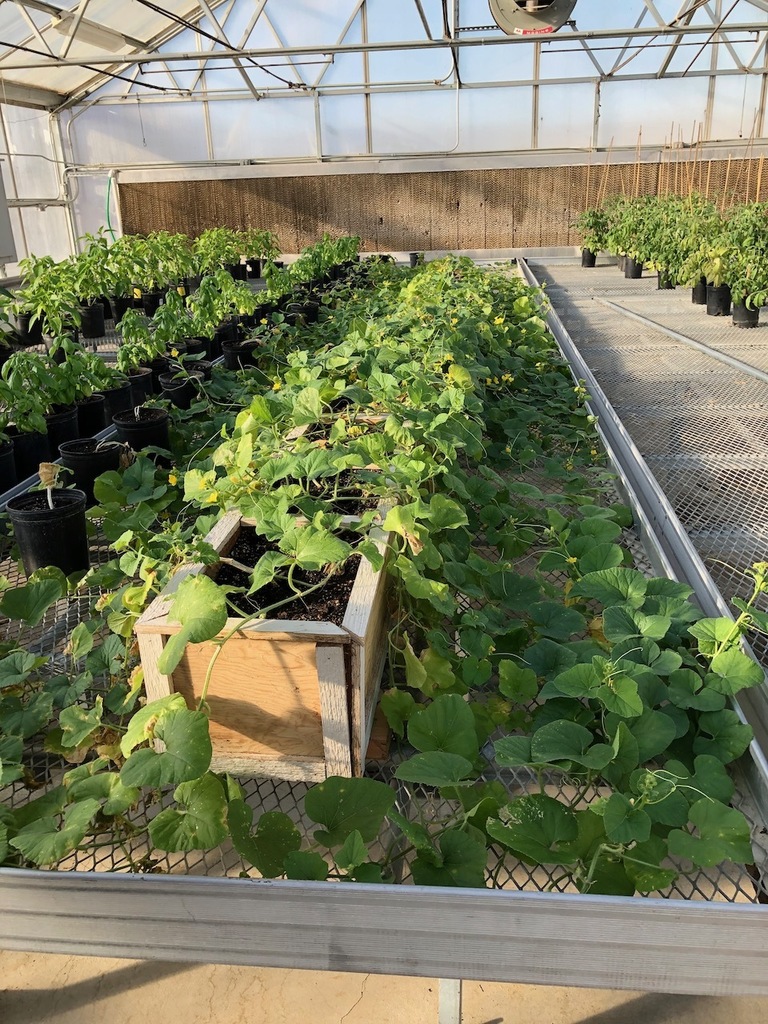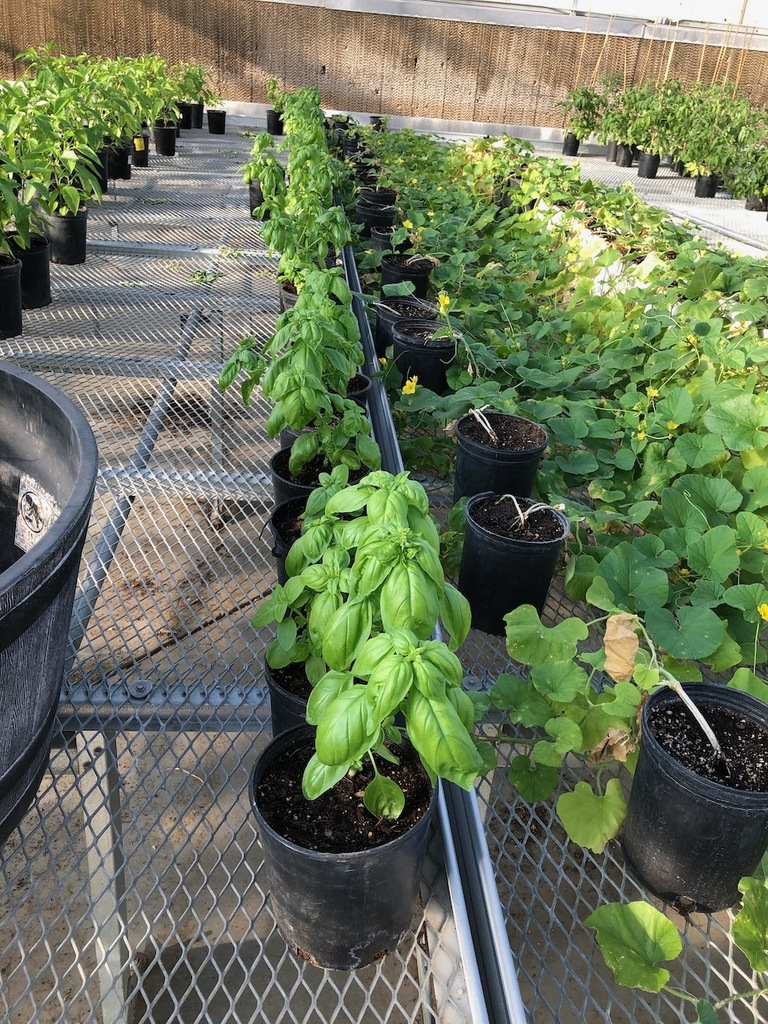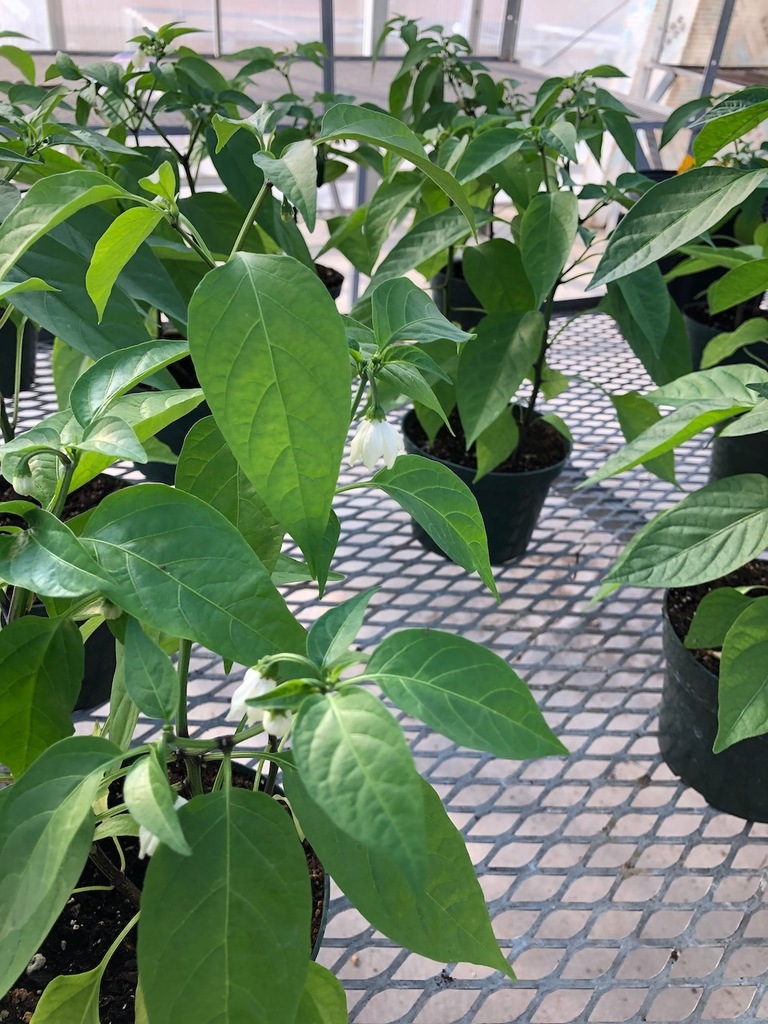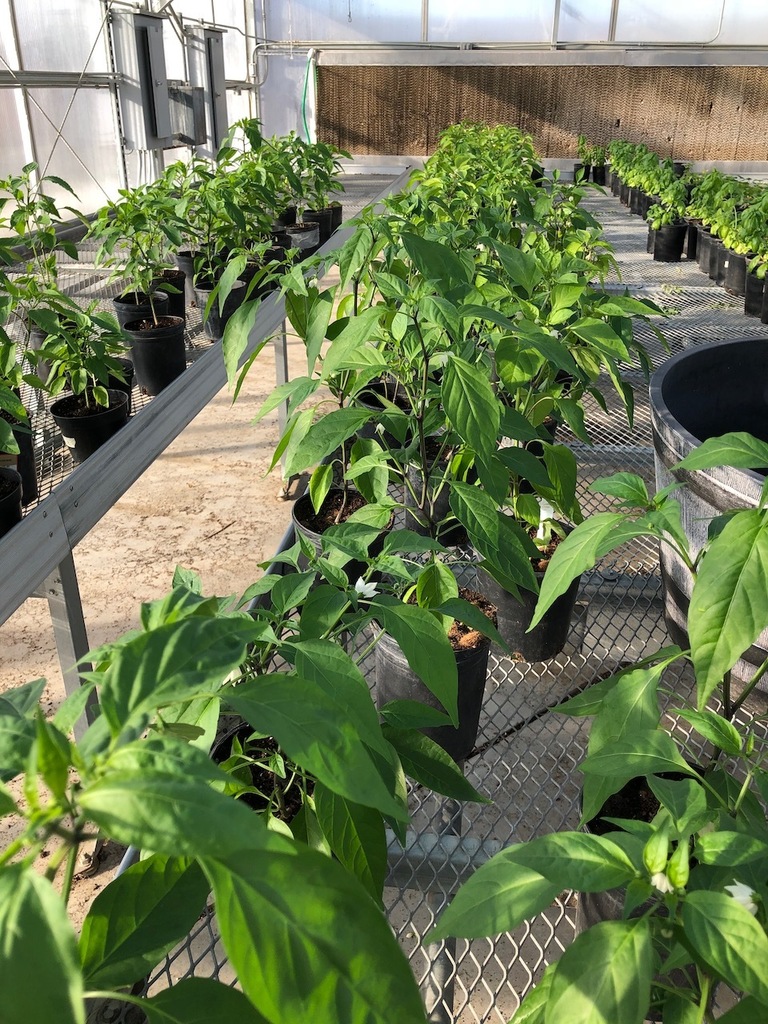 Dayra Ruiz had a dress rehearsal for Wahluke Junior High FFA "Spanish Creed." She will compete with Quincy's FFA club at a letter date! Congratulations and good luck Dayra Ruiz! Dayra Ruiz tuvo un ensayo general para el "Credo en Español" de el club FFA de Wahluke Junior High. ¡Competirá con el club FFA de Quincy en una fecha mas adelante! ¡Felicidades y mucha suerte Dayra Ruiz!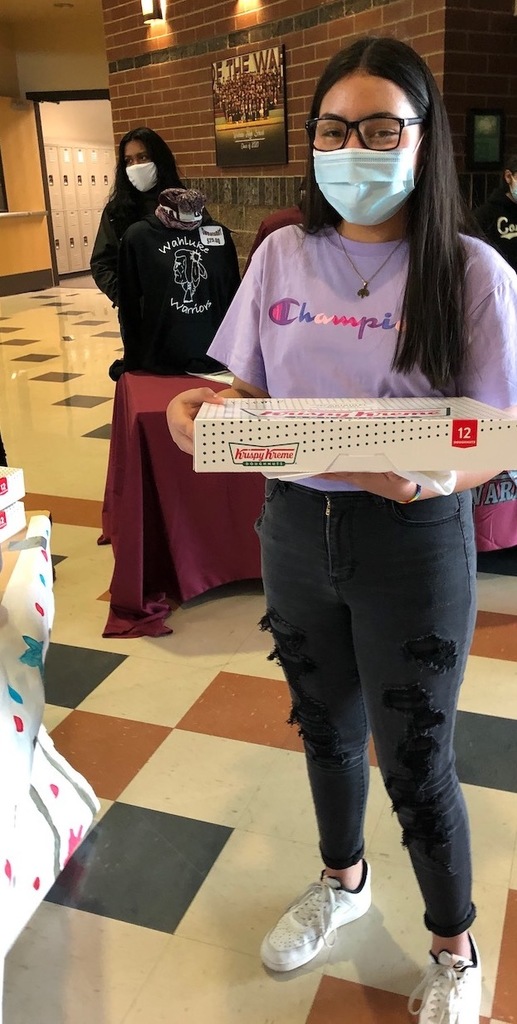 Warriors take advantage of this great opportunity with Game On, where you will have the opportunity to learn HTML and CSS basics and create your own multi-page website. This workshop will be for JH students only. Use the web address on the flyer or contact Mr. Caro to register. Warriors aprovechan esta gran oportunidad con Game On, donde tendrás la oportunidad de aprender los conceptos básicos de HTML y CSS y crear tu propio sitio web de varias páginas. Este taller será solo para estudiantes de JH. Utilice la dirección web del folleto o comuníquese con el Sr. Caro para registrarse.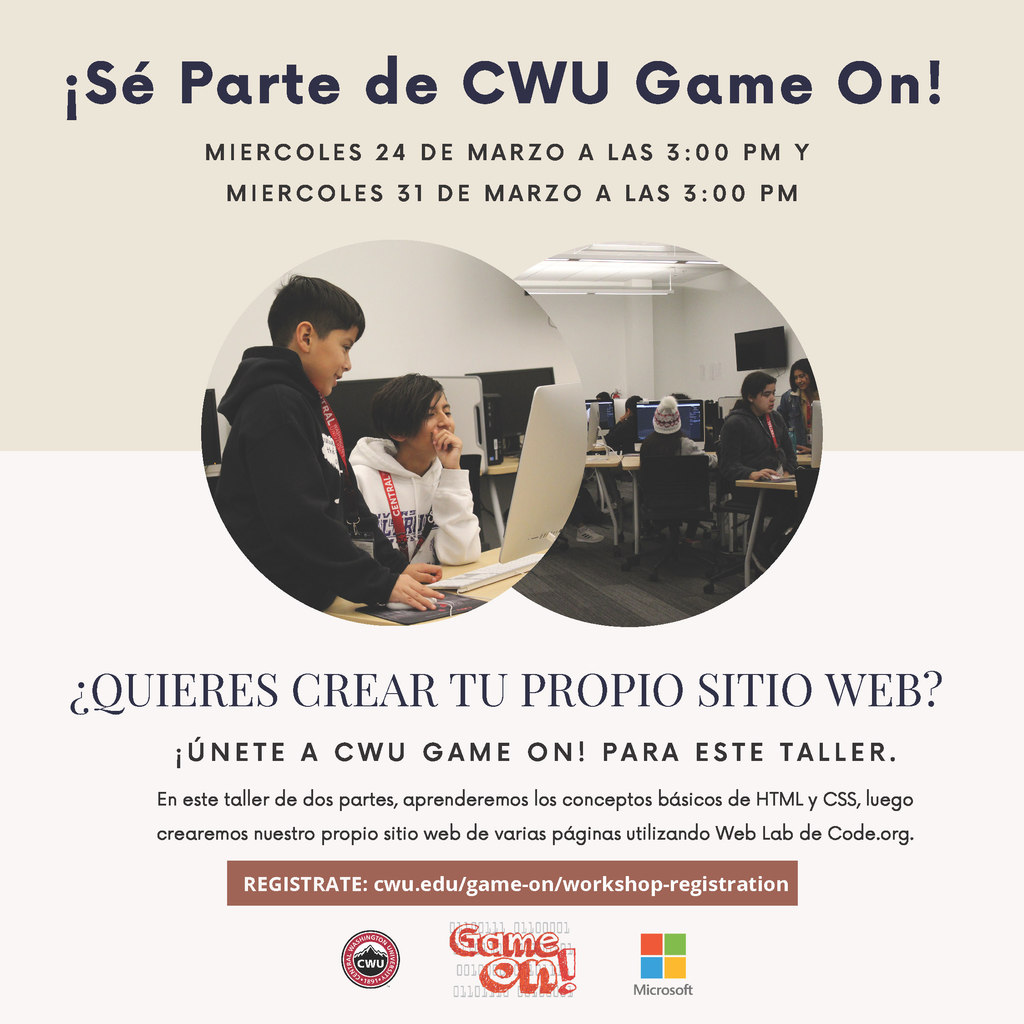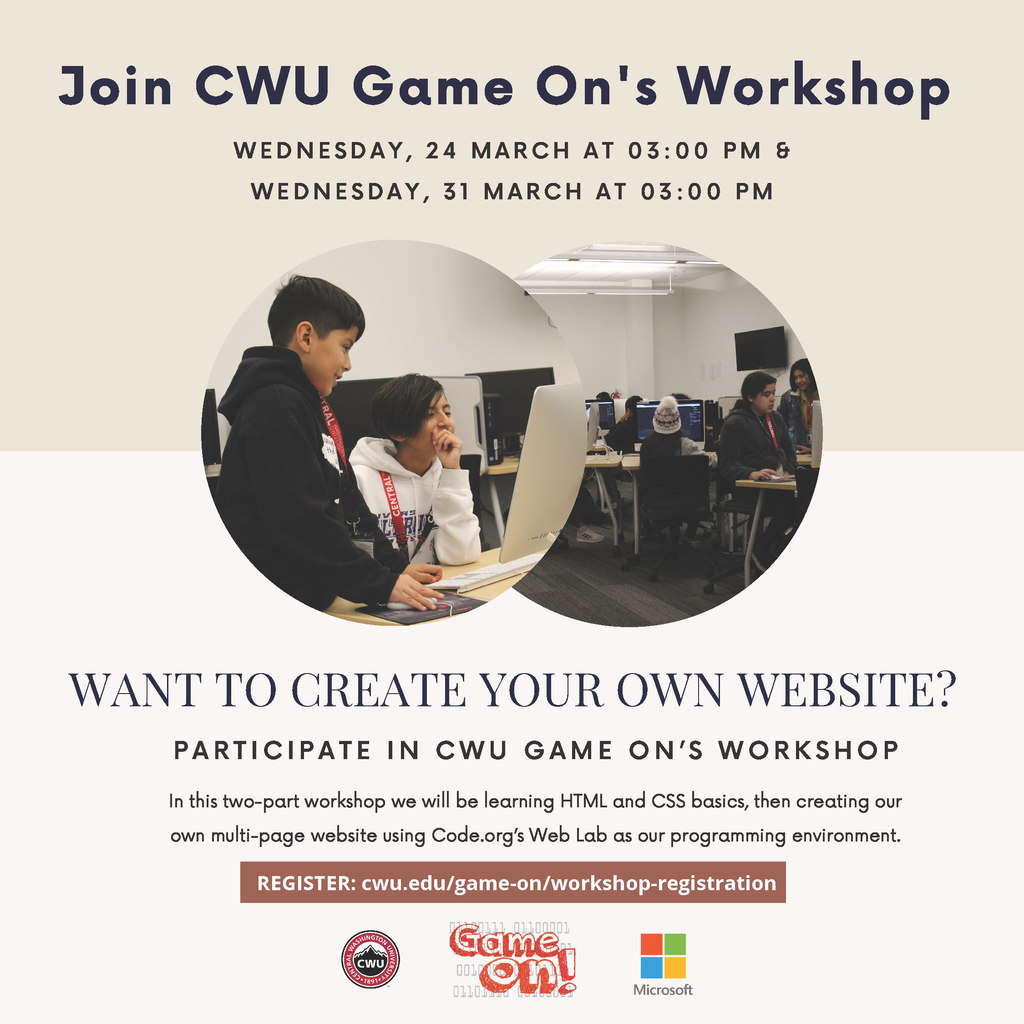 SPIRIT WEEK February 23-26 🎉💜❤️💚💙🎉 It's SPIRIT WEEK Warriors! Tuesday: Pajama Day Wednesday: Neon Day Thursday: sports Day Friday: House Color Day 🎉💜❤️💚💙🎉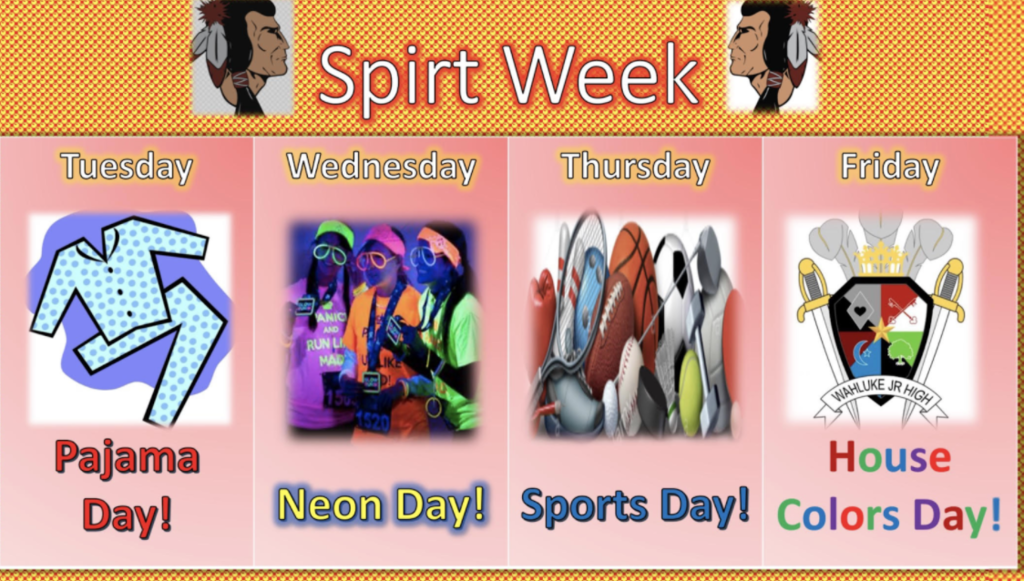 Hi All 7th & 8th grade Students and Parents, Fall sports will begin on Monday, March 1st. If you haven't yet signed up, now is the time. The fall sports are as follows girls Soccer, Football, and Volleyball. We still need to have the paper copy of your physical from your Doctor. If you need any help with registration on final-forms fall Coaches and Mr. Tapia will be available to help you sign-up on Thursday Feb. 18th in the Junior High Cafeteria from 3:30 to 5:30. Hope to see you there!

WJH Students 👋🏽 Make sure to check out our new house gear! Prices are below: 🔹Hoodies – $33 🔸Crewnecks – $19 🔹Long Sleeve Hooded T-shirts – $29 🔸T-shirts – $7 😎😎😎😎😎😎 Estudiantes de WJH 👋🏽 ¡Asegúrese de ver nuestro nuevo vestimento de hogar! Los precios están abajo: 🔹Sudaderas con gorro - $ 33 🔸Sudaderas estilo Crewnecks - $ 19 🔹Camisas de manga larga con gorro - $ 29 🔸Camisas - $ 7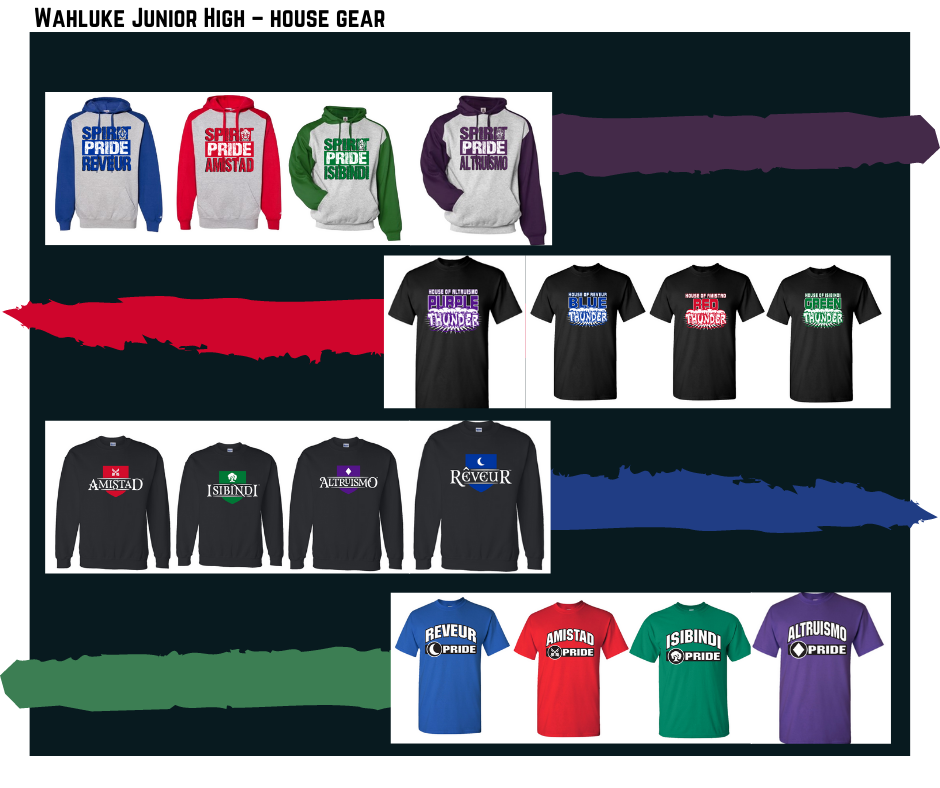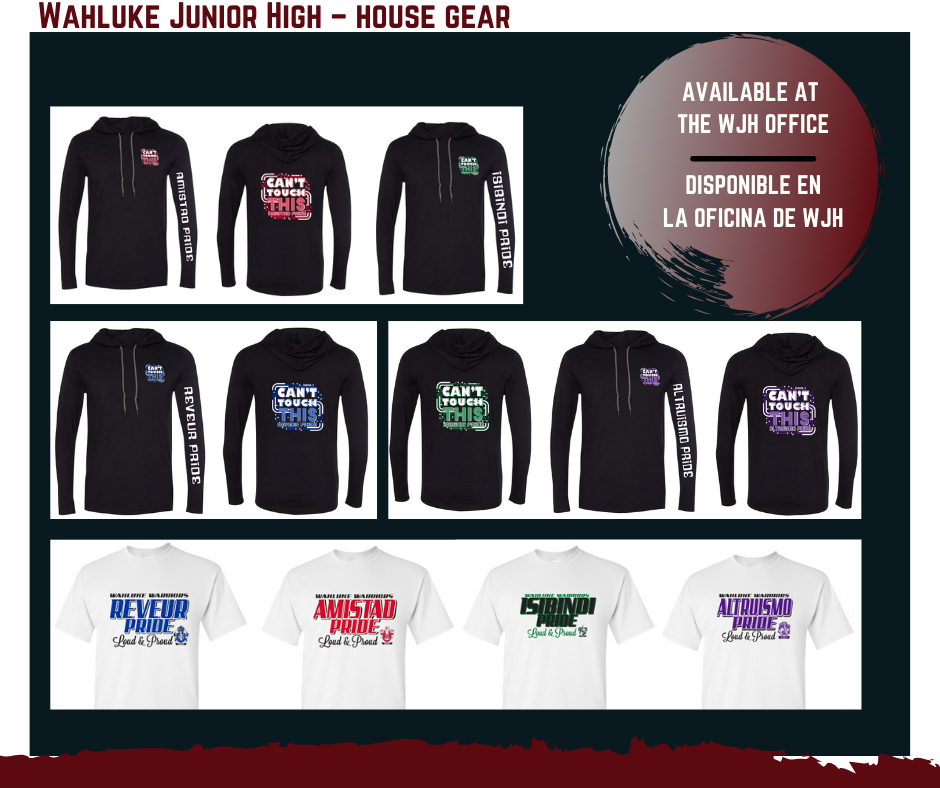 Join students in schools across our district and the country on Wednesday, October 21st, and wear orange to show that we are together against bullying, and united for kindness, acceptance, & inclusion! ¡Únase a los estudiantes en las escuelas de nuestro distrito y el país el miércoles 21 de octubre y vístase de naranja para demostrar que estamos juntos contra el acoso escolar y unidos por la amabilidad, la aceptación y la inclusión! #WahlukeWarriors #UnityDay #DíadelaUnidad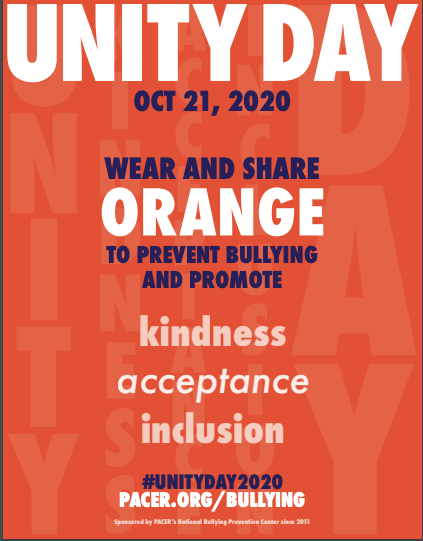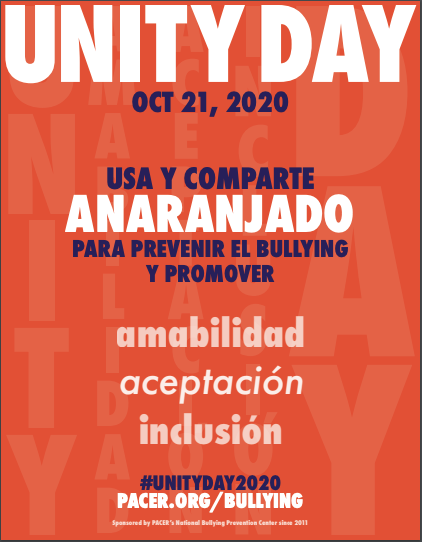 Game On! Is back and is staring up today at 2:45 and will be every Monday from 2:45-3:45. This program is only for JH students (6-8) if you are interested contact Mr. Caro at
acaro@wahluke.net
or at 509-932-4477 ext. 3591 this is a great and fun opportunity Warriors! Game On! Esta de regreso en nuestra escuela disponible para los alumnos del 6 al 8 grado. Empiesa hoy de 2:45 a 3:45 todos los Lunes es una gran oportunidad! Si estan interesasos contacten al Sr. Caro en
acaro@wahluke.net
o al llamar al 509-932-4477 ext. 3591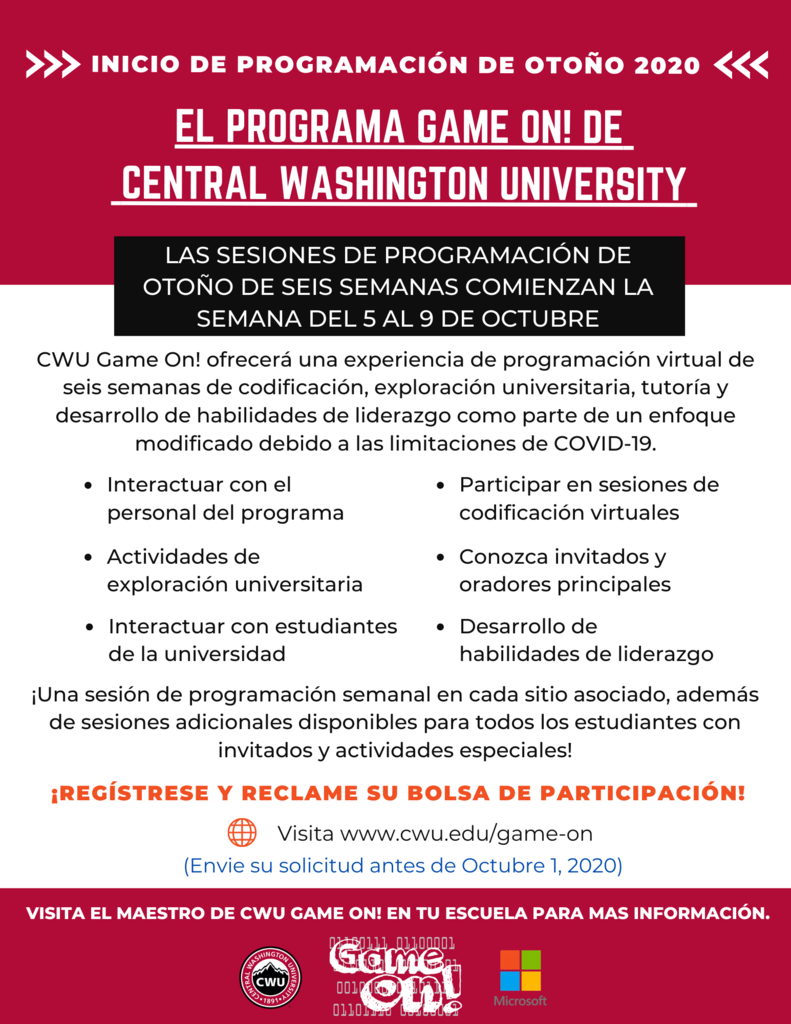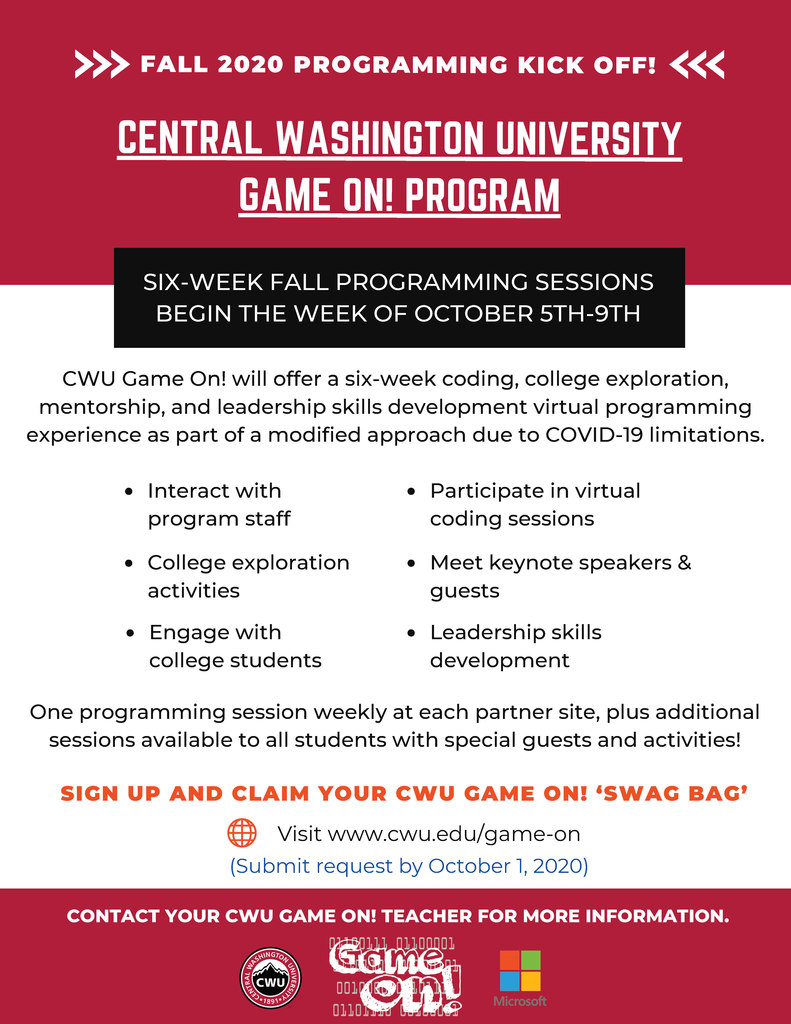 Wahluke Junior High Students and Parents: WHJ will be starting a new schedule on Tuesday, Oct. 13th. This will not affect the students' actual classes. Students will be taking 3 synchronous classes daily instead of 6. These schedules are available on our website here:
https://www.wahluke.net/o/wjhs/page/wjh1dls
and will also be sent to families. Padres y estudiantes de Wahluke Junior High: WHJ comenzará un nuevo horario el martes 13 de octubre. Esto no afectará las clases de los estudiantes. Los estudiantes tomarán 3 clases sincrónicas diarias en lugar de 6. Estos horarios están disponibles en nuestro sitio web aquí:
https://www.wahluke.net/o/wjhs/page/wjh1dls
y también los enviáramos a las familias.