Wahluke Junior High Students and Parents: WHJ will be starting a new schedule on Tuesday, Oct. 13th. This will not affect the students' actual classes. Students will be taking 3 synchronous classes daily instead of 6. These schedules are available on our website here:
https://www.wahluke.net/o/wjhs/page/wjh1dls
and will also be sent to families. Padres y estudiantes de Wahluke Junior High: WHJ comenzará un nuevo horario el martes 13 de octubre. Esto no afectará las clases de los estudiantes. Los estudiantes tomarán 3 clases sincrónicas diarias en lugar de 6. Estos horarios están disponibles en nuestro sitio web aquí:
https://www.wahluke.net/o/wjhs/page/wjh1dls
y también los enviáramos a las familias.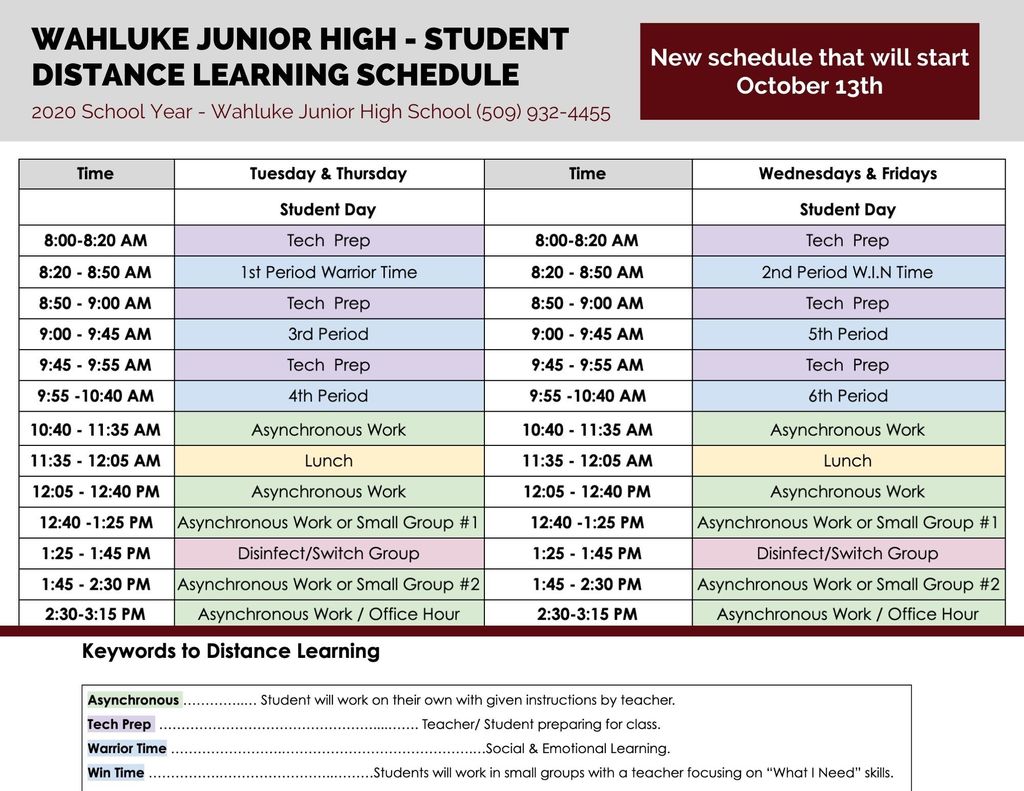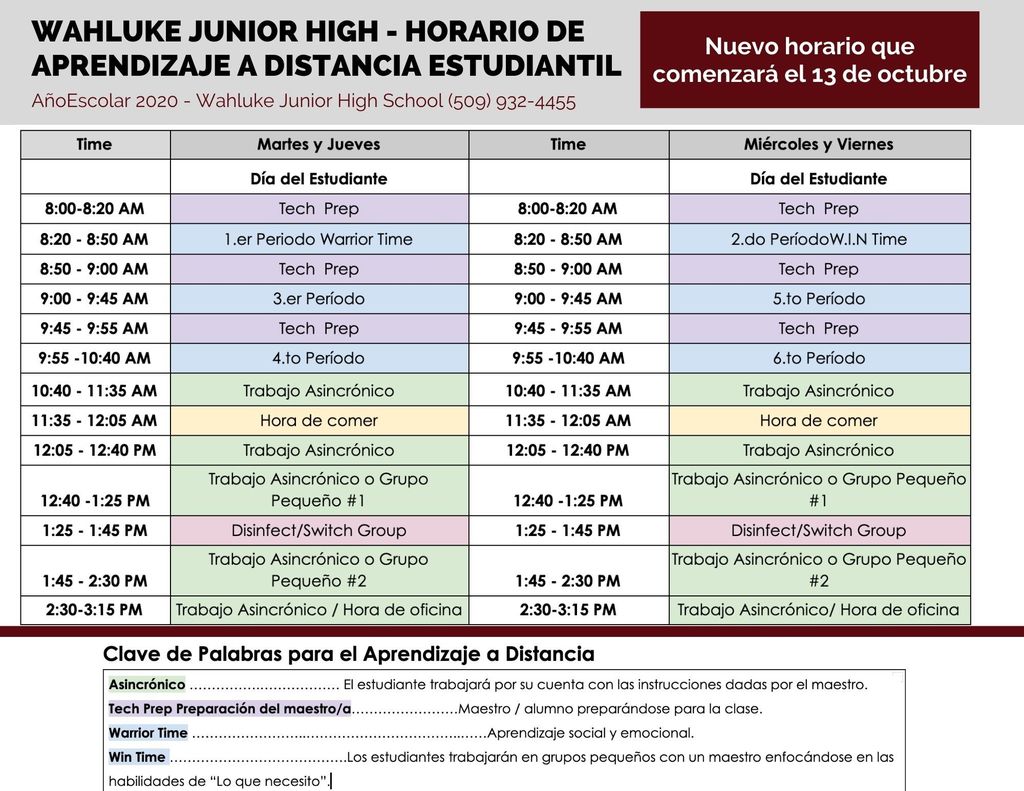 Hello Wahluke Junior High! We will be having FREE school supplies and school binder pick up on SEPTEMBER 14! Pick up times are, 8:30 AM to 10:00 AM for 6th-grade students, 10:00 AM to 11:30 AM for 7th-grade students, and 12:00 PM to 1:00 Pm for 8th-grade students. // ¡Hola Wahluke Junior High! ¡Tendremos útiles escolares y carpetas escolares GRATIS el 14 de SEPTIEMBRE! Los horarios de recogida son de 8:30 am. A 10:00 am. para estudiantes de sexto (6) grado, de 10:00 am. A 11:30 am oara estudiantes de séptimo grado (7) y de 12:00 pm A 1:00 pm para estudiantes de octavo (8) grado. // A big shout out to our community for their support and contribution YOU ROCK! THANK YOU! // Un gran agradecimiento a nuestra comunidad por su apoyo y contribución ¡GRACIAS! - Gear UP, Wahluke Coalition, CBHA Clinic and Mattawa Community Medical Clinic!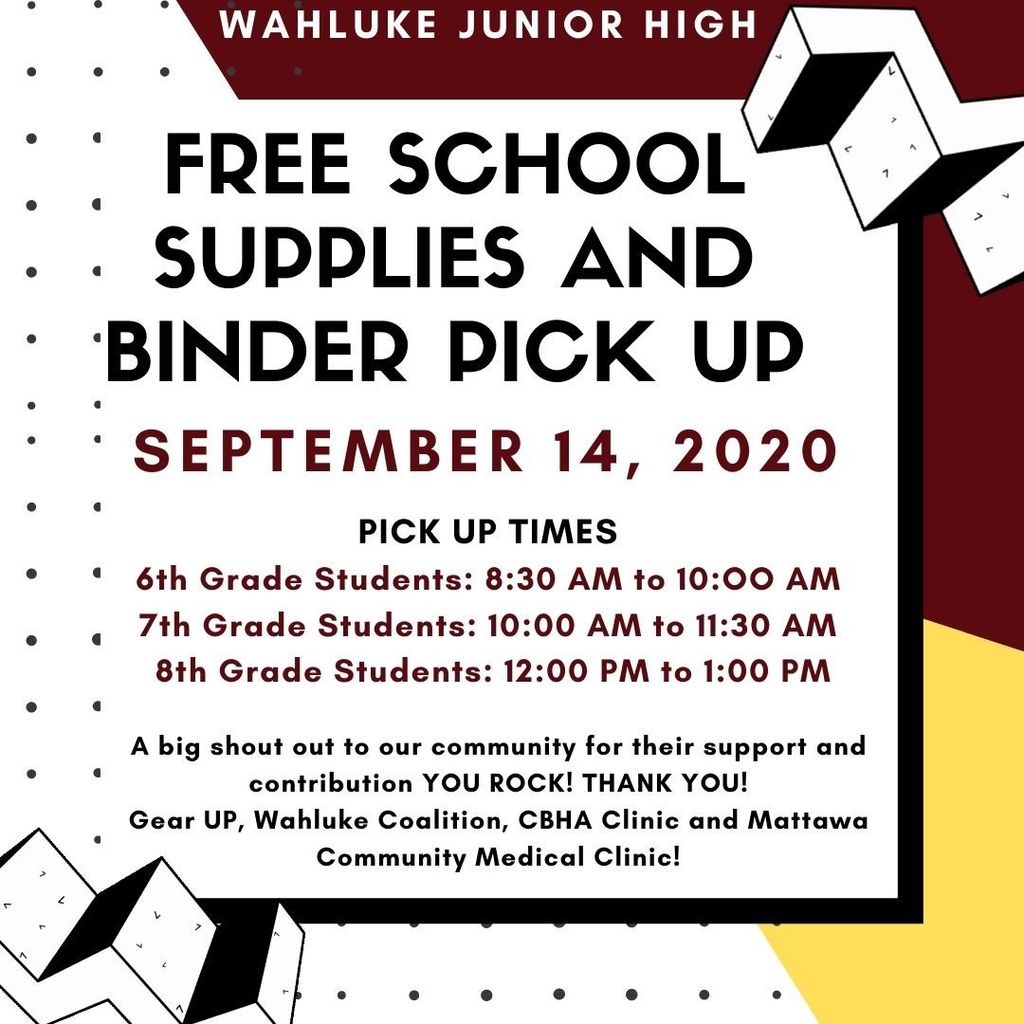 Incoming 6th graders! If you did not keep your district-owned iPad or Chromebook over the summer, come pick up your device from the Technology Services department at 410 N. Boundary Road (between Mattawa Elementary and Morris Schott Elementary schools) between 7 AM and 4 PM Monday-Thursday. 💻______________________________________💻 Anuncio de Wahluke Junior High: ¡Estudiantes entrantes de sexto grado! Si no conservó su iPad o Chromebook del distrito durante el verano, venga a recoger su dispositivo en el departamento de Servicios de Tecnología en 410 N.Boundary Road (entre las escuelas primarias Mattawa y Morris Schott) entre las 7 a.m. y las 4 p.m. de lunes a Jueves.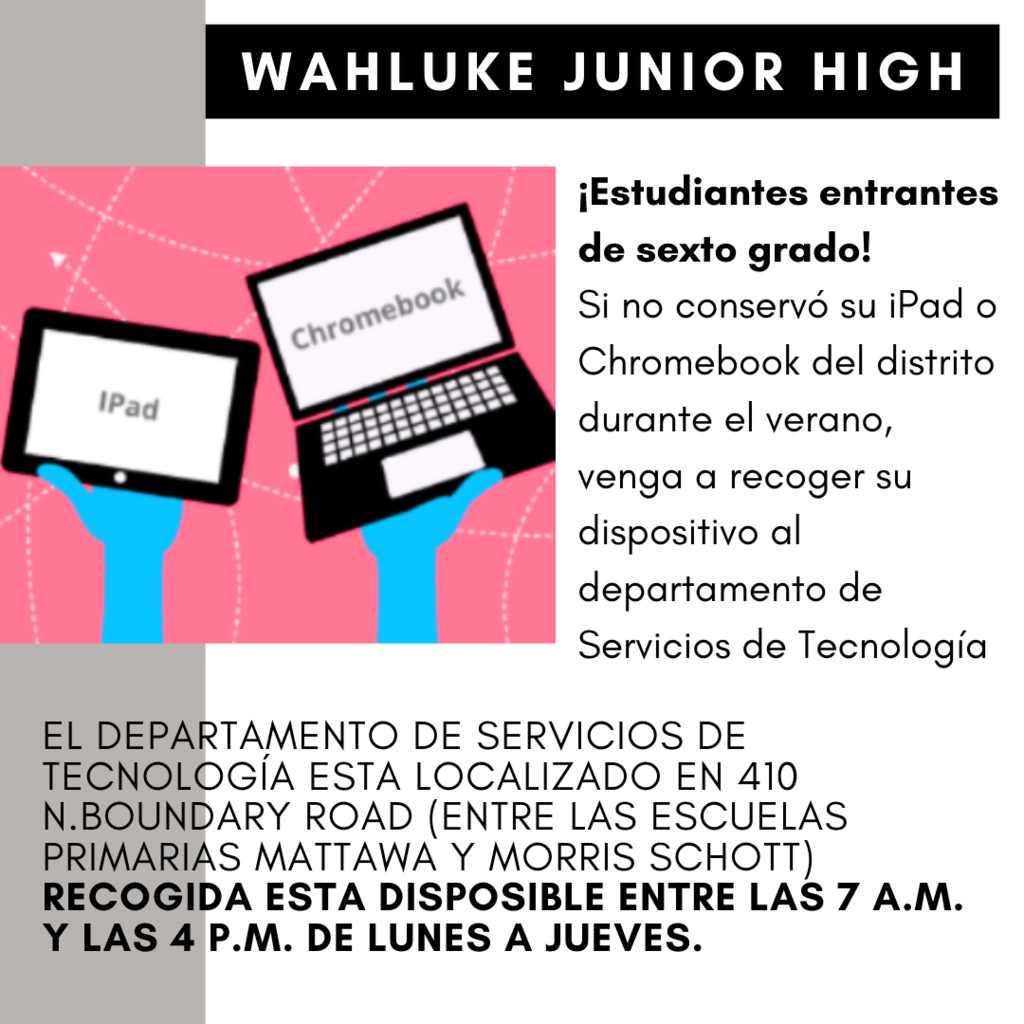 Let's move forward TOGETHER! Help stop COVID so we can safely open schools! ¡Avancemos JUNTOS! ¡Ayuda a detener COVID para que podamos abrir escuelas de manera segura! #MaskUpWahluke #UsaCobreBocasWahluke #WahlukeWarriors #MaskUpMattawa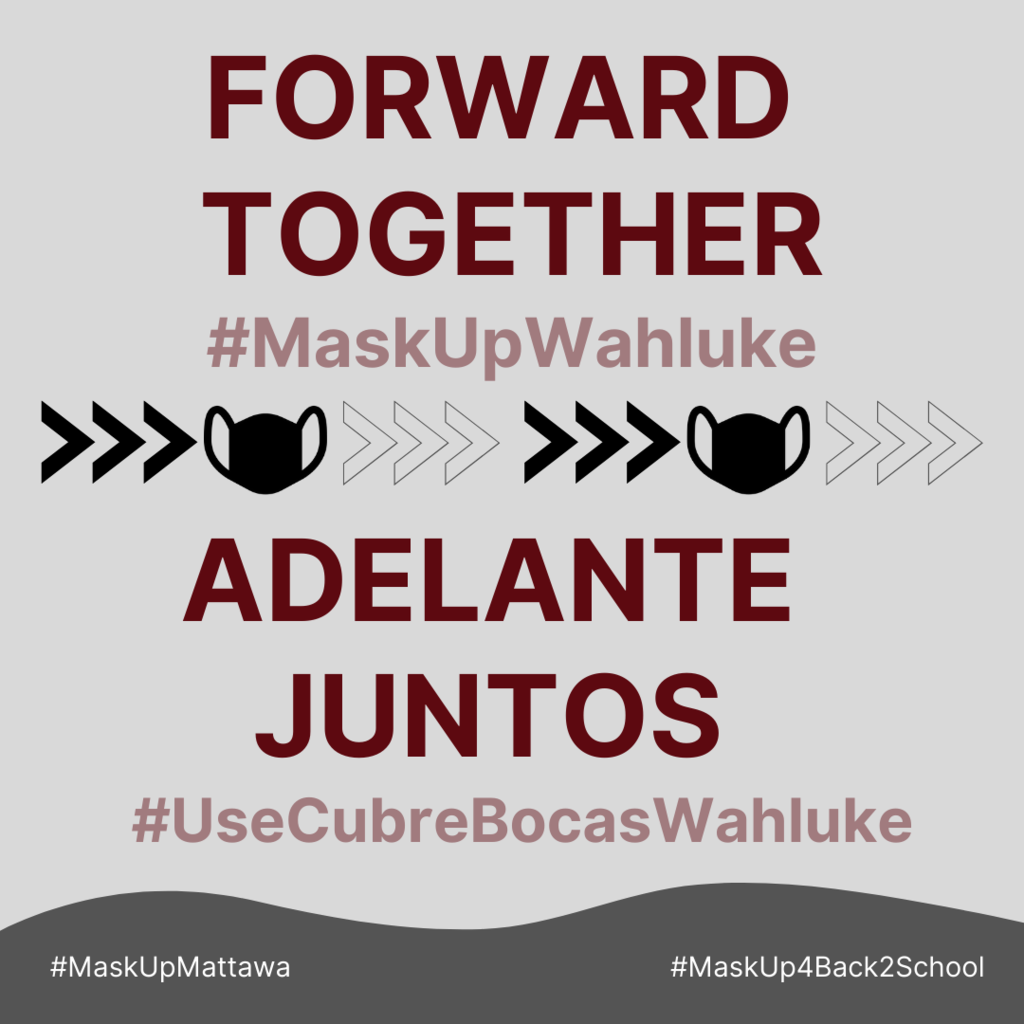 Welcome to your Houses and WJH upcoming 6th-grade students. We are excited that you are now a part of our school! Bienvenido a sus Casas y a los próximos estudiantes de 6º grado de WJH. ¡Estamos emocionados de que ahora seas parte de nuestra escuela!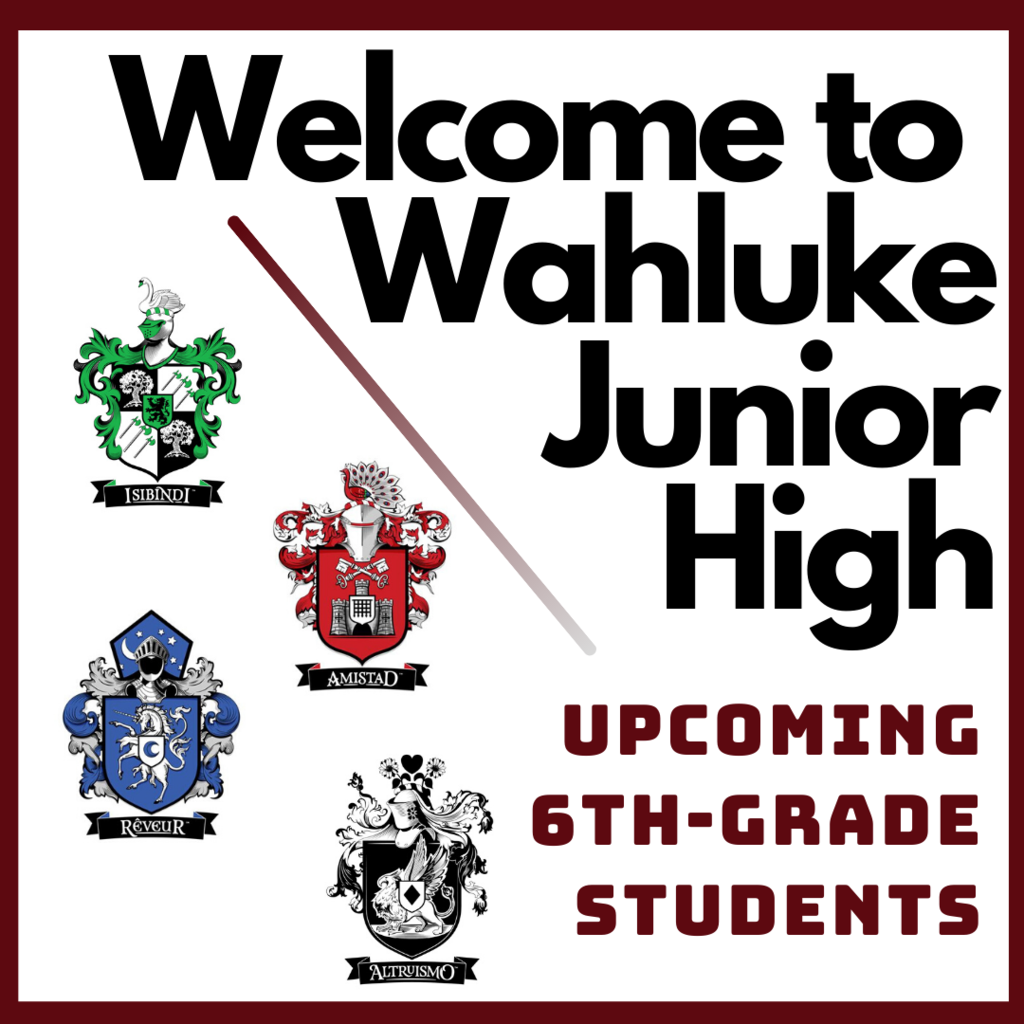 Congrats 8th Grade Grads! - ¡Felicidades Graduados de Octavo Grado! Next stop high school! WJH wishes you all the best during your high school careers! ¡La próxima parada de la escuela preparatoria! ¡WJH te desea lo mejor durante tu carrera en la escuela high school!