The organization of Communities Without Borders Washington will be handing out free basic food baskets to the community of Mattawa. Tomorrow March 24th from 4:00 PM - 6:00 PM at the WHS gym. _________ La organización Comunidades Sin Fronteras de Washington estará entregando canastas de comida básica gratuitamente a la comunidad de Mattawa. Mañana 24 de marzo de 4:00 PM - 6:00 PM en el gimnasio de WHS.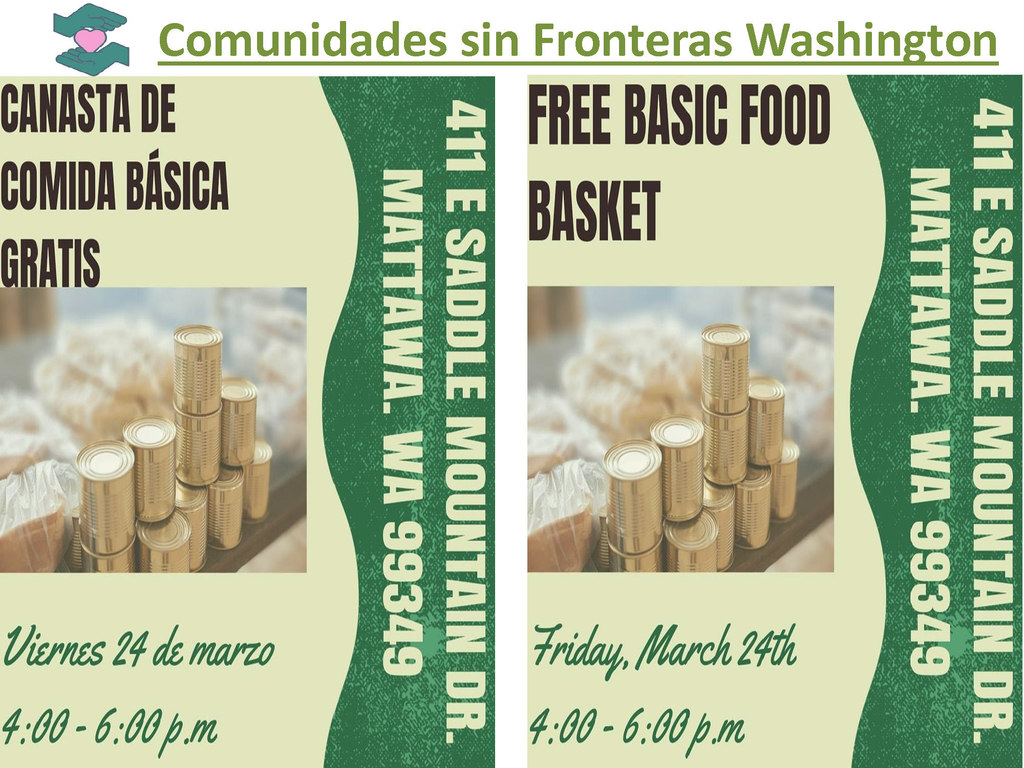 Hello Wahluke! There will be a hiring event for summer employment on March 23rd from 3:00-7:00 at the WHS commons and Lab 1. Please bring a current resume'.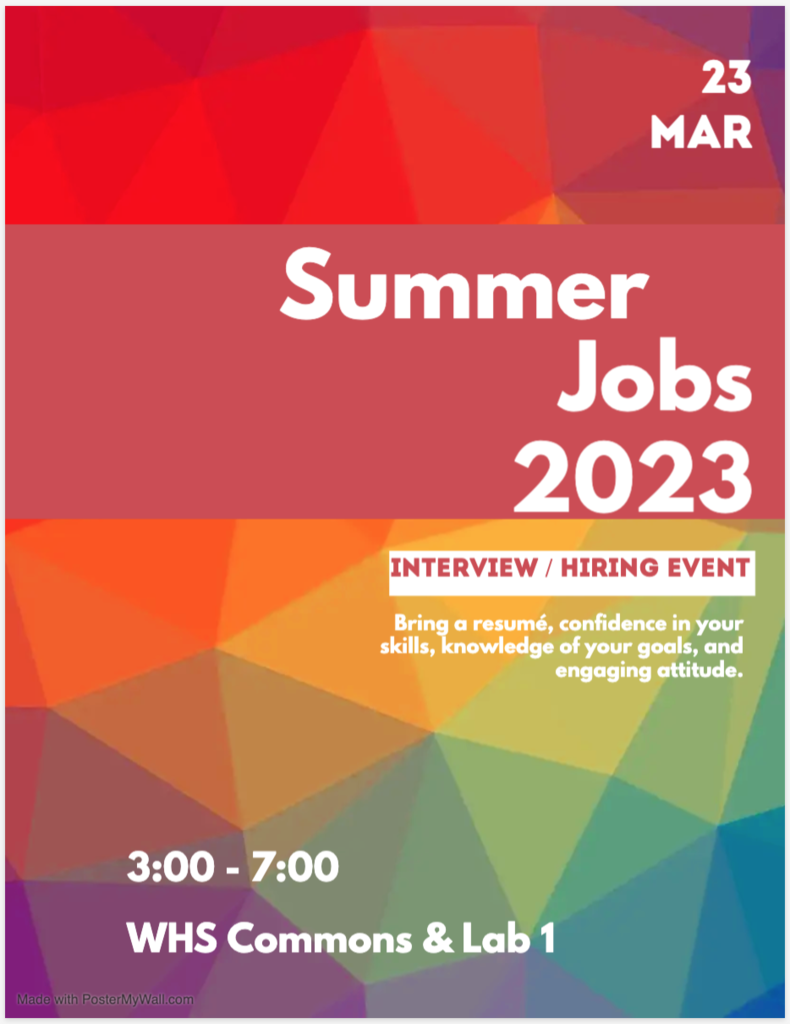 SkillsUSA had the following students qualify for the state competitions. If you see them please congratulate them. Additive Manufacturing: Team A: Vanessa Tellez, Graciela Cruz, Team B: Jose Laguna, Kacey Hirai Team C: Jordan Buck, Omar Ramirez Engineering Technology Design Team A: Daisy Garcia, Graciela Cruz, Vanessa Tellez Team B: Juan Perez, Luis Vidrancos, Richie Torres Team C (Alternate): Aylar Elias, David Osorio, Luz Aguilar Extemporaneous Speaking: Elvin Rosales, Jurim Pablo, Diana Berber, Diego Santiago Job Interview: Vanessa Tellez, Karla Lugo, Robotics: Urban Search and rescue Team A: Christopher Galvan, Fernando Pazaran Team B: Alfonso Ramos, Yenifer Diaz Romero Team C: Melvin Agapito, Oliver Alcala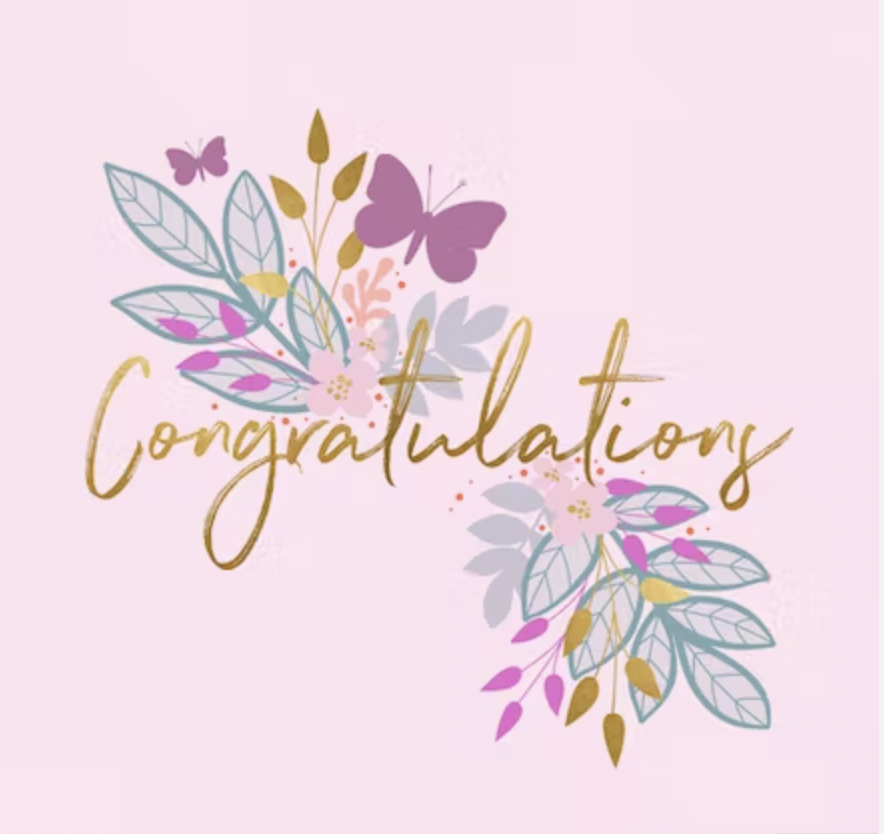 Hello Warriors, Guess What?!? Wahluke High School is using Treering to build the yearbook. That means your yearbooks have a personal touch: your book includes two free pages for you to personalize with your photos and your memories. Get started by creating your free account here!
https://tr5.treering.com/create-account/1016704563681316
You can personalize and order your book for $24.34 until April 12, 2023. (The personal pages are totally optional, so if you just want the more traditional yearbook, that's okay, too.) __________ Hola guerreros, ¿¡Adivinen qué!? Wahluke High School está usando Treering para construir el libro anuario. Eso significa que tus anuarios tienen un toque personal: tu libro incluye dos páginas gratuitas para que las personalices con tus fotos y tus recuerdos. ¡Empieza creando tu cuenta gratuita aquí!
https://tr5.treering.com/create-account/1016704563681316
Puede personalizar y ordenar su libro por $24.34 hasta el 12 de abril de 2023. (Las páginas personales son totalmente opcionales, así que si solo quiere el anuario más tradicional, también está bien).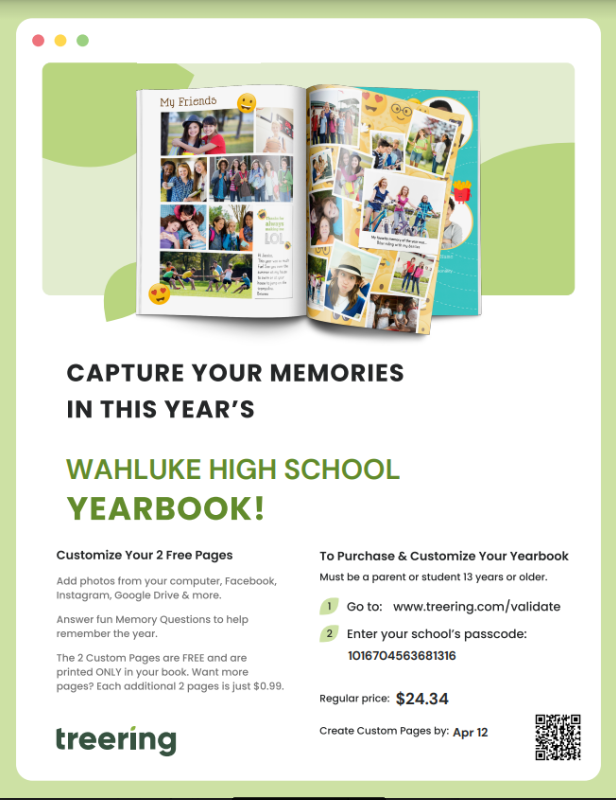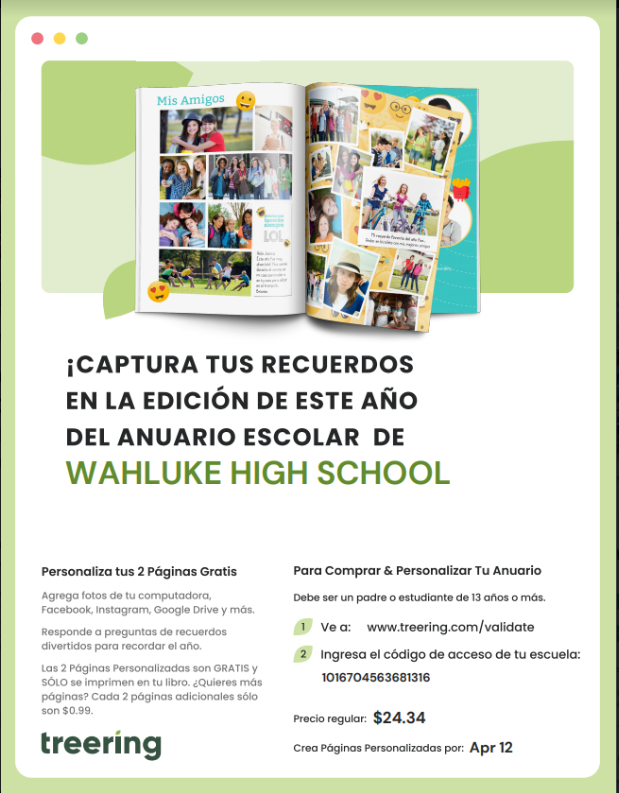 On April 15th we will be hosting a new and amazing event for our female students at the Wahluke High School. With the help of Carolyn Holmes we have set up what we call the Dress Express Event where there will be a ton of options for our students to choose from for their Prom outfits. We hope to have everything ranging from dresses and shoes to jewelry and accessories. But we also need more help from you all. If you or someone you know has anything laying around from previous proms or other formal events that they would like to donate we would gladly accept it. There should be a donation box at the entrance of the high school where you can place your items so we can share them with the girls on the 15th.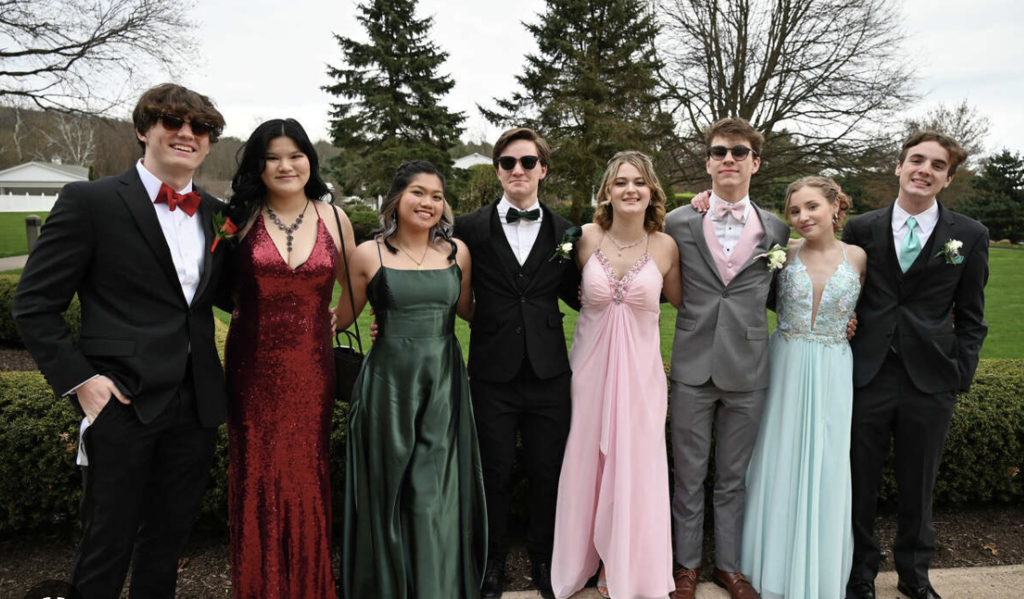 Two - Hour Delay for today 3/10/23 ❄️❄️❄️❄️ Comienzo de Retraso de Dos horas para hoy 3/10/23 ❄️❄️❄️❄️❄️ Student schedules / Horarios para Estudiantes. K-5th Graders: 10:15 AM - 3:00 PM 6th - 12th Graders: 10:00 AM - 2:45 PM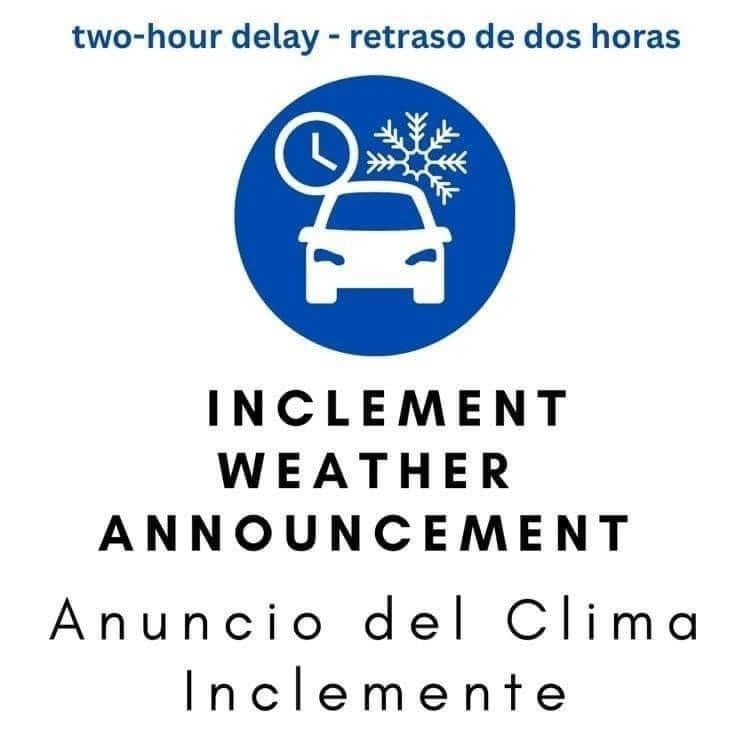 Tonight from 5:00-7:00 pm in the WHS Commons there will be a required CB Tech information meeting for any Sophomores or Juniors interested in attending CB Tech for the 23-24 school year. Please bring yourself and your parents/guardians to get all of your questions answered and find out more information about CB Tech and the programs they offer. See you there!

Juniors: Jostens will be at Wahluke HS on Monday, March 13th at 9:50 a.m. to conduct a class meeting regarding commitment to graduation and class rings. Order day will be Tuesday, March 21st During Lunch .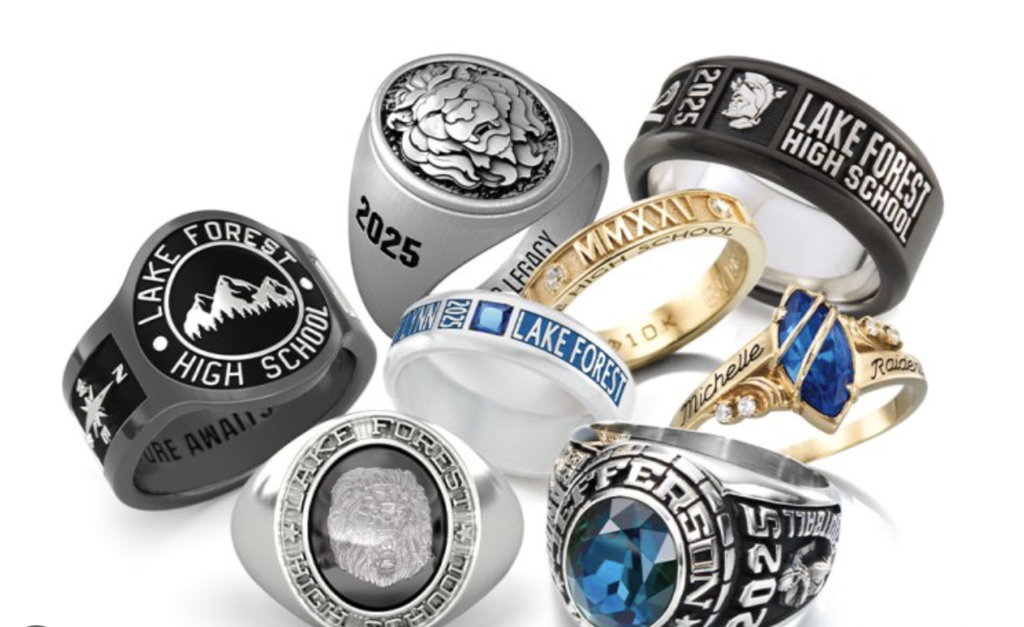 Thank you to all the students and parents who attended the Running Start Informational Night! We hope you received a lot of helpful information that will lead you to complete your academic goals! 🎓 ✏️ 🎓✏️ 🎓✏️ 🎓✏️ 🎓✏️ 🎓 ¡Gracias a todos los estudiantes y padres que asistieron a la Noche Informativa de Running Start! ¡Esperamos que haya recibido mucha información útil que lo lleve a completar sus metas académicas!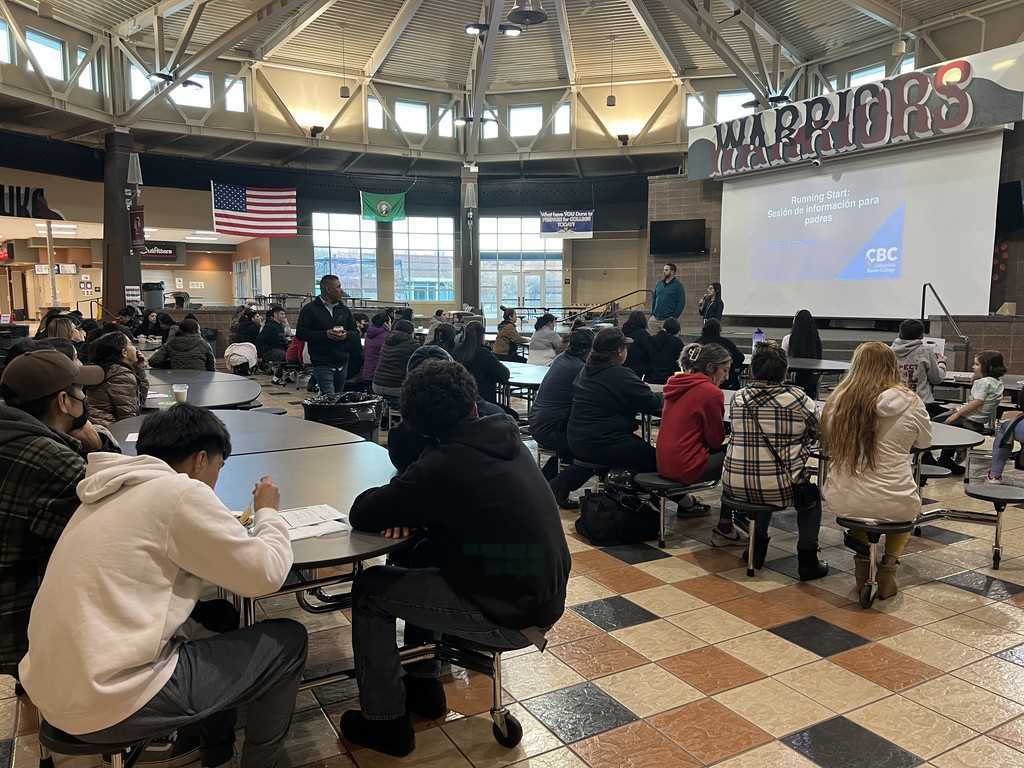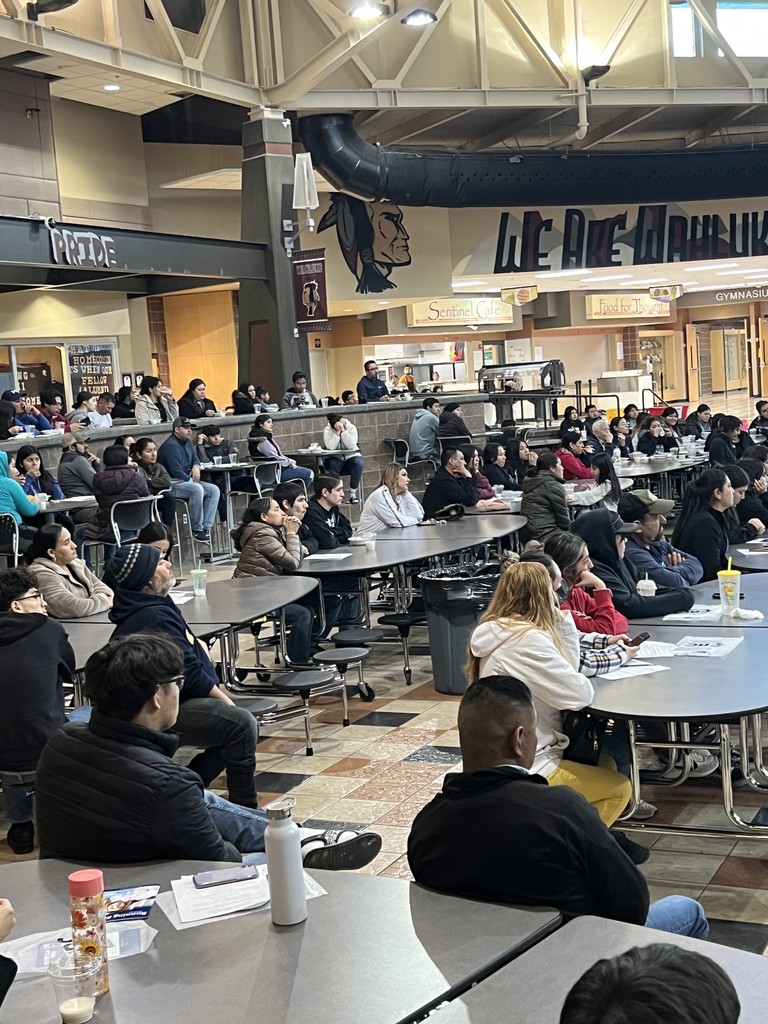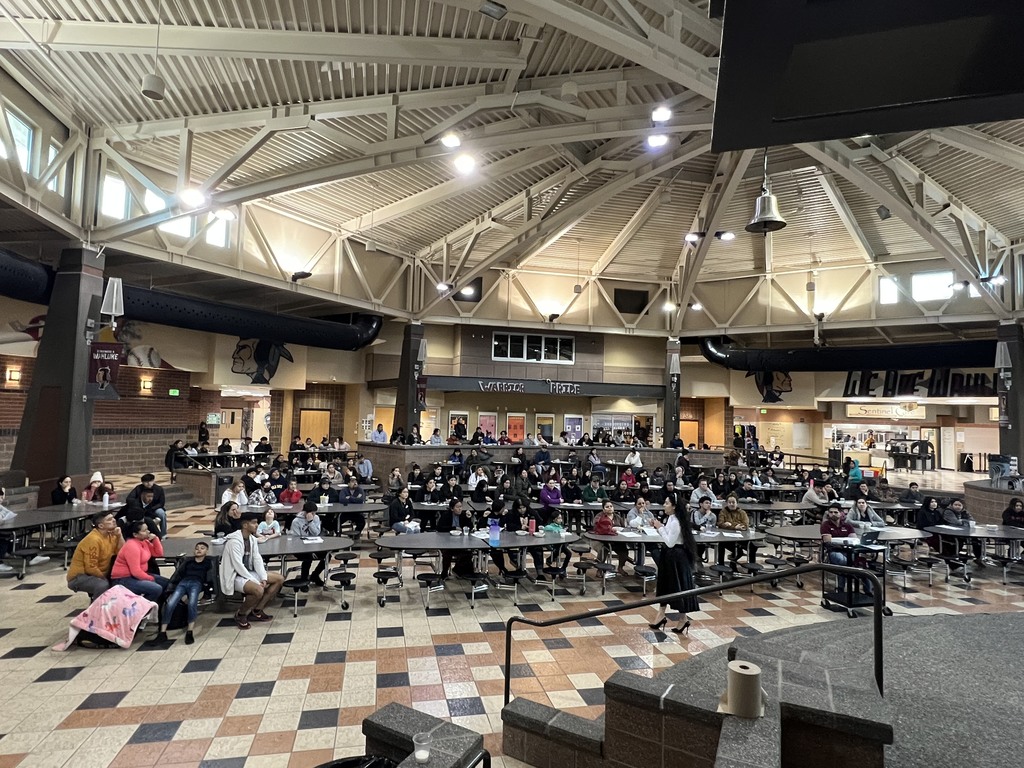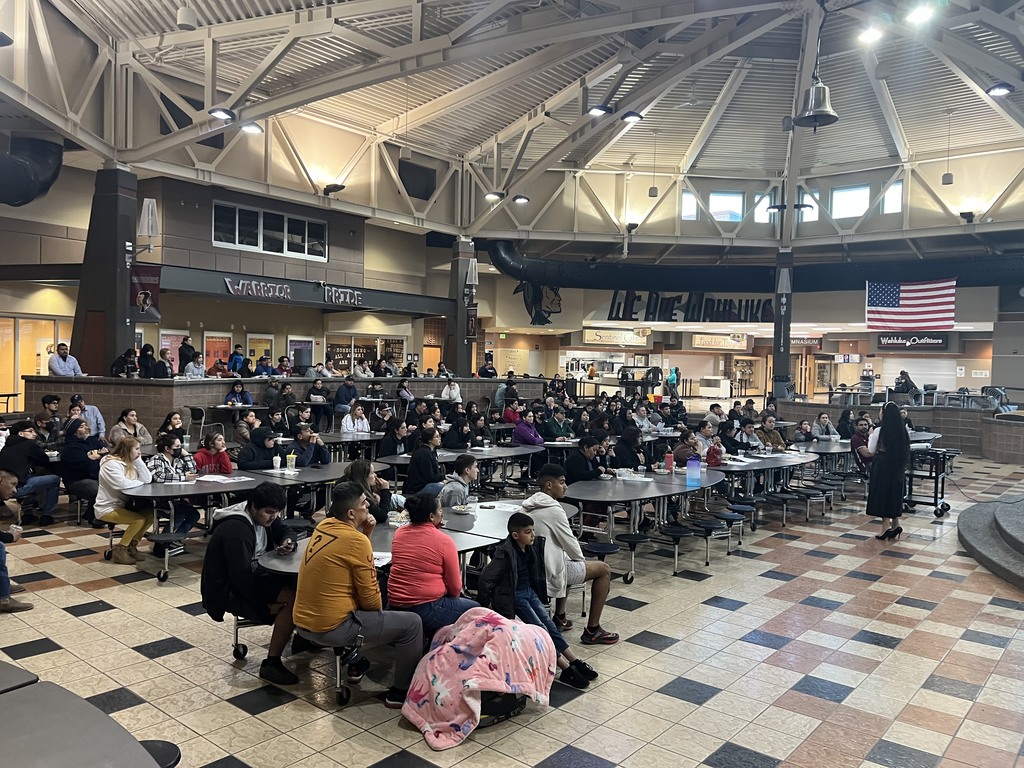 Running Start Meeting: Tonight from 5:00-7:00 at WHS Commons This is a required meeting for any Sophomore and Junior students who are thinking about doing Running Start next year. Please bring your parents. We will also be talking about College in the High School classes.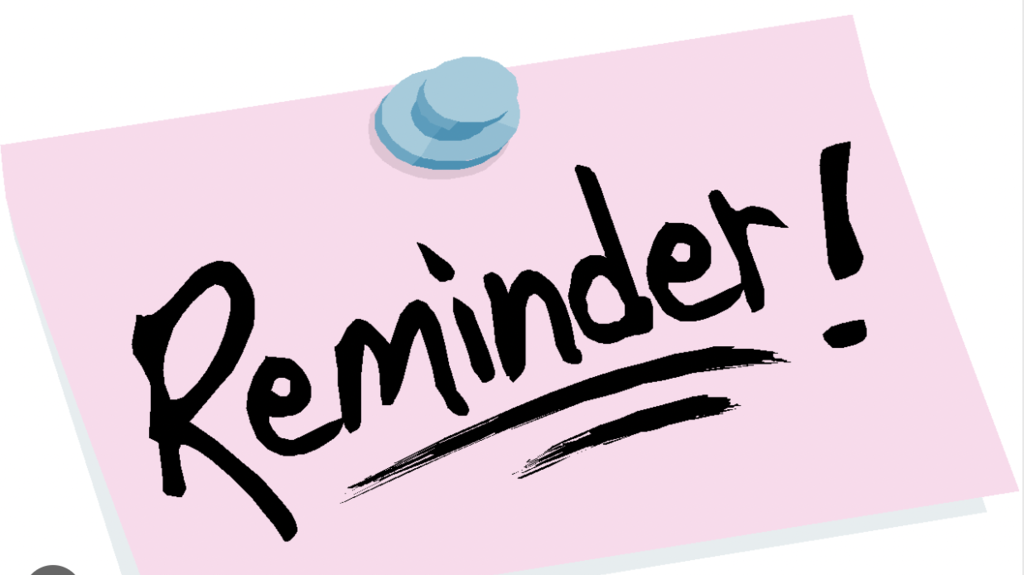 CBtech Night is happening on March 9th! Come learn more about what programs you can take while in high school! *This is a mandatory event for students who are interested! Priority will be given to those students who attend* ------------------------------------------------------------------- La noche de CBtech tendrá lugar el 9 de marzo! ¡Ven a aprender más sobre los programas que puedes tomar mientras estás en la escuela secundaria! * ¡Este es un evento obligatorio para los estudiantes interesados! Se dará prioridad a aquellos alumnos que asistan*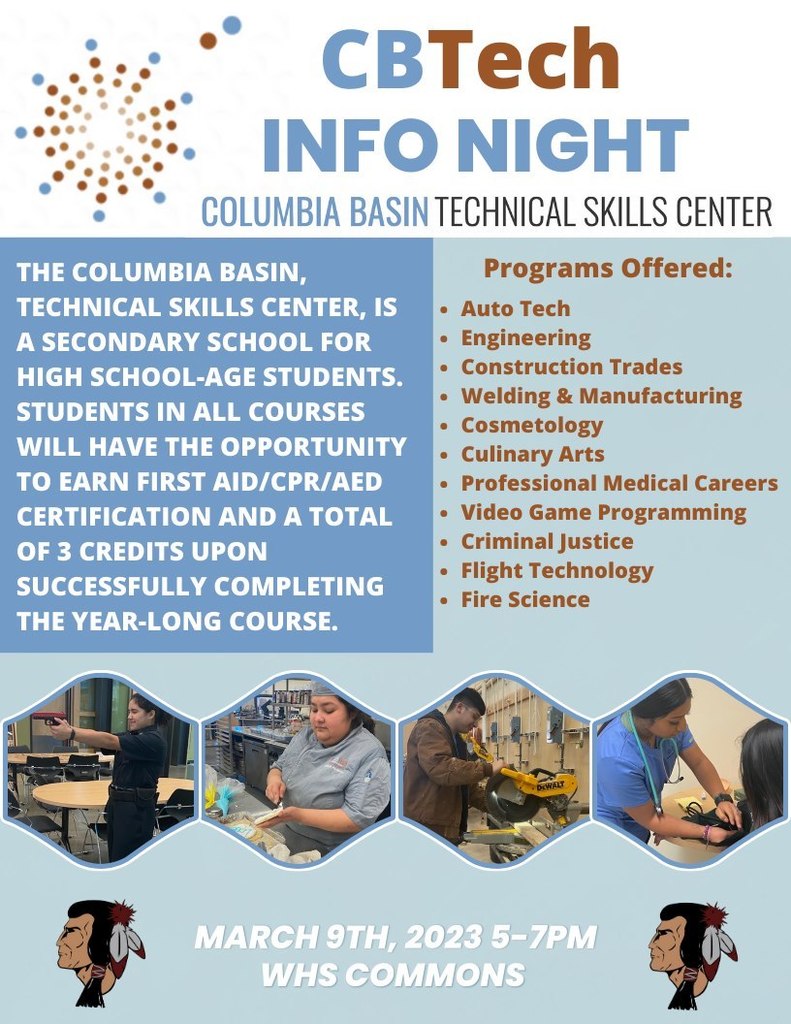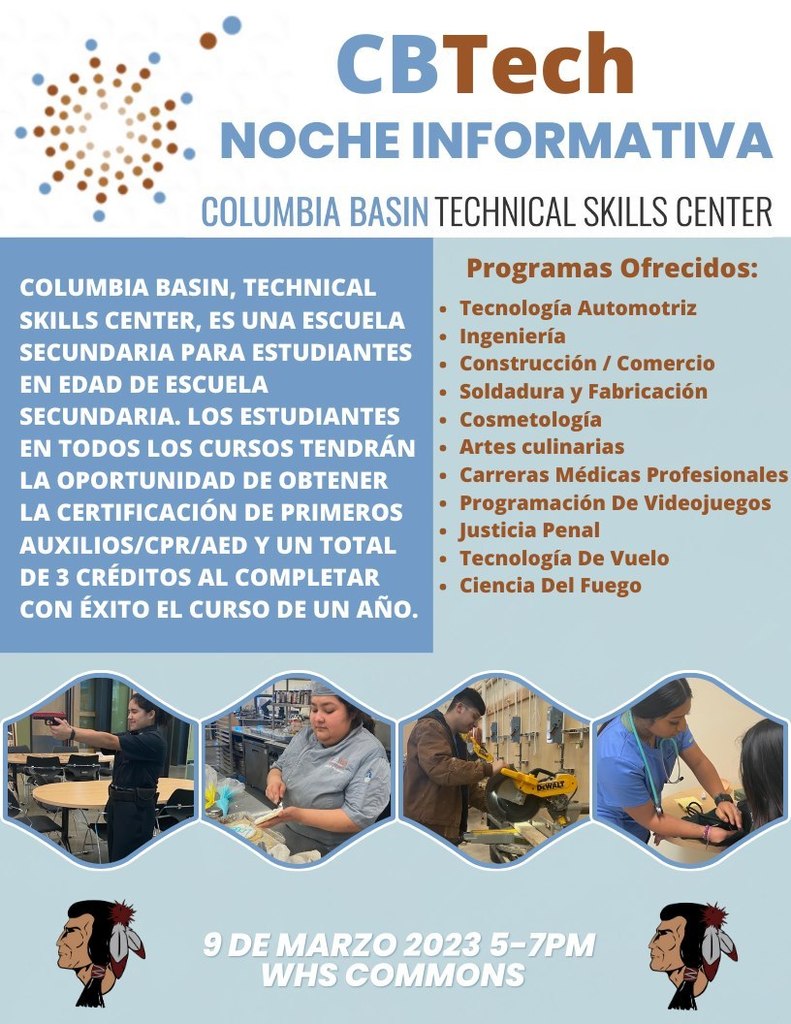 Parents & Students! Join us and learn about the different ways you could earn college credit while in high school. More information can be found below. _______ ¡Padres y Estudiantes! Únase a nosotros y aprenda sobre las diferentes formas en que puede obtener créditos universitarios mientras está en la escuela secundaria. Puede encontrar más información a continuación.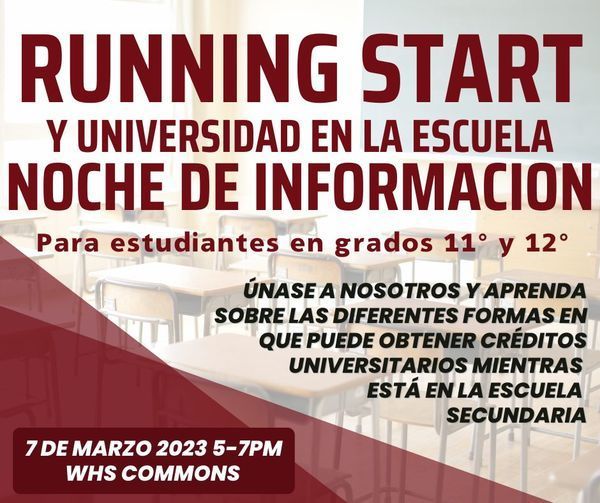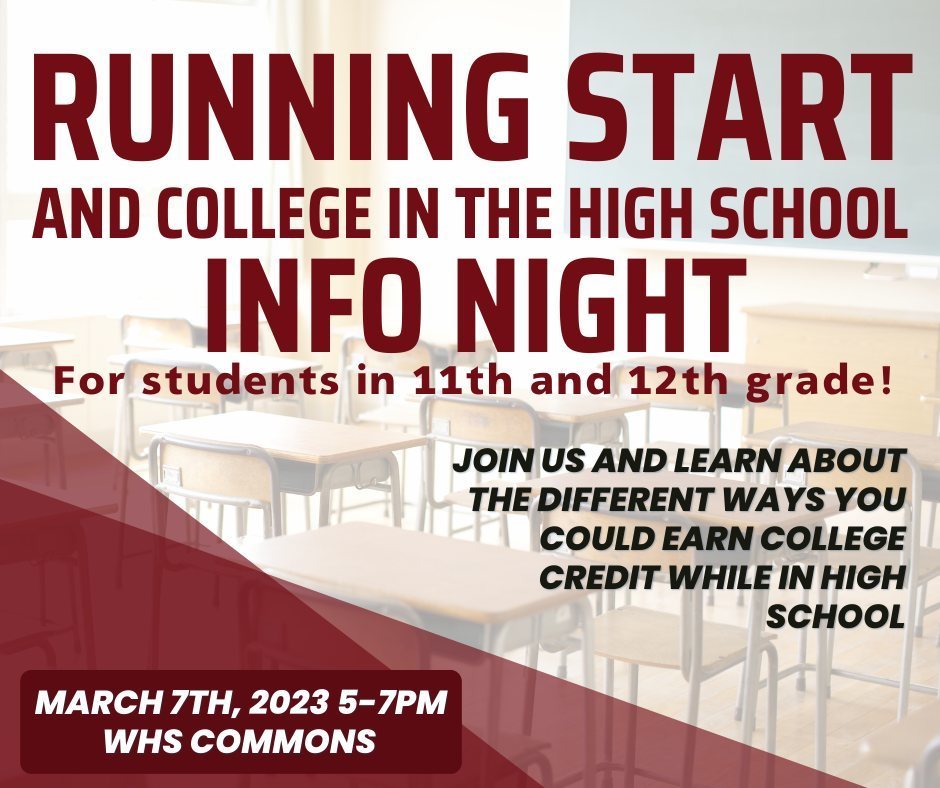 Prom is a special time for all high school students and their families. This year we wanted to make it extra special. We will be hosting a "FREE" event called the Dress Express Boutique where students can come choose that special dress and accessories for Prom. We will have a limited supply, so we are asking all students that are interested to sign up by 3/15/2023.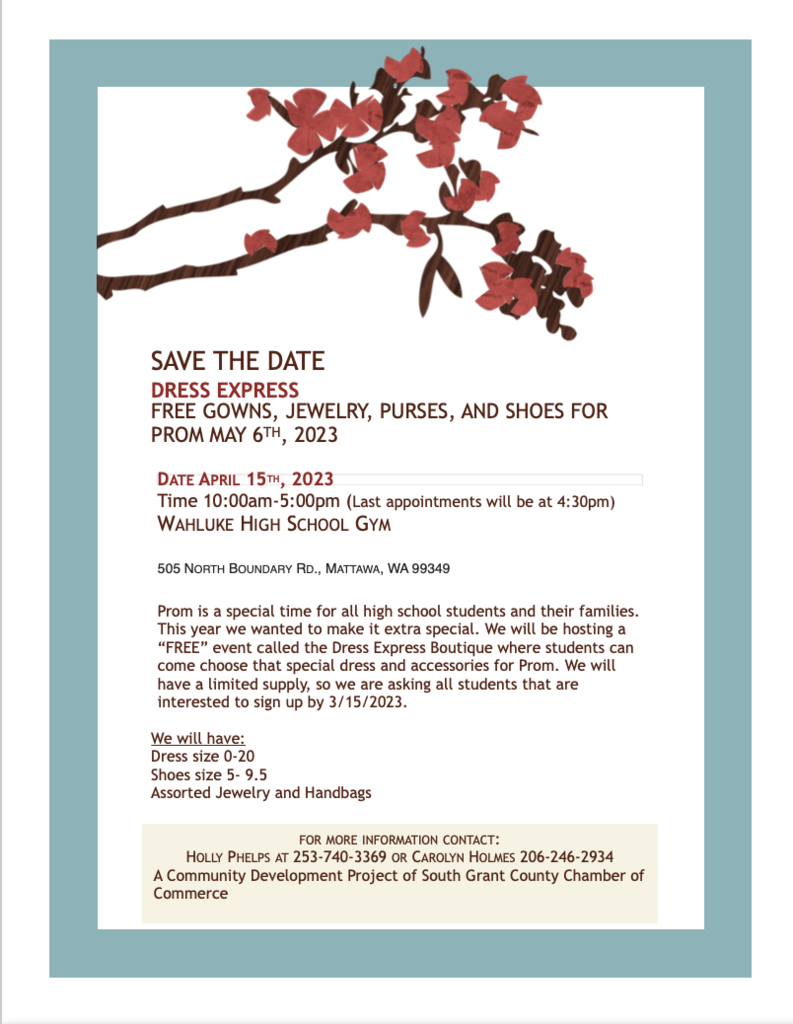 Wahluke School District is on a 2 hour delay.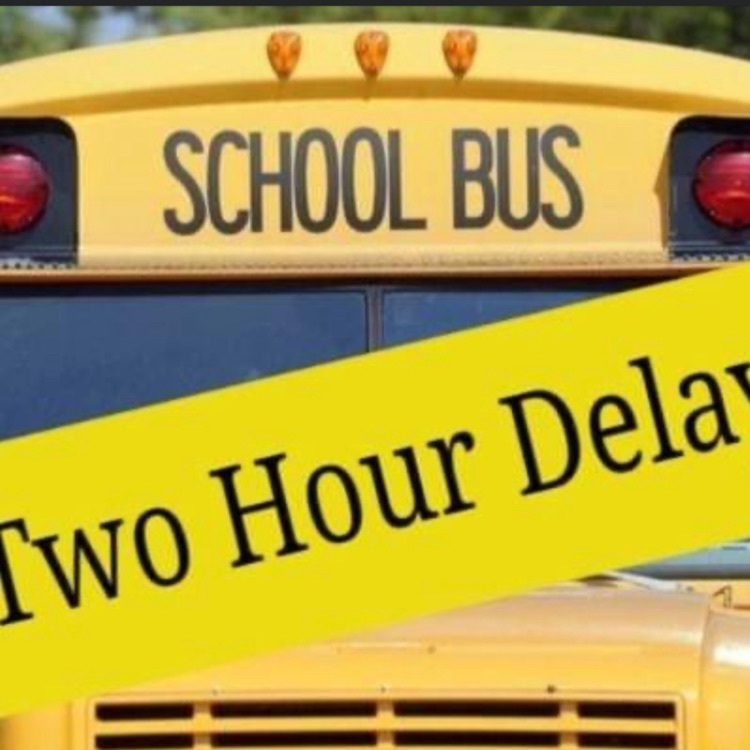 WSD is on a Two - Hour Delay for today Feb.28th. ❄️❄️❄️ Comienzo de Retraso de dos horas para hoy Feb.28 ❄️❄️❄️ Student schedules / Horarios para Estudiantes. K-5th Graders: 10:15 AM - 3:00 PM 6th - 12th Graders: 10:00 AM - 2:45 PM *No CB Tech for today*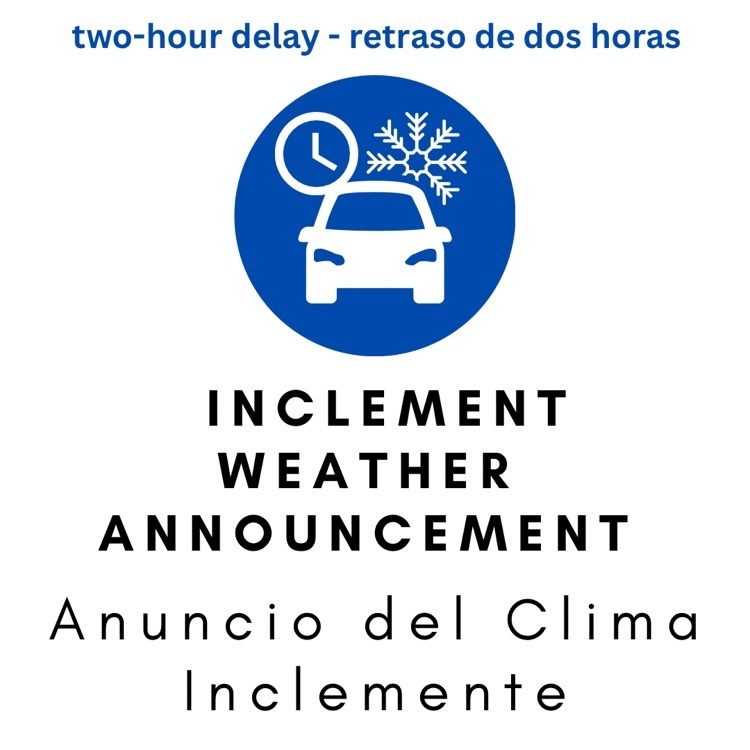 10:00-4:00: Red Cross Blood Drive in Library at WHS tomorrow February 27th! See you there!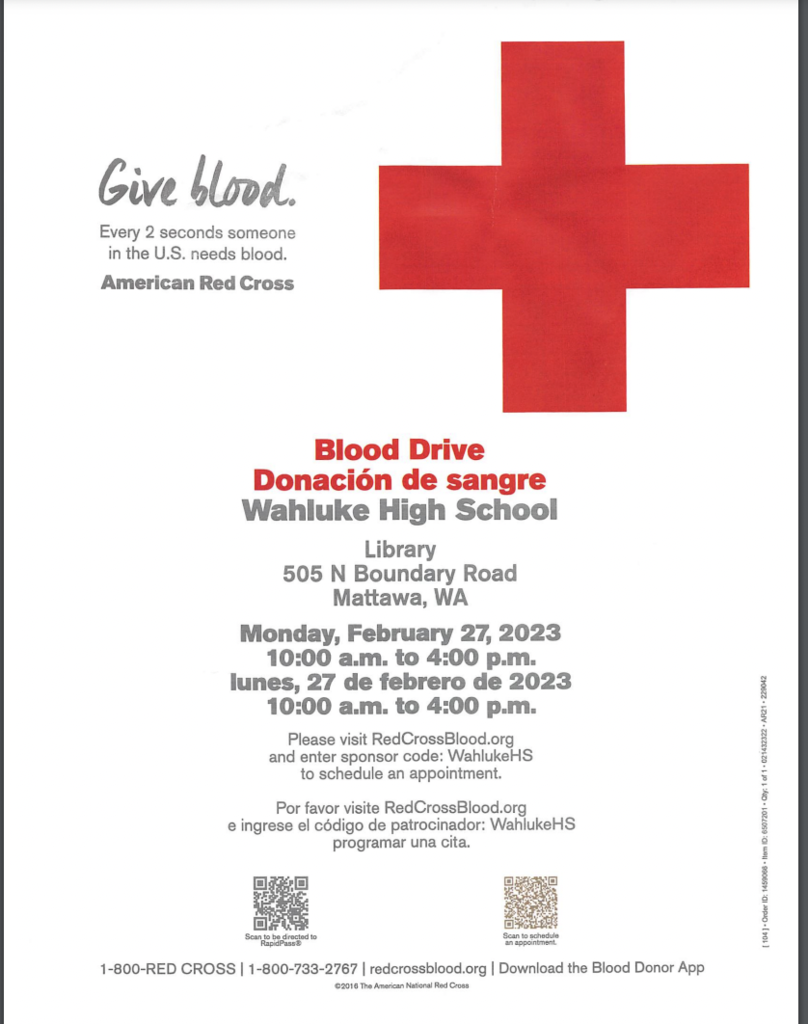 Regular Start for 2/23/23 Inicio regular para el 2/23/23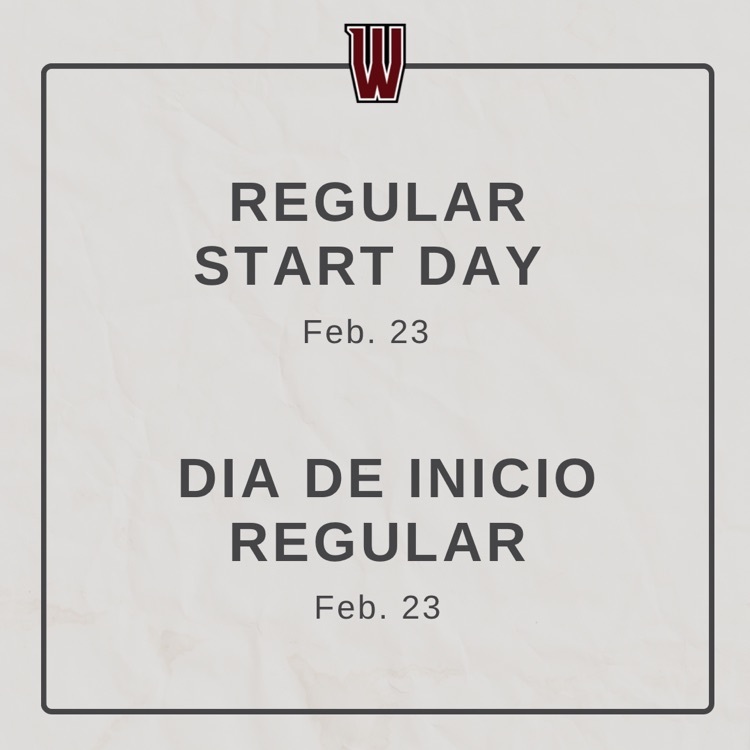 You are invited to REGISTRATION NIGHT tonight from 5-7pm in the High School commons, to help promote and share what amazing programs, classes and teachers we have at Wahluke High School as well as get students registered for 2023-2024 classes. Dinner will be provided.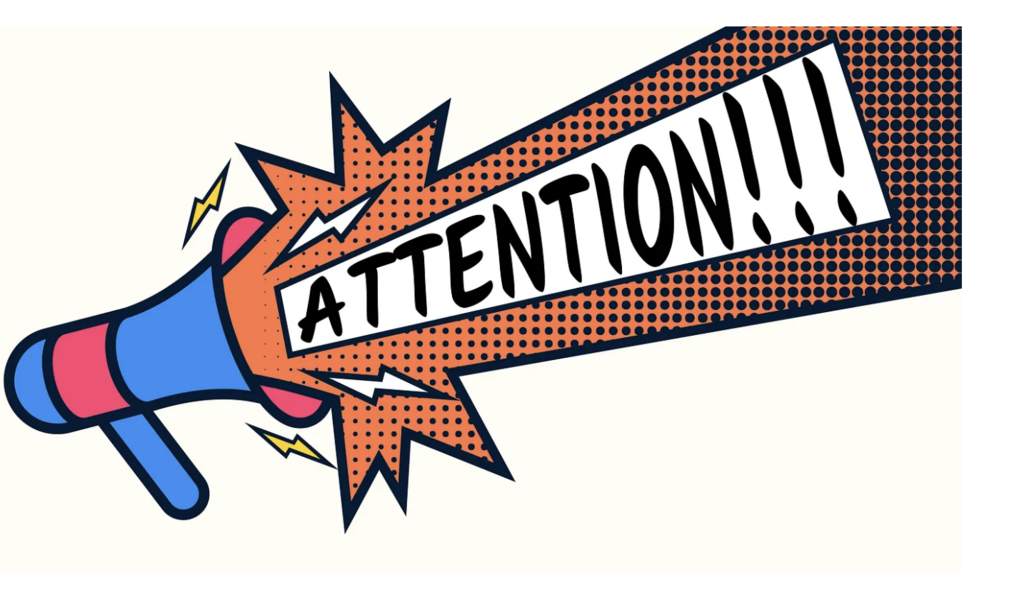 WSD is on a Two - Hour Delay for today Feb.22nd ❄️❄️❄️❄️ Comienzo de Retraso de dos horas para hoy Feb.22 ❄️❄️❄️❄️❄️ Student schedules / Horarios para Estudiantes. K-5th Graders: 10:15 AM - 3:00 PM 6th - 12th Graders: 10:00 AM - 2:45 PM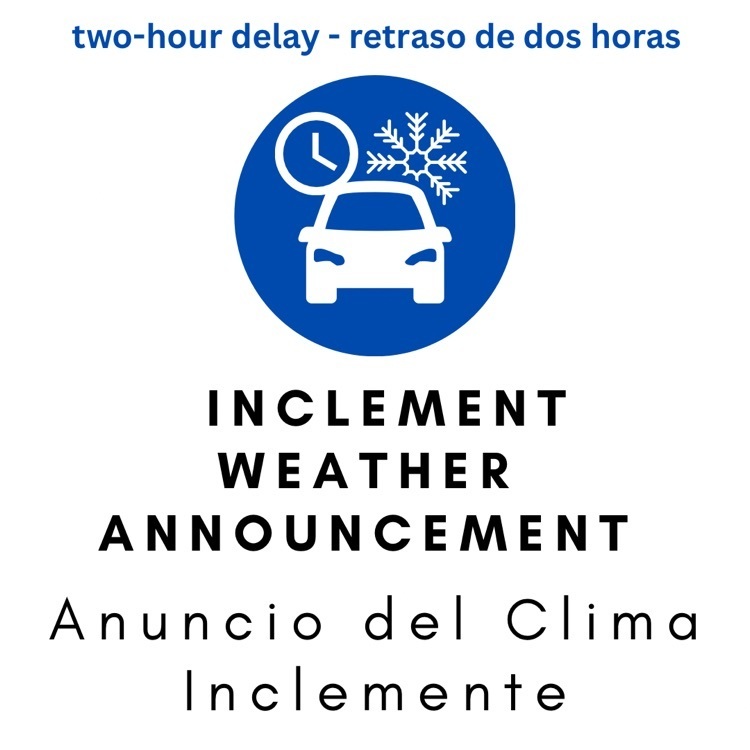 Wahluke school district is in a 2 hour delay. Wahluke High School will start at 10:00 am.