We got school spirit! How about you? That's right, Wahluke High School Spirit Week is from June 7th through June 11th. 🎉🎉🎉🎉 ¡Tenemos espíritu escolar! ¿Y usted? Así es, la Semana del Espíritu Escolar de Wahluke High School es del 7 al 11 de junio.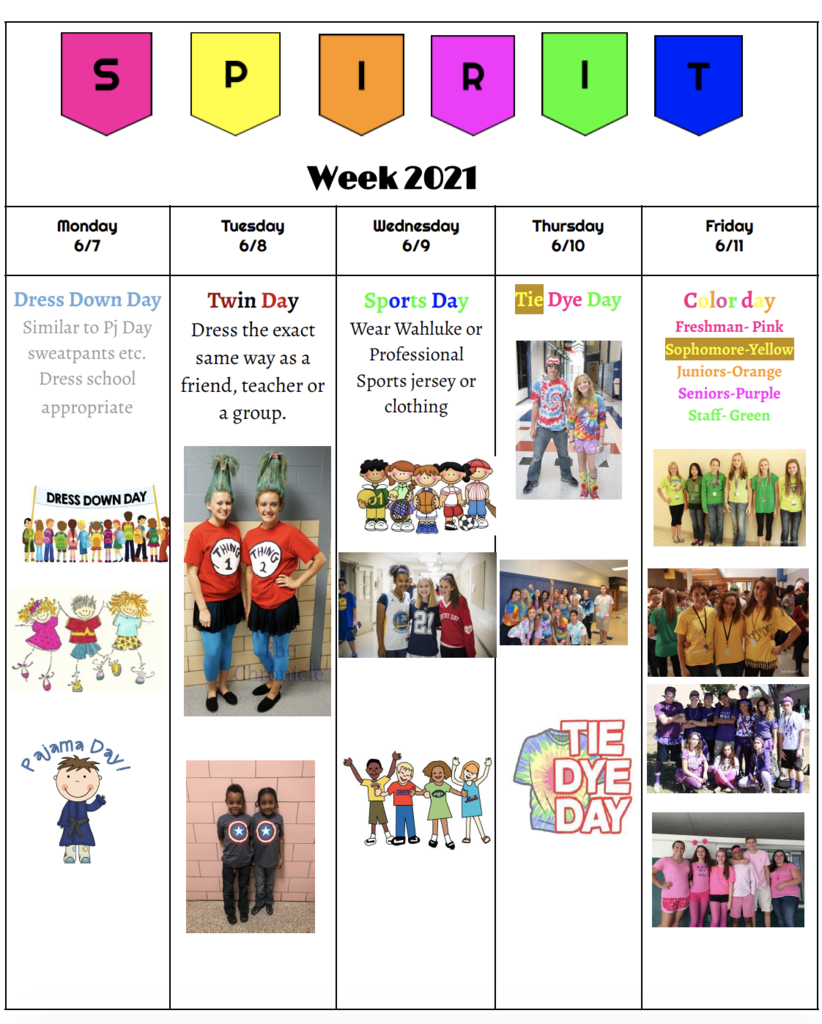 Throwback Thursday to our COVID-Friendly WHS Job Fair! Local businesses met with our students to talk about resumes, careers, and jobs. Thank you Tiddly Diddaly's and Desert Aire Homeowners Association. ¡Retroceda el jueves – a nuestra feria de trabajo de WHS ! Las empresas locales se reunieron con nuestros estudiantes para hablar sobre currículums, carreras y trabajos. Gracias Tiddly Diddaly's y Desert Aire Homeowners Association.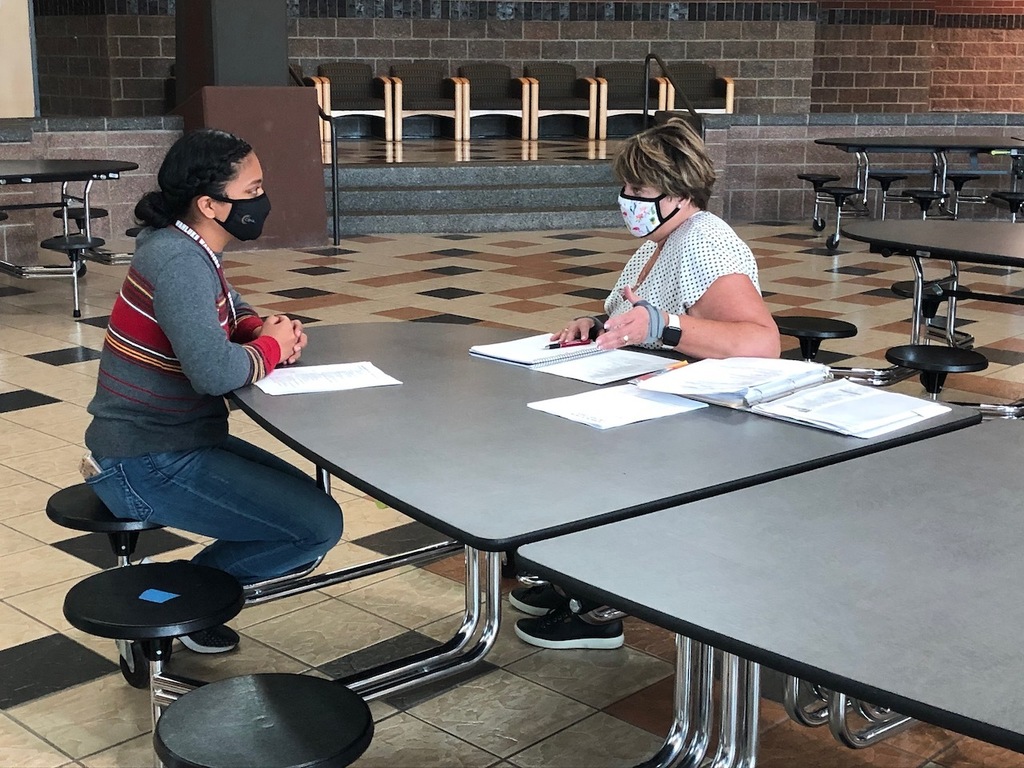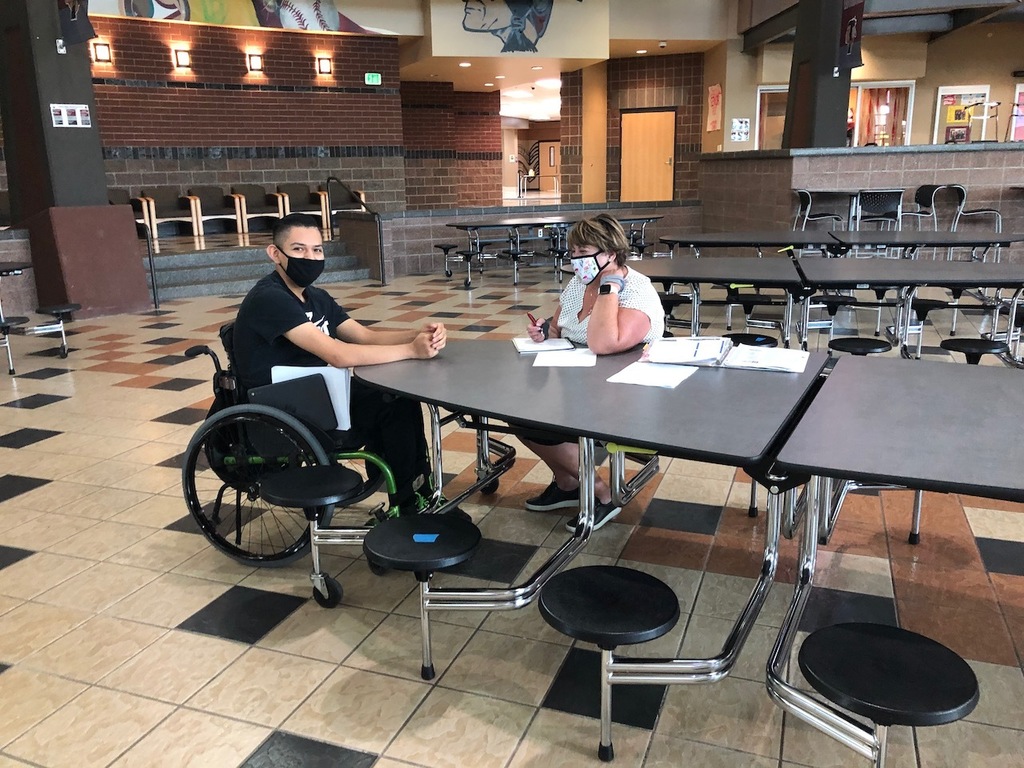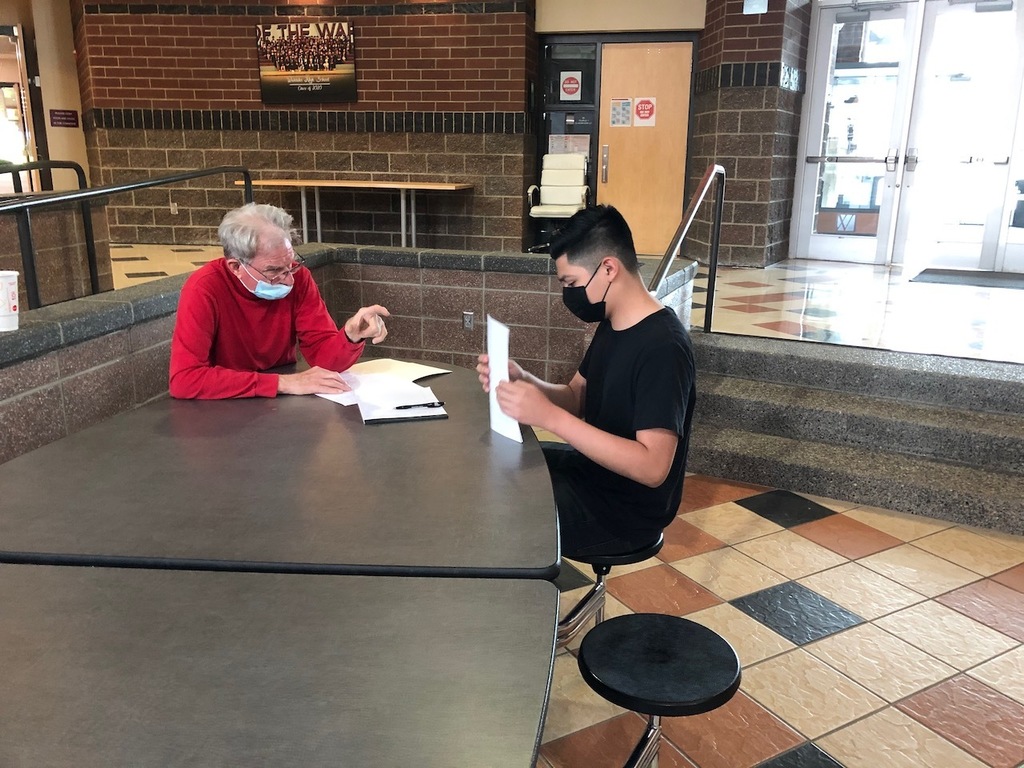 Congratulations to Agustina Sanchez! for receiving her Microsoft Office Specialist Certification. She had great perseverance, and it truly paid off. Students who obtain a Microsoft Office Specialist Certification gain valuable experience and confidence and heighten their earning potential for future careers. 💻📚💻📚💻📚💻📚💻 ¡Felicitaciones a Agustina Sánchez! por recibir su Certificación de Especialista en Microsoft Office. Tuvo una gran perseverancia y realmente valió la pena. Los estudiantes que obtienen una Certificación de Especialista de Microsoft Office obtienen una valiosa experiencia y confianza y aumentan su potencial de ingresos para futuras carreras.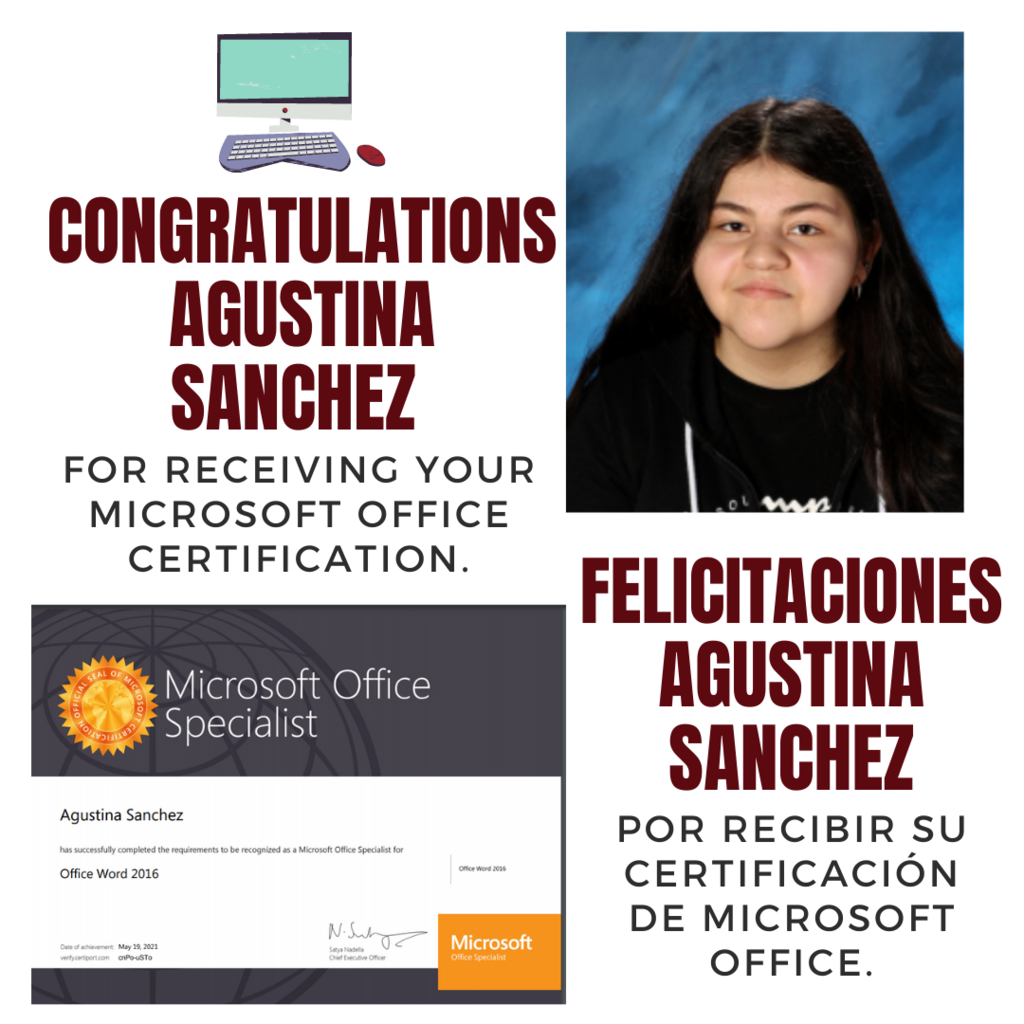 Transforming Life Choices with High School Mathematics: Read this amazing article, linked below highlighting the success of Implementing Agile Mind's Intensified Algebra I (IA) program with 9th grade students featuring our very own WHS Math Teacher Daisy Pfeifer, Class of 2021 Senior Michael Garcia and WHS Algebra I IA students. "Daisy Pfeifer, was the initial lead teacher for Intensified Algebra I, and she has taught with the program for each of the last 6 years. For Mrs. Pfeifer, the life experiences and backgrounds of her students are assets. Despite challenges, she and her students have formed a strong learning community that has not only survived, but has strengthened throughout students' high school careers." Way to go Mrs. Pfeifer for leading and creating a learning community for our students! Transformando las opciones de la vida con las matemáticas de la escuela secundaria: lea este increíble artículo enlace a continuación que destaca el éxito del programa Implementing Agile Mind's Intensified Algebra I (IA) con estudiantes de noveno grado con nuestra propia maestra de matemáticas de WHS, Daisy Pfeifer, clase del último año de 2021 Michael García y WHS Estudiantes de Álgebra I IA. "Daisy Pfeifer, fue la maestra principal inicial de Álgebra intensificada I, y ha enseñado con el programa durante cada uno de los últimos 6 años. Para la Sra. Pfeifer, las experiencias de vida y los antecedentes de sus estudiantes son activos. A pesar de los desafíos, ella y sus estudiantes han formado una sólida comunidad de aprendizaje que no solo ha sobrevivido, sino que se ha fortalecido a lo largo de las carreras de los estudiantes en la escuela secundaria ". ¡Bien hecho Sra. Pfeifer por liderar y crear una comunidad de aprendizaje para nuestros estudiantes!
https://www.agilemind.com/blog/transforming-life-choices-with-high-school-mathematics/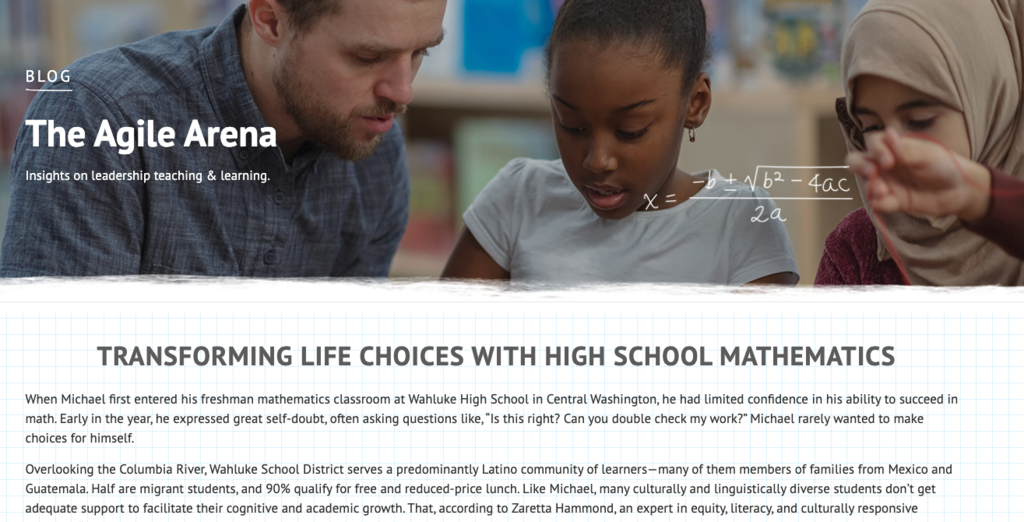 Congratulations! Karina Cruz, Jasmine Rodriguez Lara, and Karen Arellano for being recipients of the Washington Apple Education Foundation (WAEF) scholarship. Most students receiving WAEF scholarships share a common link of parent employment in the tree fruit industry and scholarship recipients are pursuing a wide variety of degrees and career paths. Great job warriors! ¡Felicidades! Karina Cruz, Jasmine Rodríguez Lara y Karen Arellano por ser beneficiarias de la beca de Washington Apple Education Foundation (WAEF). La mayoría de los estudiantes que reciben becas WAEF comparten un vínculo común de empleo de los padres en la industria de las frutas de árboles y los beneficiarios de las becas están siguiendo una amplia variedad de títulos y carreras profesionales. ¡Buen trabajo, guerreras!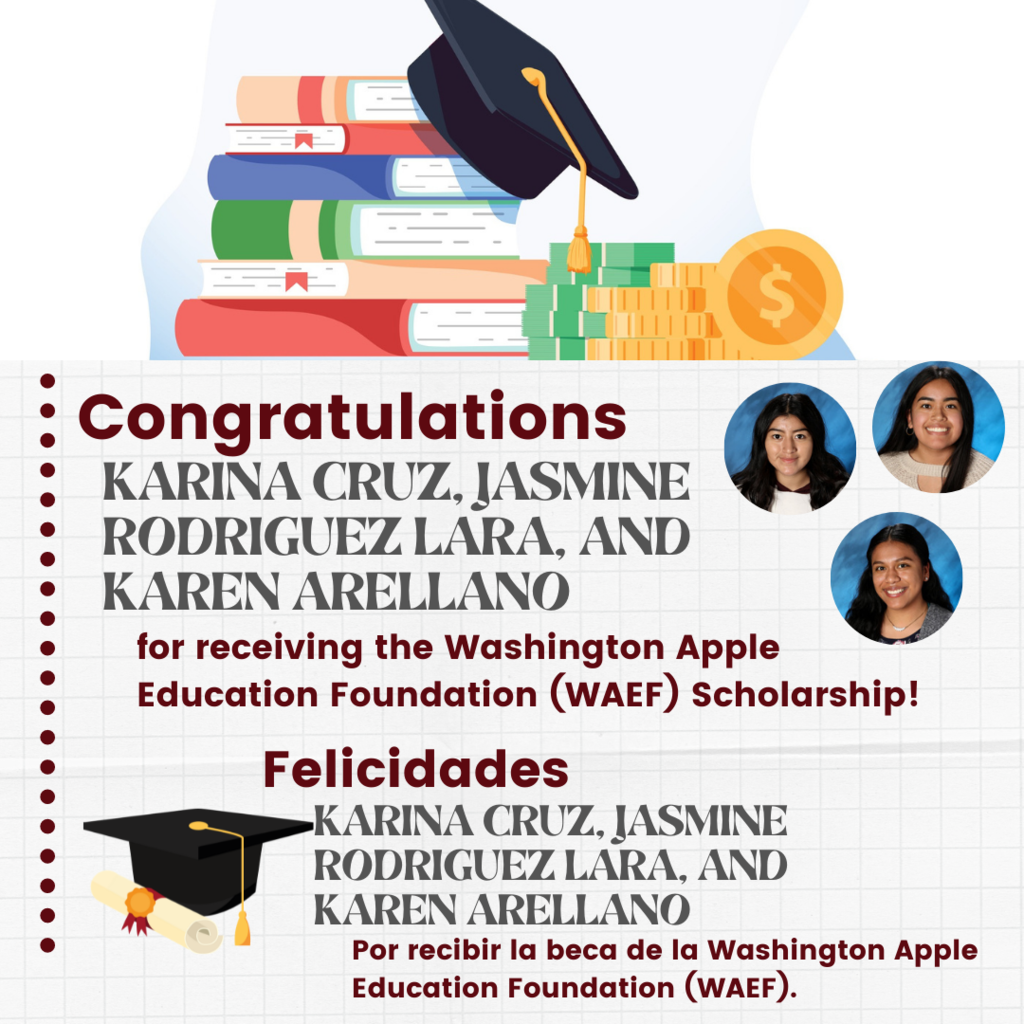 Congratulations Melissa Martinez for your hard work and successfully completing the Microsoft Office Specialist Exam. Martinez is another WHS student who received her Microsoft Office Certification. "Mellisa's achievement and perseverance are exceptional. She is a leader, an extremely talented, dedicated, driven, and gifted young lady!" - Mrs. Ibarra 💻💻💻💻💻 Felicitaciones Melissa Martinez por su arduo trabajo y por completar con éxito el Examen de Especialista de Microsoft Office. Martínez es otra estudiante de WHS que recibió su certificación de Microsoft Office. "El logro y la perseverancia de Mellisa son excepcionales. ¡Es una líder, una jovencita extremadamente talentosa, dedicada, motivada y talentosa!" - Sra. Ibarra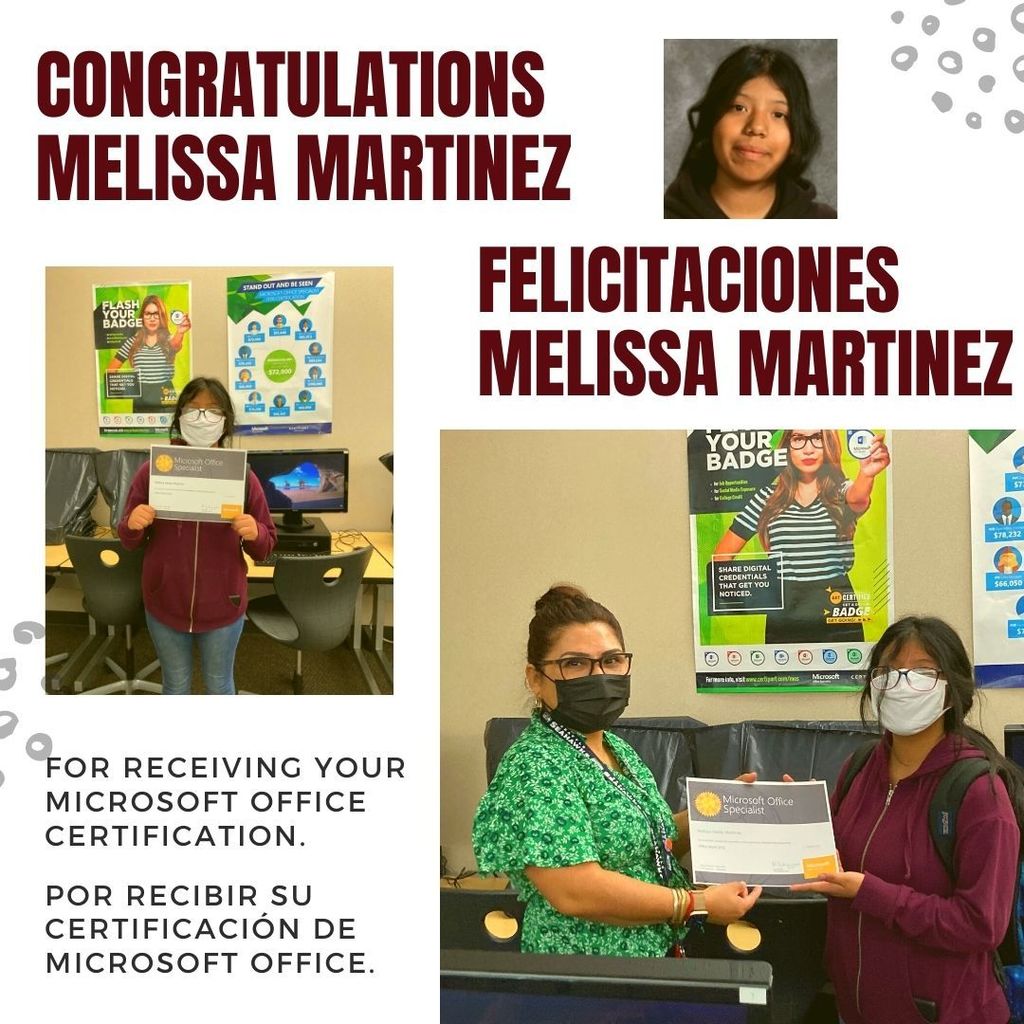 Youth Mental Health Summit for High School Students! This Summit is a three-session mental health Series. Youth will be learning the importance of mental health, healthy coping mechanisms and will end with a special speaker, DJ BIG ERN! Although the event starts today and registration was on Friday (4/30), students can still join and learn about Mental Health! Check it the link below for more information:
https://www.smore.com/r2mw6
This event will be delivered both in English and Spanish. ¡Cumbre de salud mental juvenil para estudiantes de secundaria! Esta Cumbre es una serie de salud mental de tres sesiones. Los jóvenes aprenderán la importancia de la salud mental, los mecanismos de afrontamiento saludables y terminarán con un orador especial, DJ BIG ERN. Aunque el evento comienza hoy y la inscripción fue el viernes (4/30), ¡los estudiantes aún pueden unirse y aprender sobre salud mental! Consulte el enlace a continuación para obtener más información:
https://www.smore.com/r2mw6
Este evento se entregará tanto en inglés como en español.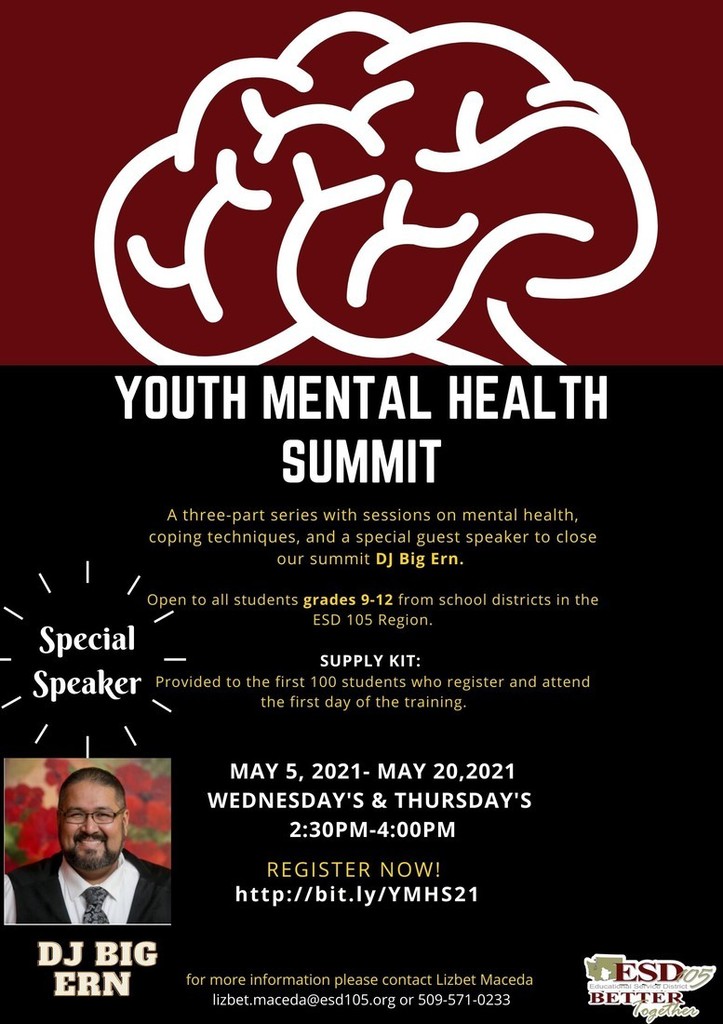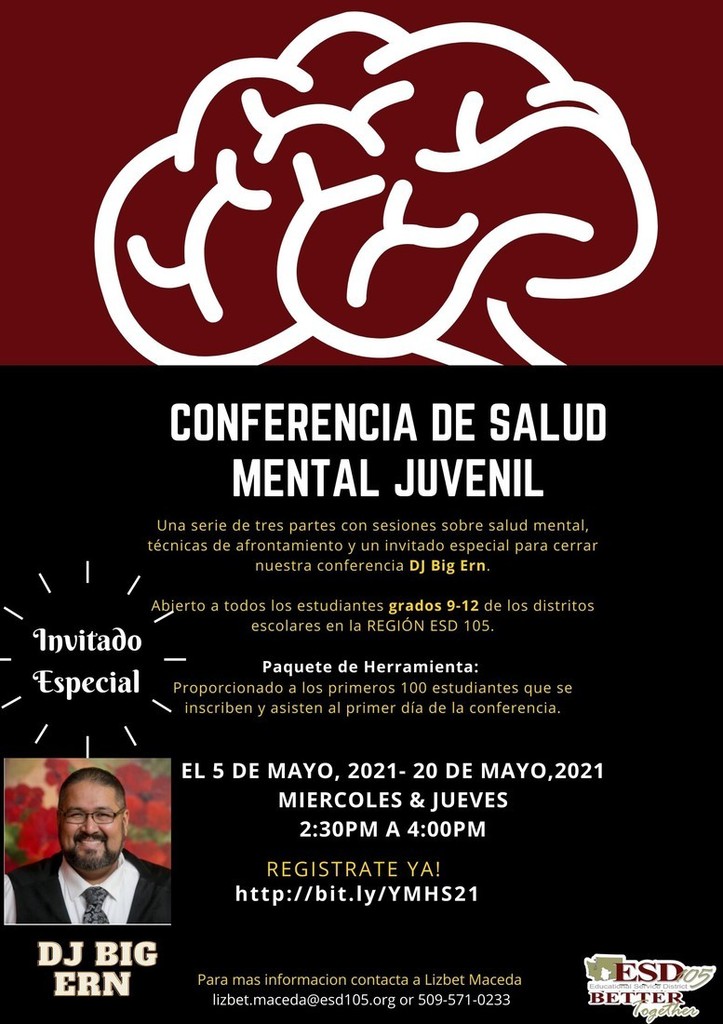 Congratulations Leslie Guadalupe de Los Santos for your hard work and successfully completing the Microsoft Office Specialist Exam yesterday. She received 850 points out of 1000! Felicitaciones a Leslie Guadalupe de Los Santos por su arduo trabajo y por completar con éxito el Examen de Especialista de Microsoft Office ayer. ¡Recibió 850 puntos de 1000!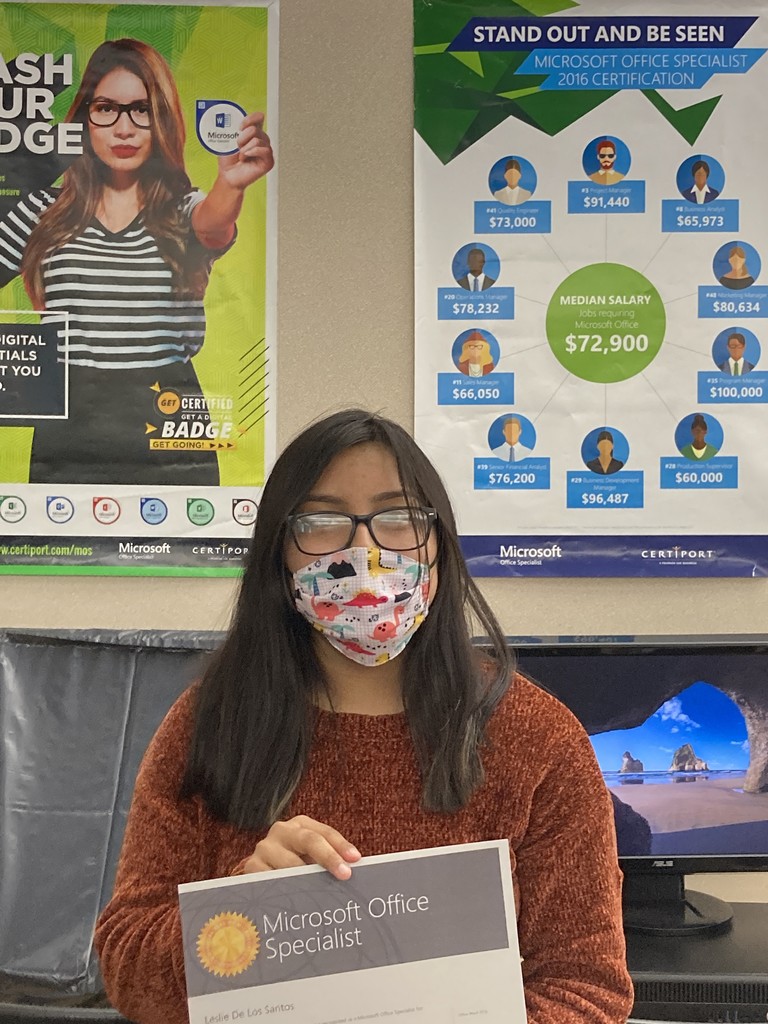 North Central Educational Service District 171 and Moses Lake Chamber of Commerce has partnered together in hosting a Virtual Occupation Exploration Event about the AJAC (Aerospace Joint Apprenticeship Committee) Youth Apprenticeship Program on Wednesday, April 28th from 4 pm-5 pm! AJAC has restructured its Youth Apprenticeship program and has developed 3 steps for prospective students interested in participating in the 2021 school year. JOIN US for their virtual information session and what they have to offer! Anyone interested in attending the event, please look at the flyer below or visit:
https://www.ajactraining.org/
✈️ ✈️ ✈️ ✈️ ✈️ El Distrito 171 del Servicio Educativo North Central y la Cámara de Comercio de Moses Lake se han asociado para organizar un Evento de Exploración de Ocupaciones Virtuales sobre el Programa de Aprendizaje Juvenil AJAC (Comité Conjunto de Aprendizaje Aeroespacial) el miércoles 28 de abril de 4 pm a 5 pm. AJAC ha reestructurado su programa de Aprendizaje Juvenil y ha desarrollado 3 pasos para los futuros estudiantes interesados en participar en el año escolar 2021. ¡ÚNETE A NOSOTROS para su sesión de información virtual y lo que tienen para ofrecer! Cualquier persona interesada en asistir al evento, consulte el folleto a continuación o visite:
https://www.ajactraining.org/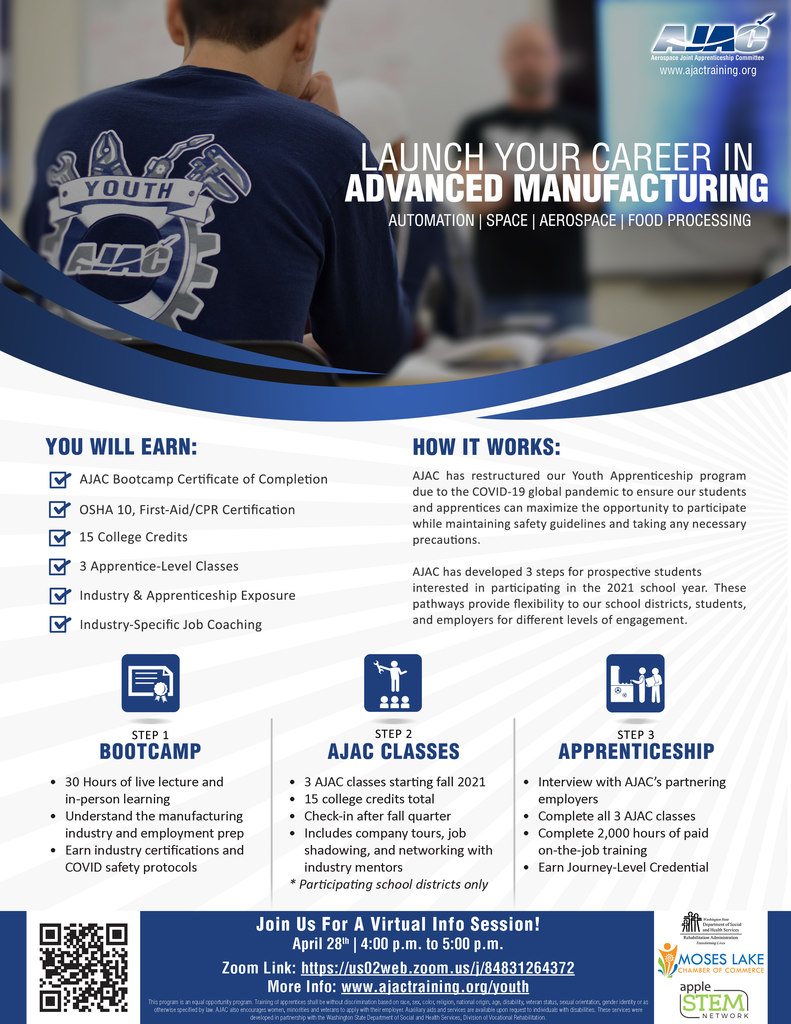 🗣 WHS Students and Parents: 📌REMINDER: ELPA testing will be on April 26 (8:00 AM-12:30 PM), May 3, and May 10 (in-person during AM or PM regular cohort times)! 🔌Please make sure students' Chromebooks are charged (and bring charger)! 📝Please refer to the parent letters that were sent home with students for more details (including which day your student is assigned). 📚Practice makes perfect! See the image below for directions on how to do the practice test. 😊Questions? Call the High School and speak to Ms. Brannock @ 509-932-4477. 🗣 Estudiantes y padres de WHS: 📌RECORDATORIO ¡Las pruebas de ELPA serán el 26 de abril (8:00 AM-12: 30 PM), el 3 de mayo y el 10 de mayo (en persona durante las horas regulares de cohorte AM o PM)! 🔌¡Asegúrese de que los Chromebook de los estudiantes estén cargados (y traiga el cargador)! 📝Consulte las cartas de los padres que se enviaron a casa con los estudiantes para obtener más detalles (incluido el día asignado a su estudiante). 📚¡Practicando hace la perfección! Consulte la imagen a continuación para obtener instrucciones sobre cómo realizar el examen de práctica. 😊¿Preguntas? Llame al High School y hable con Ms. Brannock a el 509-932-4477.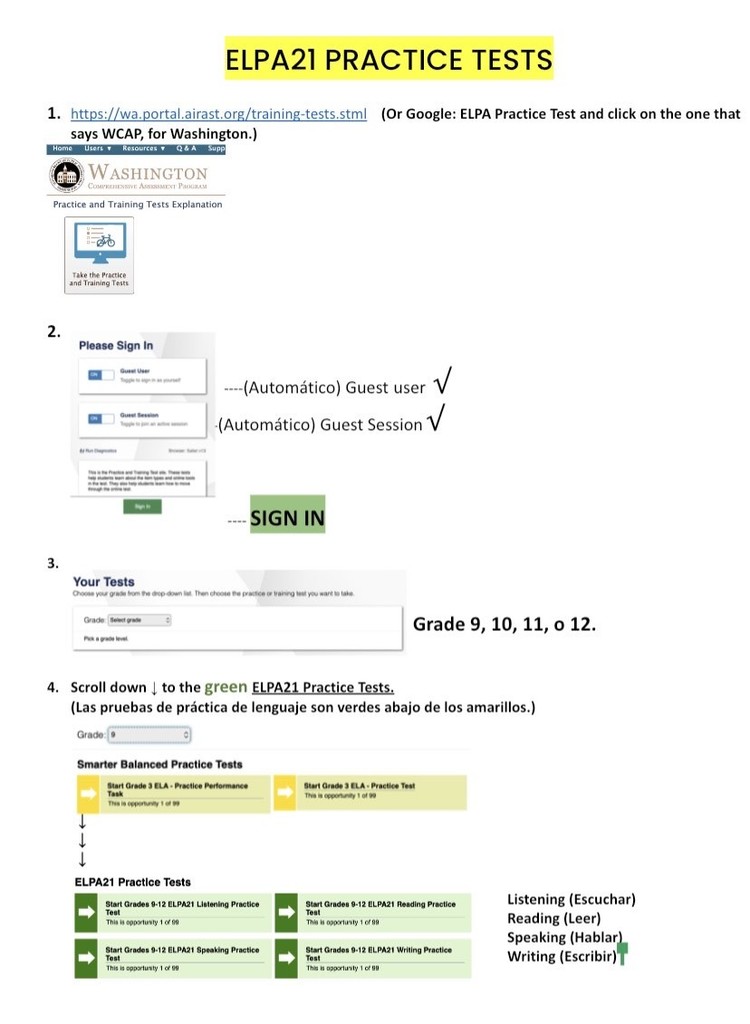 Quarter 3 Ends Thursday, April 22nd and Quarter 4 starts Friday, April 23rd. 🍎😎📚🍎😎📚 El tercer trimestre termina el jueves 22 de abril y el cuarto trimestre comienza el viernes 23 de abril.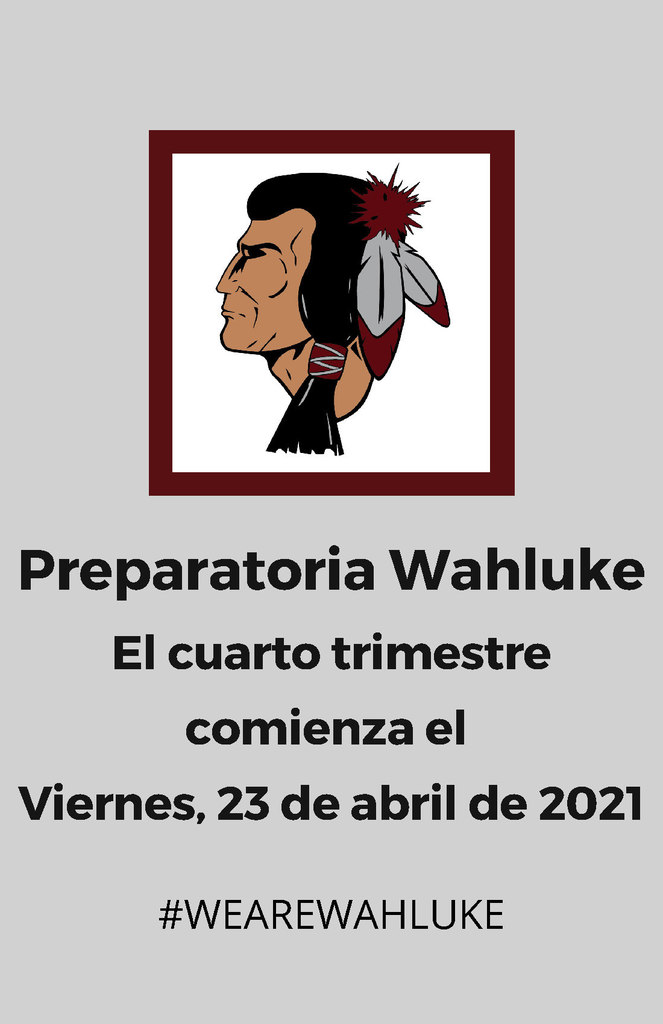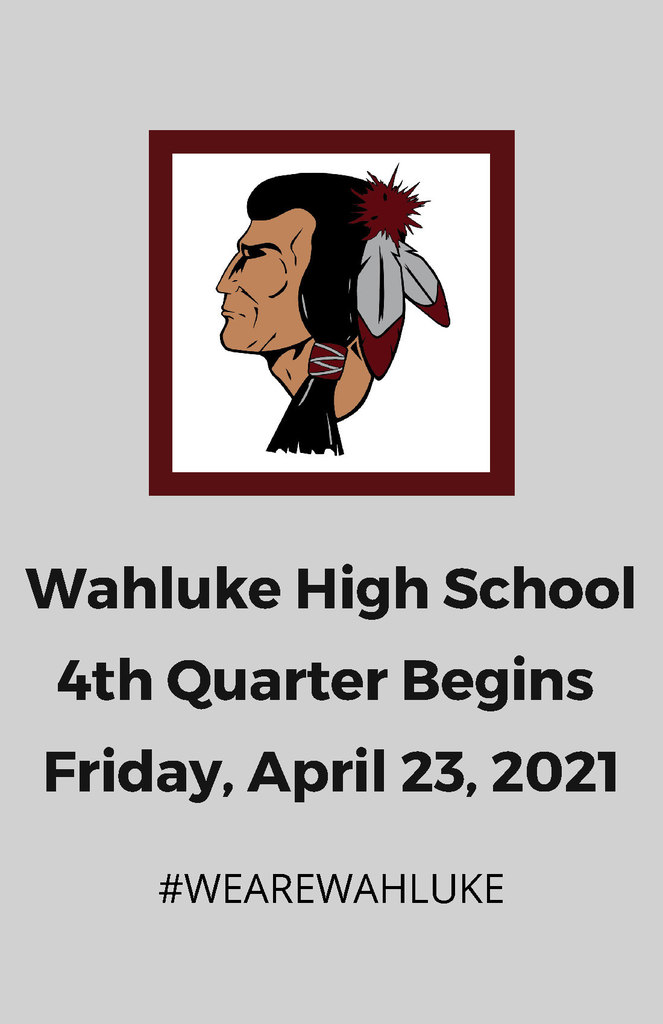 WHS would like to give a huge THANK YOU! to Mrs. Lawson for all the work she does for our faculty, staff, and students! WHS quisiera dart un enorme GRACIAS! a la Sra. Lawson por todo el trabajo que hace para nuestra facultad, personal y estudiantes.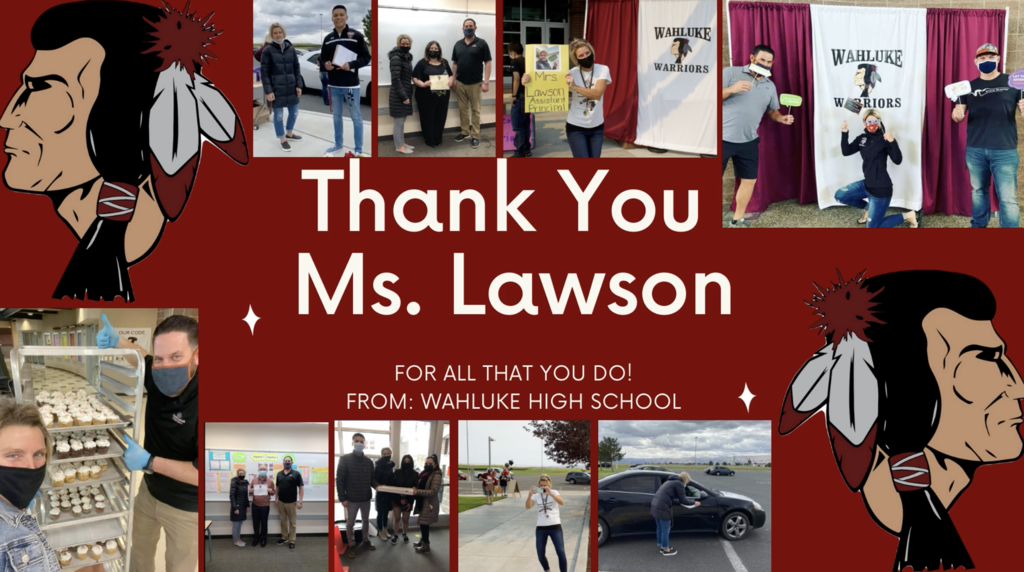 It's time for students to submit their artwork in the annual Washington Apple Education Foundation Year of the Apple Art Contest sponsored by Corteva Agriscience! Students have until May 1, 2021 to send their entries to WAEF for the 2021 contest. 🍎🍎🍎🍎🍎🍎🍎🍎🍎 The Washington apple themed contest will grant over $1,750 cash in student prizes. First place will receive $1,000, 2nd place $500, and 3rd place $250. In addition to cash prizes for students, the top three winners' art classes/teachers will win $150 Amazon gift card for art supplies. The grand prize winning artwork will be featured on the 2022 Corteva Argiscience poster calendar. The contest is open to students currently enrolled in the 9th-12th grades in Washington high schools located in Adams, Benton, Chelan, Douglas, Franklin, Grant, Kittitas, Okanogan, Walla Walla and Yakima counties. Students must use a Washington grown apple variety as the subject of their artwork. Traditional forms of artistic media are accepted. Wormy or diseased fruit are discouraged. Entries should not contain slogans or advertising messages. Artwork submitted must depict a Washington grown apple(s). Contest rules and registration forms may be found at
www.waef.org/event/yearoftheapple/
or by calling (509) 663-7713. ¡Es hora de que los estudiantes presenten sus obras de arte en el Concurso anual de arte de Apple del Año de la Fundación Educativa de Apple de Washington patrocinado por Corteva Agriscience! Los estudiantes tienen hasta el 1 de mayo de 2021 para enviar sus trabajos a WAEF para el concurso de 2021. 🍎🍎🍎🍎🍎🍎🍎🍎🍎 El concurso temático de la manzana de Washington otorgará más de $ 1,750 en efectivo en premios para estudiantes. El primer lugar recibirá $ 1,000, el segundo lugar $ 500 y el tercer lugar $ 250. Además de los premios en efectivo para los estudiantes, las clases de arte / maestros de los tres primeros ganadores ganarán una tarjeta de regalo de Amazon de $ 150 para materiales de arte. La obra de arte ganadora del gran premio se incluirá en el calendario de carteles de Corteva Argiscience de 2022. El concurso está abierto a los estudiantes actualmente matriculados en los grados 9 al 12 en las escuelas secundarias de Washington ubicadas en los condados de Adams, Benton, Chelan, Douglas, Franklin, Grant, Kittitas, Okanogan, Walla Walla y Yakima. Los estudiantes deben usar una variedad de manzana cultivada en Washington como tema de su obra de arte. Se aceptan formas tradicionales de medios artísticos. Se desaconseja la fruta con gusanos o enferma. Las entradas no deben contener eslóganes ni mensajes publicitarios. Las ilustraciones enviadas deben representar una (s) manzana (s) cultivada en Washington. Las reglas del concurso y los formularios de inscripción se pueden encontrar en
www.waef.org/event/yearoftheapple/
o llamando al (509) 663-7713.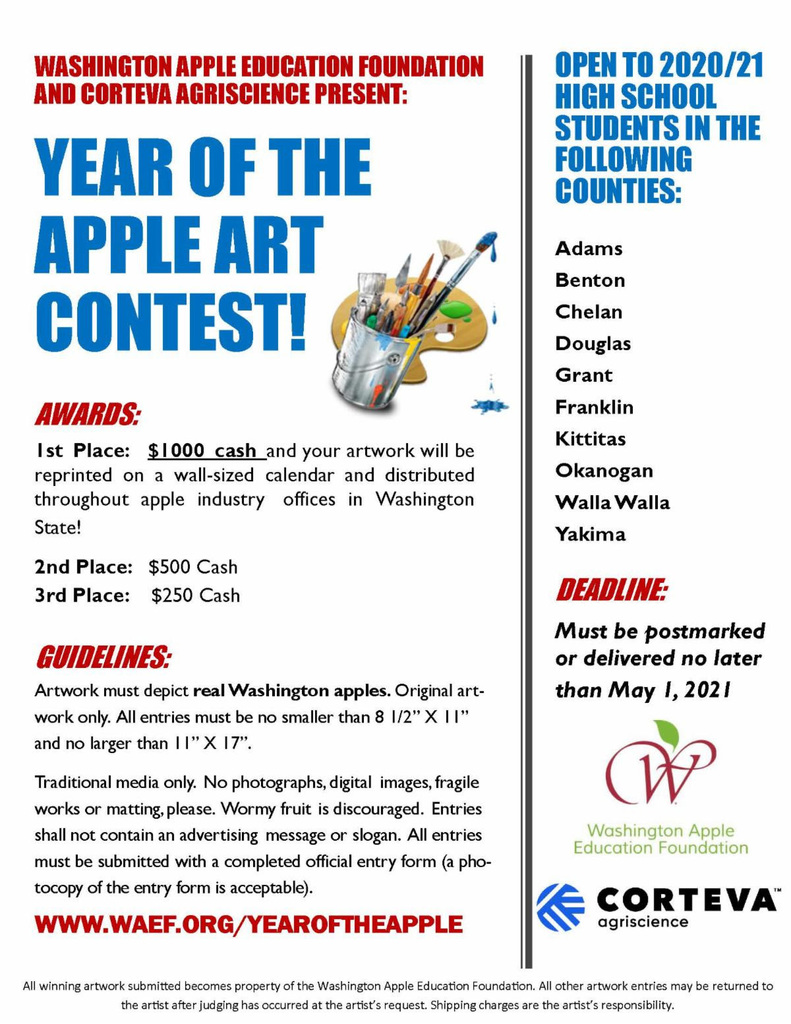 Yesterday's WHS ASB Activities Fair was a success! A huge THANK YOU to everyone that made this possible and to all our students that attended. ¡La Feria de Actividades de WHS ASB de ayer fue un éxito! Un enorme agradecimiento a todos los que hicieron esto posible y a todos nuestros estudiantes que asistieron.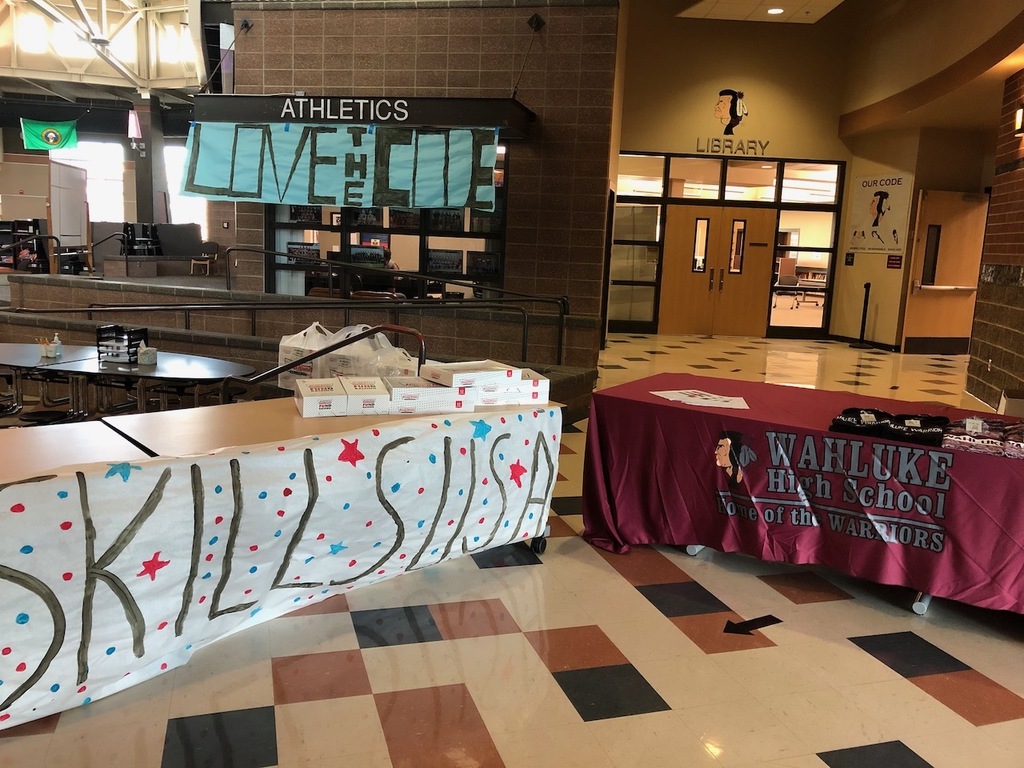 SOON APPROACHING! Learn how to get involved at the WHS ASB Activities Fair Monday, March 29th from 3:00 PM - 5:00 PM all WHS students are invited. All sports and clubs will be there to give information and more. PRONTO SE ASERCA! Aprenda cómo participar en la Feria de Actividades de WHS ASB el lunes 29 de marzo de 3:00 p.m. a 5:00 p.m. Todos los estudiantes de WHS están invitados. Todos los deportes y clubes estarán allí para dar información y más.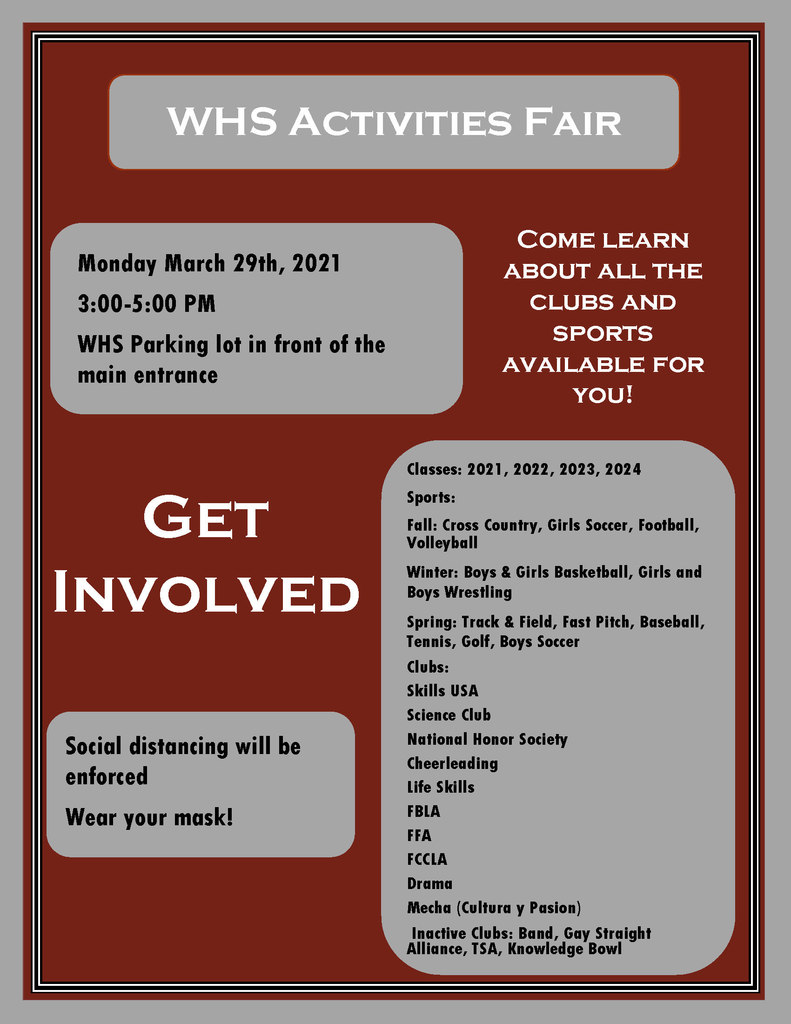 Look who is on display! Class Picture of the 2020 Graduating Class. 🎓 🎓 🎓 🎓 🎓 ¡Mira quién está en exhibición! Imagen de la clase de la clase de graduación de 2020.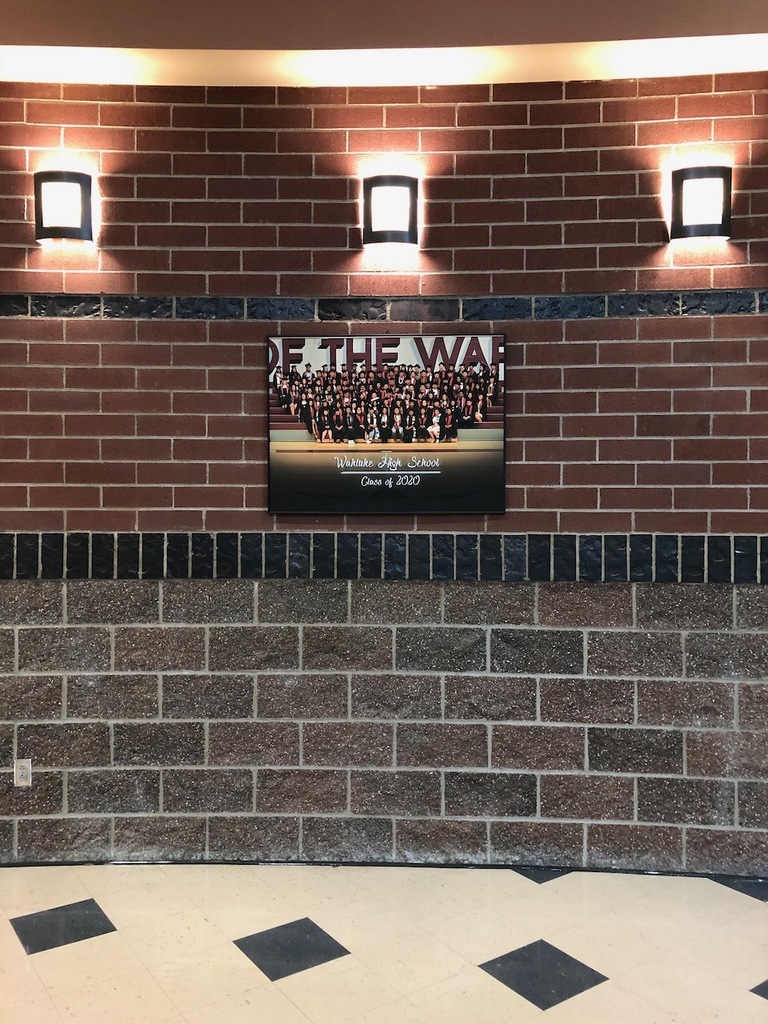 Great job Floriculture (Flower Production/Management) students creating floral arrangements! 💐 💐 💐 💐 💐 ¡Buen trabajo los estudiantes de Floricultura (Producción / Manejo de Flores) creando arreglos florales!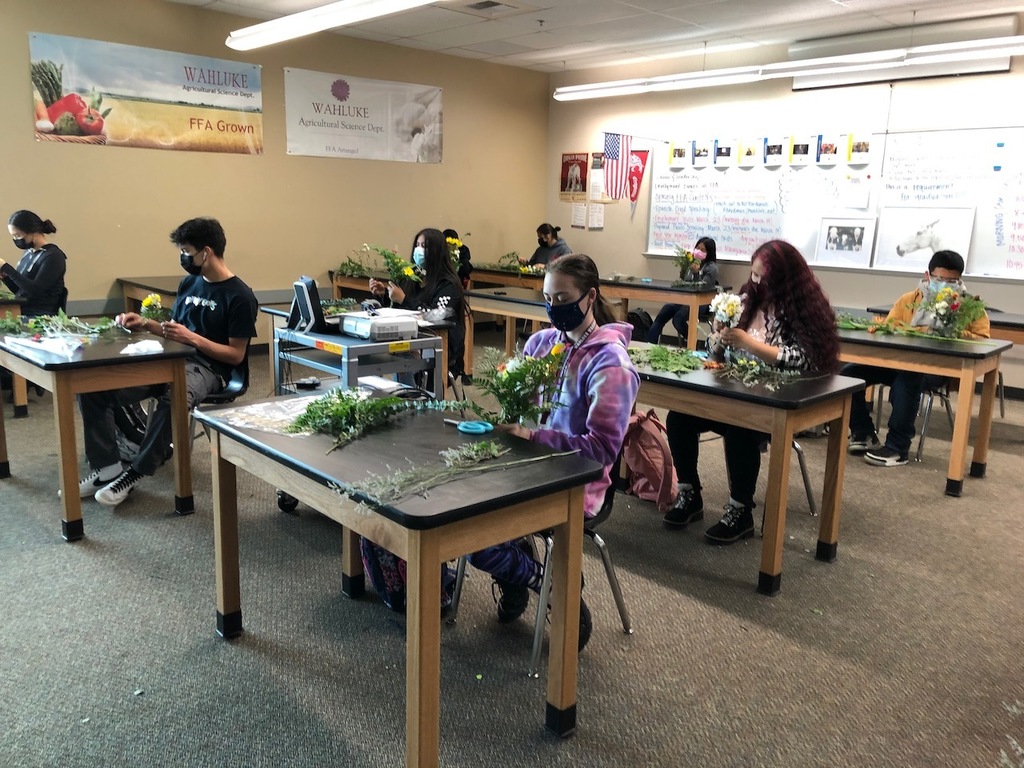 Make sure to tune in to TONIGHT'S home WHS Football game broadcast via the WSD Athletics Facebook page. It is SENIOR NIGHT, and WHS will be appreciating the class of 2021 senior Cross Country Runners 👟, Football Cheerleaders 🗣, and Football Players 🏈 ! The Wahluke High School Warriors will be playing Ephrata High School at 7:00 PM ⏰ Asegúrese de sintonizar la transmisión del partido de Fútbol Americano WHS en casa de ESTA NOCHE a través de la página de Facebook de WSD Athletics. ¡Es NOCHE DE ESTUDIANTES DE 12 GRADO, y WHS apreciará la los corredores de campo traviesa, porristas y jugadores de fútbol americano de las clase de 2021! Los Warriors de Wahluke High School tjugaran contra Ephrata High School a las 7:00 p.m.
https://www.facebook.com/wahlukeathletics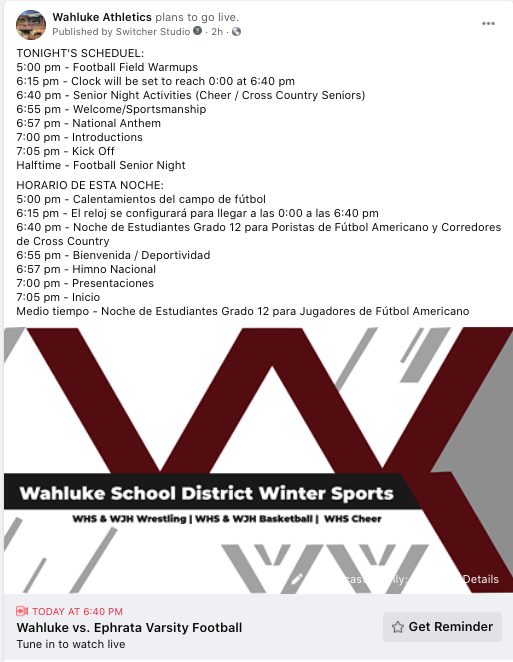 Wahluke High School: National Honor Society National is hosting a Blood Drive TODAY! Make your appointment online by scanning the QR code on the flyer or visiting redcrossblood.org, or see Ms. Jaakola for help. If you are 16 or 17 years old, you need to pick up a permission form for your parents to fill out. Escuela Preparatoria Wahluke: ¡La Sociedad Nacional de Honor Nacional está organizando una donación de sangre HOY! Haga su cita en línea escaneando el código QR en el volante o visitando redcrossblood.org, o consulte a la Sra. Jaakola para obtener ayuda. Si tiene 16 o 17 años, debe recoger un formulario de permiso para que lo llenen sus padres.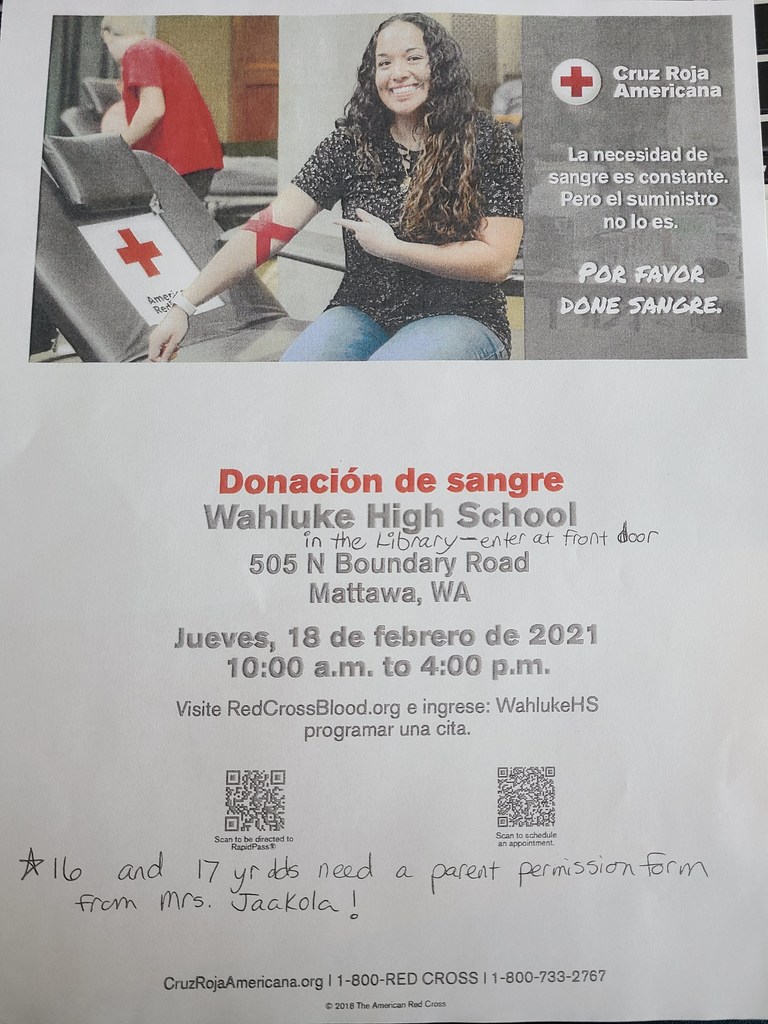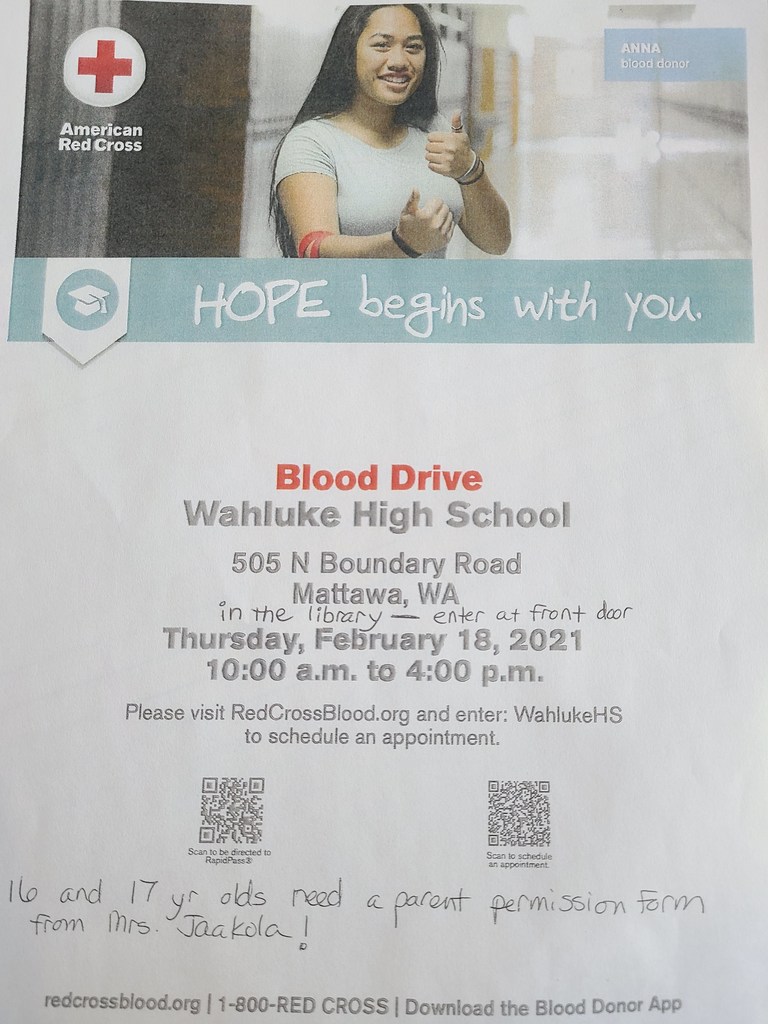 Due to COVID-19 safety reasons, please DO NOT drop off or send your child to school before 7:45 AM if they are part of the AM Cohort or 12:00 PM if they are part of the PM Cohort. If your child walks to school, please make sure they do not leave too early. 📚School begin for the AM Cohort at 8:00 AM - Dismissal at 10:30 AM 📚School begins for the PM Cohort at 12:15 PM - Dismissal at 2:45 PM Thank you for understanding. Debido a razones de seguridad de COVID-19, NO deje ni envíe a su hijo/hija a la escuela antes de las 7:45 A. M. Si son parte de la cohorte de la mañana o de las 12:00 P. M. Si son parte de la cohorte de la tarde. Si su hijo/hija camina a la escuela, asegúrese de que no se vaya demasiado temprano. 📚Inicio de clases para la cohorte de la mañana son a las 8:00 AM - Salida a las 10:30 AM 📚Inicio de clases para la cohorte de la tarde a las 12:15 PM- Salida a las 2:45 PM Gracias por entender.