On October 20th, Wahluke School District participated in Unity Day to celebrate Bully Prevention Month. And here is how it went 🧡 🟧🧡🔸🟧🧡🔸🟧 El 20 de octubre, el Distrito Escolar de Wahluke participó en el Día de la Unidad para celebrar el Mes de la Prevención del Bully. Y así fue como fue 🧡
https://www.youtube.com/watch?v=WieTz25EiHA

Presentamos el C3 Hub en Wahluke High School 🔵📚🟡📚🟢📚⚪️ Gracias a una subvención IMLS de dos años, estamos orgullosos de presentar el nuevo C3 Hub en Wahluke High School. Este espacio promueve la comunicación, la colaboración y la creatividad. Esperamos que este espacio proporcione a los estudiantes libros, recursos y habilidades que los harán exitosos más allá de su tiempo en Wahluke. El año pasado se trató de crear este nuevo espacio, y estamos ansiosos por trabajar en la creación de programas que sostendrán el C3 Hub en los próximos años.
https://youtu.be/bE7fKjVZ0_8

Introducing the C3 Hub at the Wahluke High School 🔵📚🟡📚🟢📚⚪️ Thanks to a two-year IMLS grant, we are proud to introduce the new C3 Hub in Wahluke High School. This space promotes communication, collaboration, and creativity. We hope this space will provide students with books, resources, and skills that will make them successful beyond their time in Wahluke. Last year was all about creating this new space, and we can't wait to work on building programs that will sustain the C3 Hub for years to come.
https://youtu.be/Ev1AciBwYyI?t=4

Due to fall conferences, students who ride the bus can expect to be picked up 4 hours later than their regular bus pick-up time. _______ Debido a las conferencias de otoño, los estudiantes que viajan en autobús pueden esperar ser recogidos 4 horas más tarde de la hora habitual de recogida.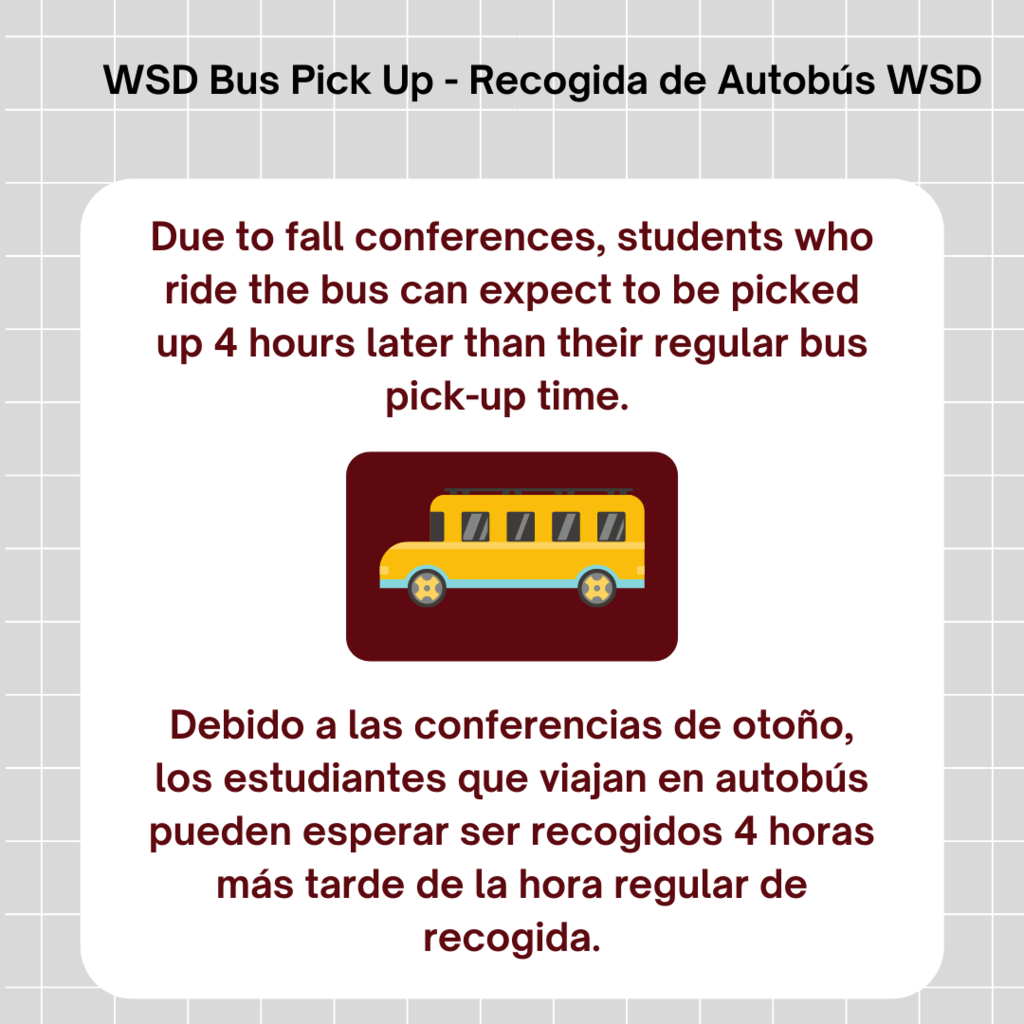 Our Fall Conferences will begin tomorrow — just a reminder of our student's schedules and parent-teacher conference times. Take a look at the following post. 🍂🗣🍂🗣🍂🗣🍂 Nuestras conferencias de otoño comenzarán mañana, solo un recordatorio de los horarios de nuestros estudiantes y los horarios de las conferencias de padres y maestros. Echa un vistazo a la siguiente publicación.
https://www.parentsquare.com/feeds/9242247
https://www.wahluke.net/article/560936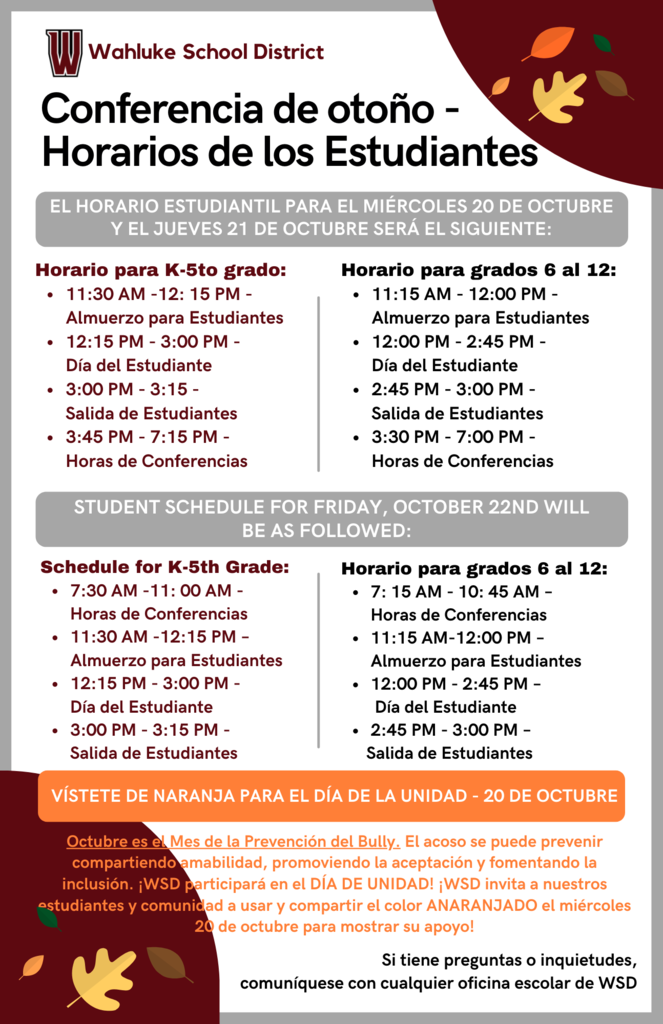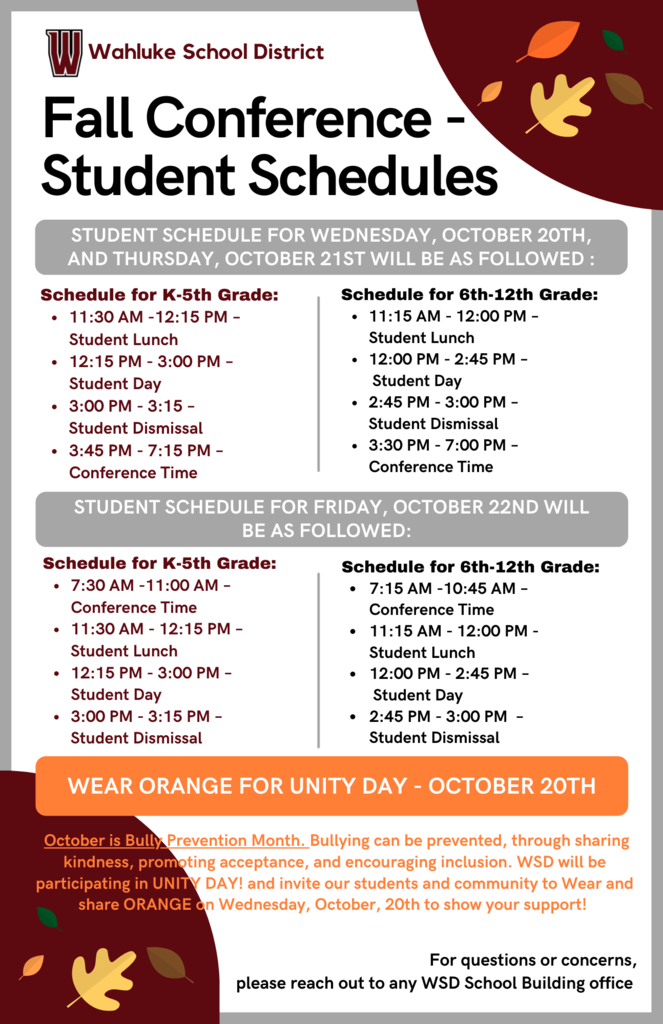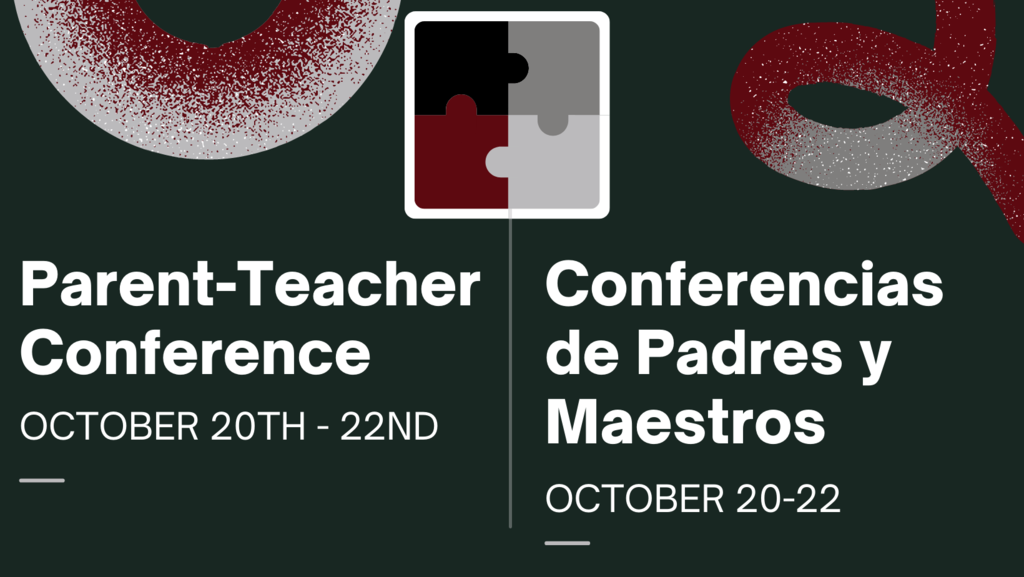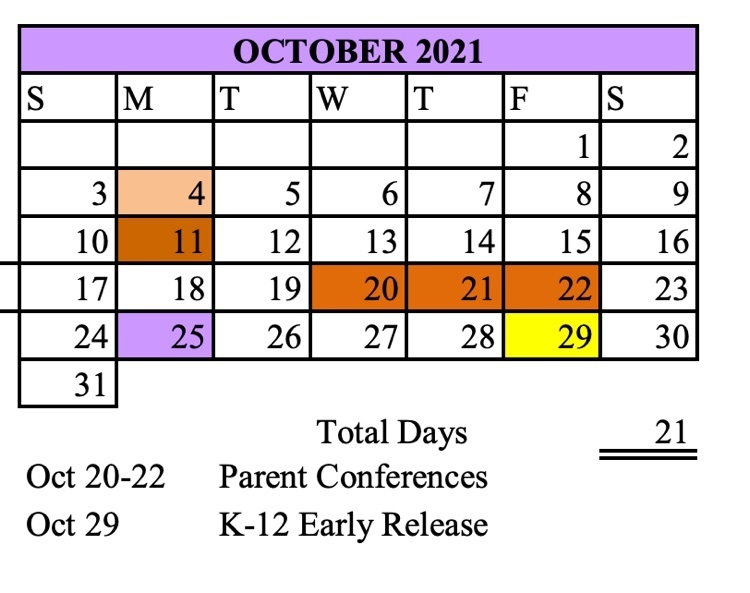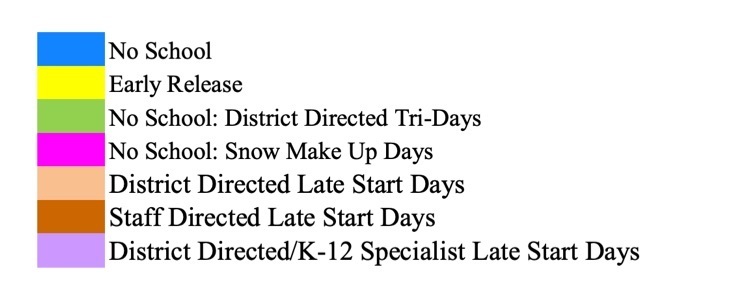 Thank you WHS Leadership and ASB Class for hosting the School Board Candidate Forum last night. It was a great opportunity for our community members to ask questions and get to know the School Board Candidates. 🗣🗣🗣🗣🗣 Gracias WHS Leadership y ASB Class por organizar el Foro de Candidatos de la Junta Escolar anoche. Fue una gran oportunidad para que los miembros de nuestra comunidad hicieran preguntas y conocieran a los candidatos a la Junta Escolar.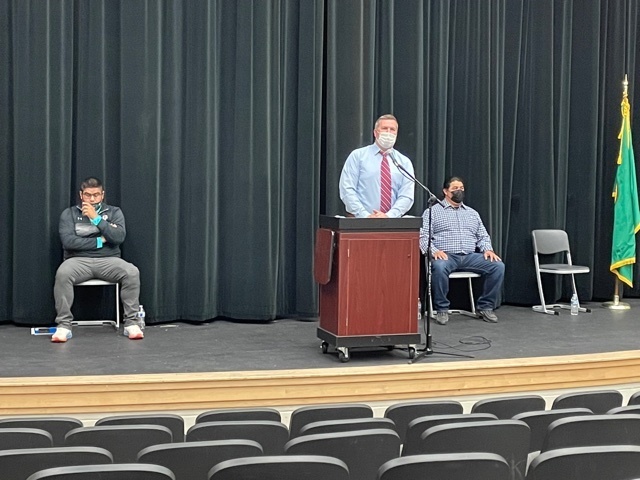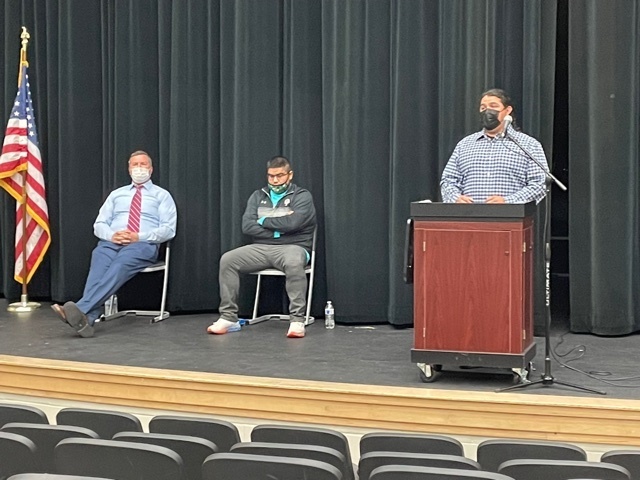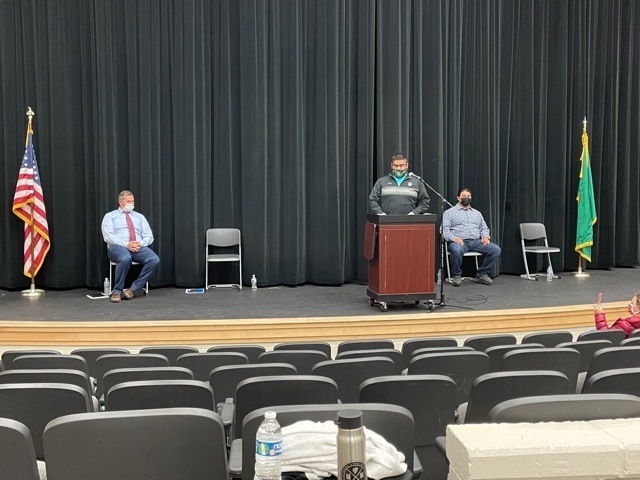 Wahluke High School ASB and Leadership class will be hosting a School Board Candidate Forum open to the Wahluke community on Thursday, October 2021 from 6:00 PM - 7:30 PM. Running school board candidates will be there to introduce themselves and answer community questions. ____________________ La clase de ASB y liderazgo de Wahluke High School organizará un foro de candidatos a la junta escolar abierto a la comunidad de Wahluke el jueves de octubre de 2021 de 6:00 p.m. a 7:30 p.m. Los candidatos a la junta escolar en ejecución estarán allí para presentarse y responder preguntas de la comunidad.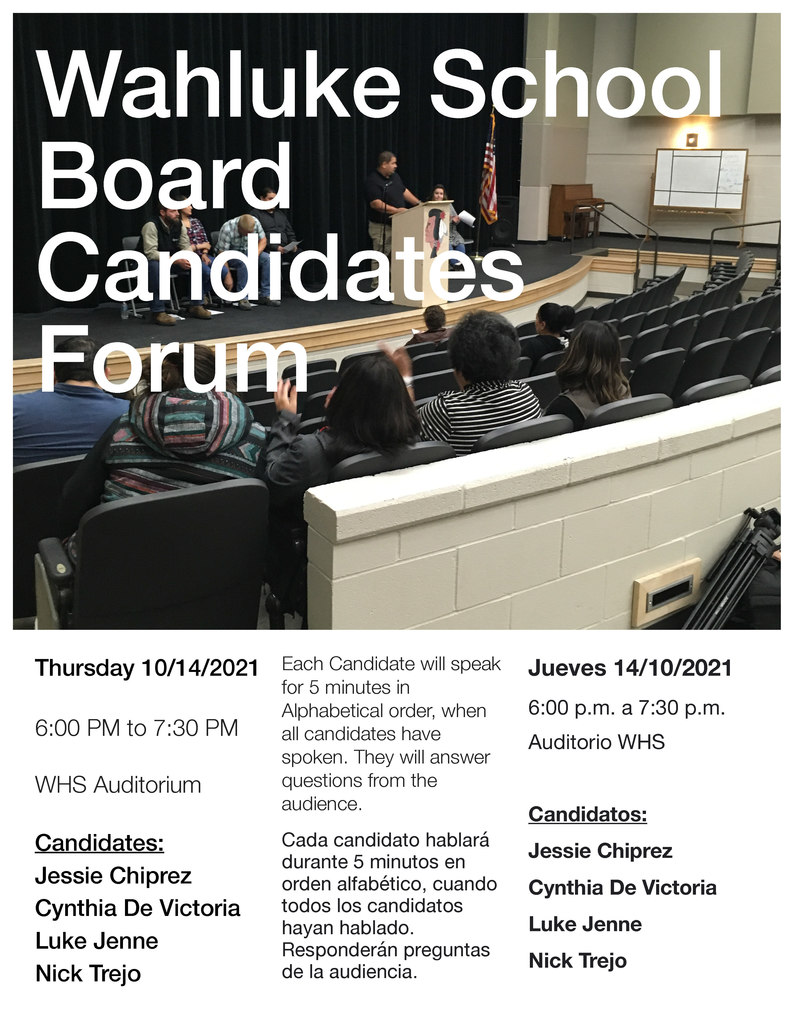 The National Custodial Worker's Recognition Day was on October 2, 2021. WSD would like to extend our appreciation to our custodial group of employees who keep our schools and facilities across the District running smoothly. Our custodial workers operate behind the scenes. They work hard to keep our schools and office buildings clean and well maintained. While delivering outstanding services and running a well-maintained building, they contribute to critical first impressions of WSD. Our custodial team is also frontline workers who show up daily to help the District mitigate the spread of COVID-19 and other variants. Thank you for all your hard work. We appreciate you all more thank you all know ____________ El Día Nacional de Reconocimiento del Trabajador de Conserjería fue el 2 de octubre de 2021. WSD desea extender nuestro agradecimiento a nuestro grupo de empleados de conserjería que mantienen nuestras escuelas e instalaciones en todo el Distrito funcionando sin problemas. Nuestros trabajadores de conserjería operan entre bastidores. Trabajan duro para mantener nuestras escuelas y edificios de oficinas limpios y en buen estado. Mientras brindan servicios sobresalientes y ejecutan un edificio en buen estado, contribuyen a las primeras impresiones críticas de WSD. Nuestro equipo de conserjes también son trabajadores de primera línea que se presentan a diario para ayudar al Distrito a mitigar la propagación de COVID-19 y otras variantes. Gracias por todo su arduo trabajo. Los apreciamos a todos más gracias a todos saben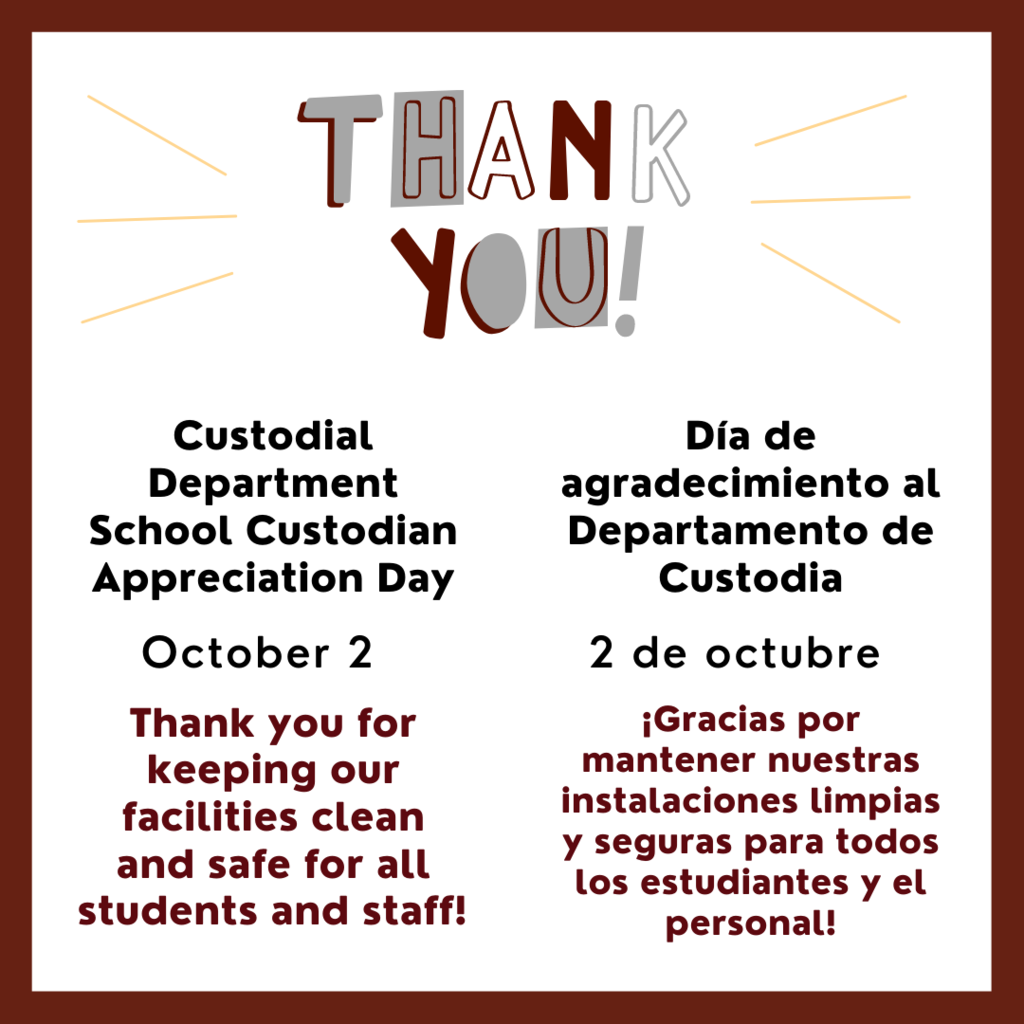 CDL Training in Mattawa is coming soon! Ready for that new career? Now is your opportunity to earn an industry-recognized Class A Commercial Driver License near home, in Mattawa, WA! Program Starts February 14, 2022 An information session will be held on October 28th,2021 @ 5:30 PM at the Wahluke High School Commons ¡La capacitación de CDL en Mattawa llegará pronto! ¿Listo para esa nueva carrera? ¡Ahora es su oportunidad de obtener una licencia de conducir comercial Clase A reconocida por la industria cerca de su hogar, en Mattawa, WA! El programa comienza el 14 de febrero de 2022 Se llevará a cabo una sesión de información el 28 de octubre de 2021 a las 5:30 p.m. en Wahluke High School Commons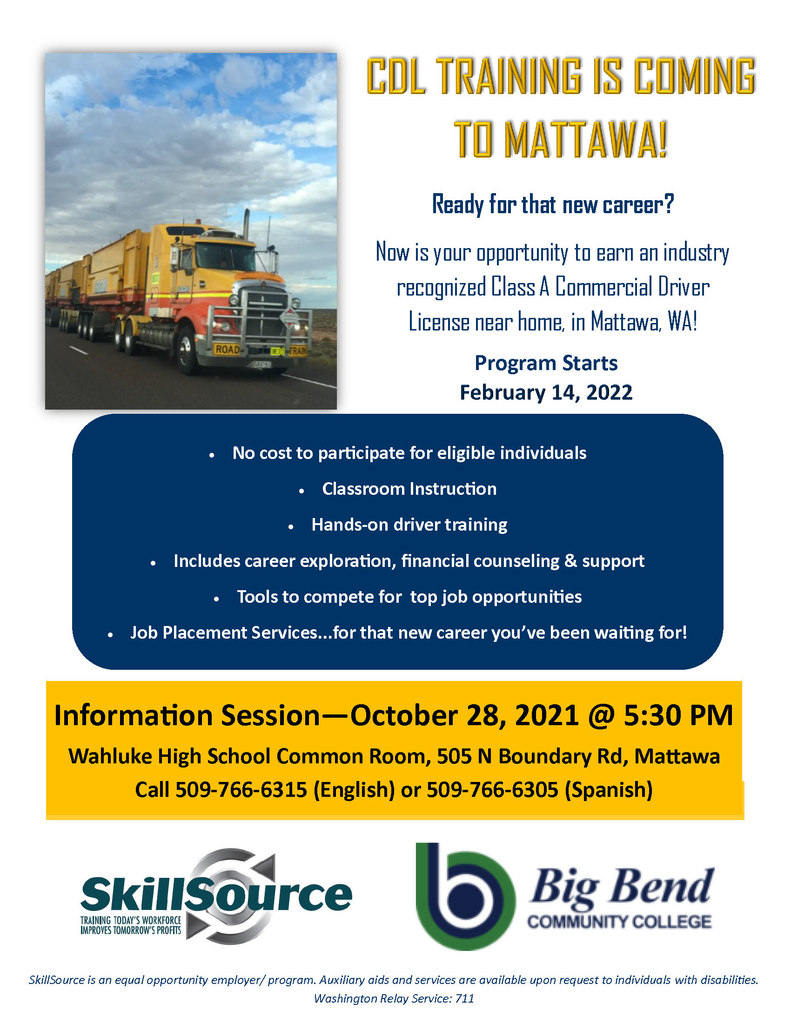 WSD would like to invite our Wahluke families to our upcoming Leadership Summit. WSD would like to help develop and elevate leaders within our district and community. In highly interactive and deeply engaging sessions led by diverse faculty who share their wisdom and practical perspective to support your leadership growth. _____________________________ WSD desea invitar a nuestras familias de Wahluke a nuestra próxima Cumbre de Liderazgo. WSD quisiera ayudar a desarrollar y elevar líderes dentro de nuestro distrito y comunidad. En sesiones altamente interactivas y profundamente atractivas dirigidas por diversos profesores que comparten su sabiduría y perspectiva práctica para respaldar el crecimiento de su liderazgo.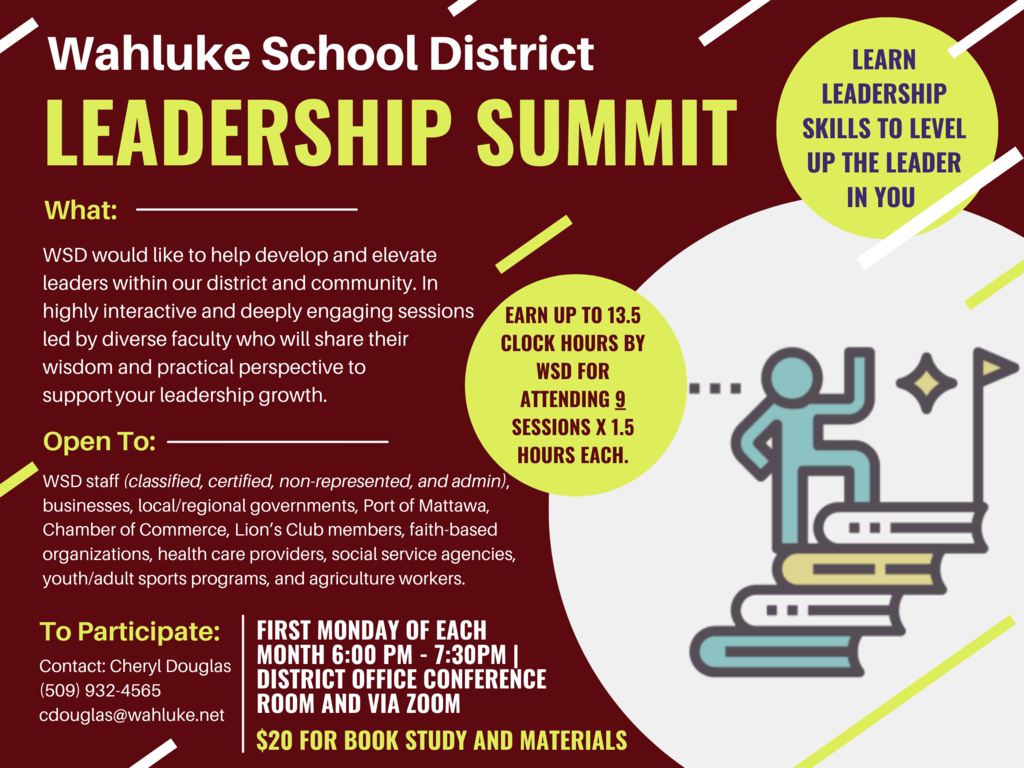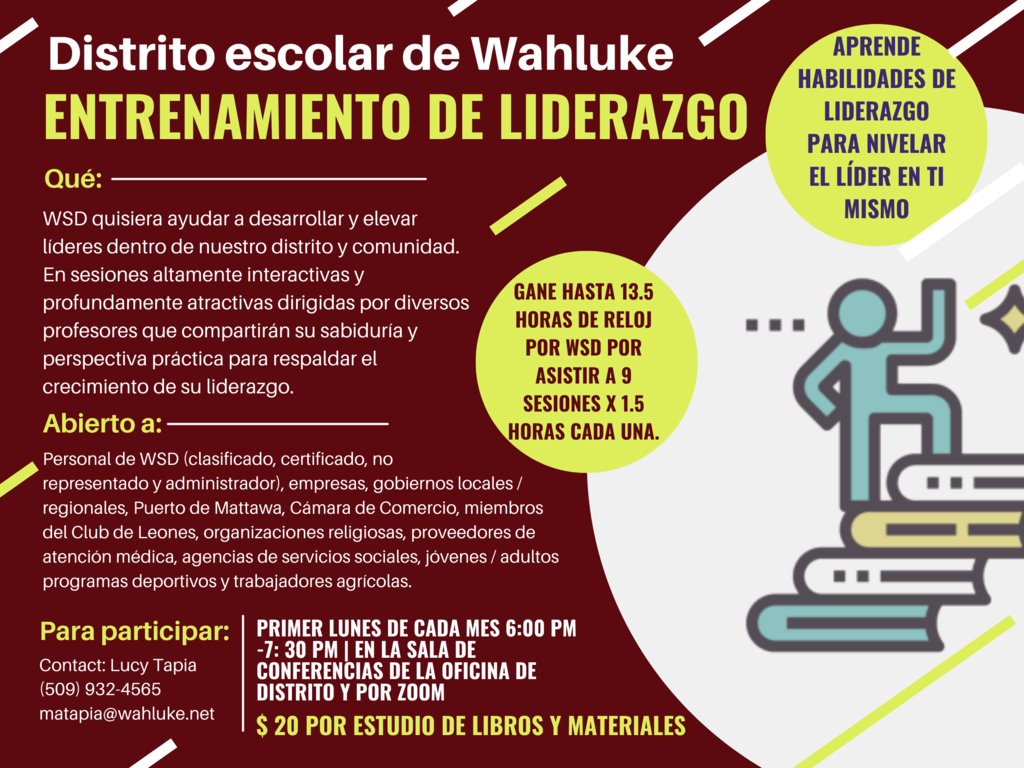 Big Bend Community College is partnering with the Wahluke School District to offer General Educational Development (GED) and English as a Second Language (ESL) classes in Mattawa, WA. This opportunity is open to all adults regardless of educational experience or residency. Registration will be on Monday, October 4th from 5:00 PM - 7:00 PM at the Wahluke Junior High Campus - Portable Class 24 _____________________________ Big Bend Community College se está asociando con el Distrito Escolar de Wahluke para ofrecer clases de Desarrollo Educativo General (GED) e Inglés como Segundo Idioma (ESL) en Mattawa, WA. Esta oportunidad está abierta a todos los adultos independientemente de su experiencia educativa o residencia. La inscripción será el lunes 4 de octubre de 5:00 p.m. a 7:00 p.m. en el campus de Wahluke Junior High - Clase portátil 24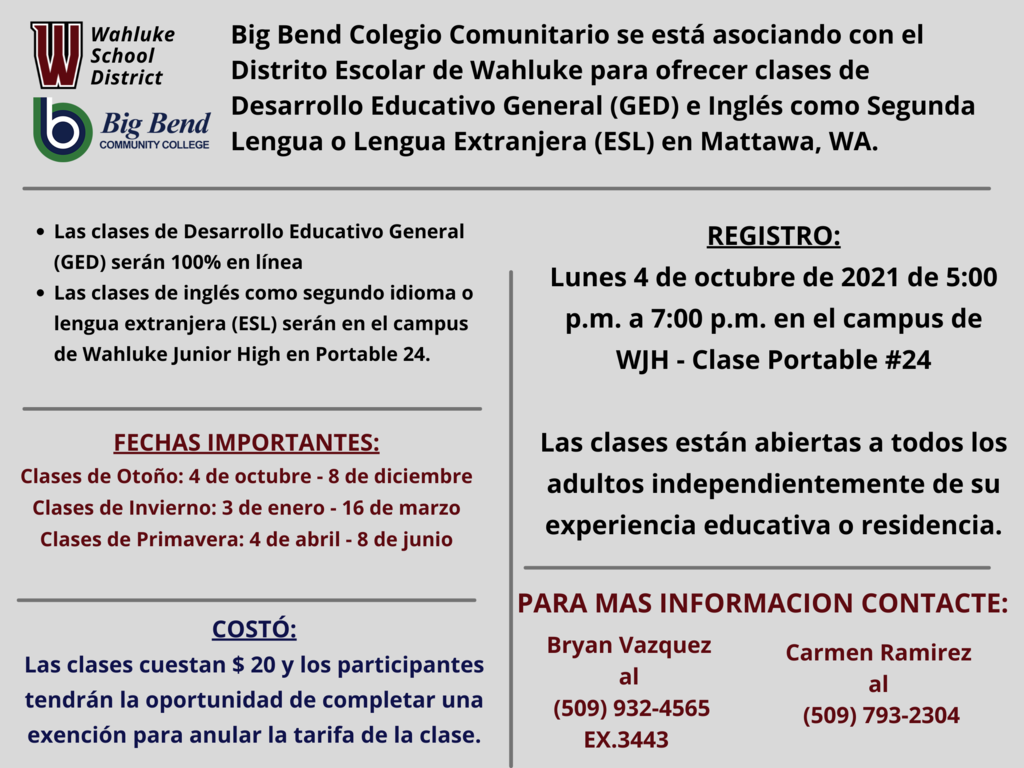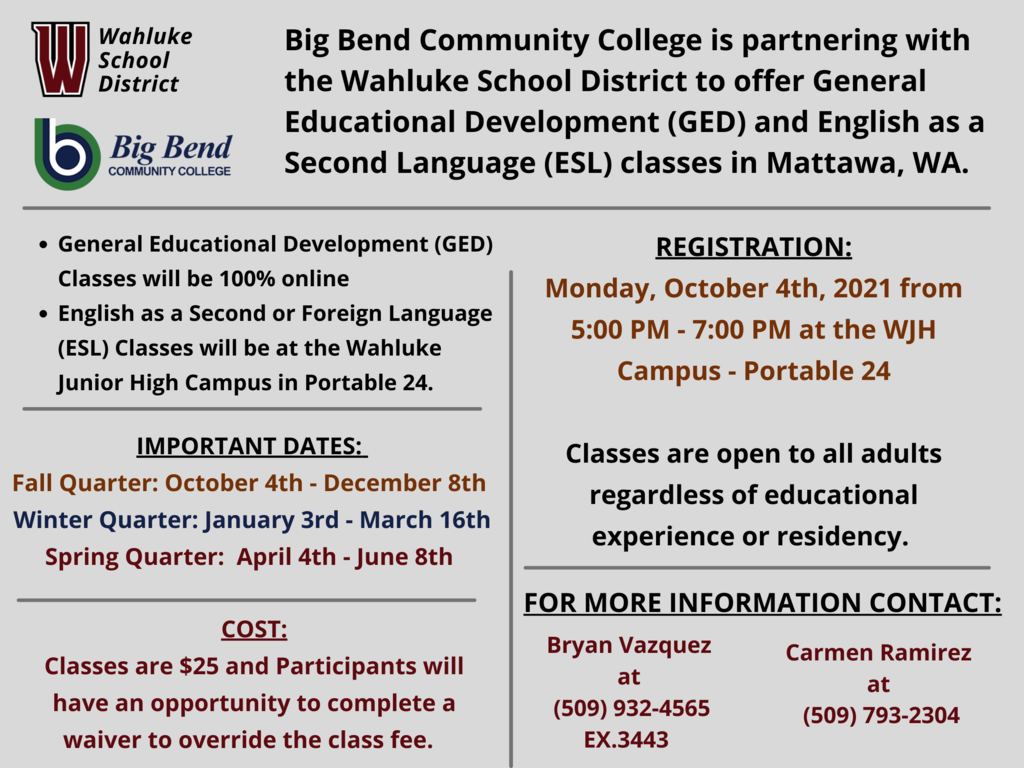 Welcome to October WSD Families! A couple of dated to look out for this month: Upcoming Dates: – Parent-Teacher Conferences on October 20th-22nd – Unity Day October 20th - Wear Orange to Promote Bully Prevention – Early Release for Kinder-12th Grade Students on October 29th 🍂🍂🍂🍂🍂🍂 ¡Bienvenidos a las familias de WSD de octubre! Un par de citas a tener en cuenta este mes: Fechas siguientes: - Conferencias de padres y maestros del 20 al 22 de octubre - Día de la Unidad 20 de octubre - Vístase de naranja para promover la prevención del acoso - Salida Temprano para estudiantes de kínder a 12 ° grado el 29 de octubre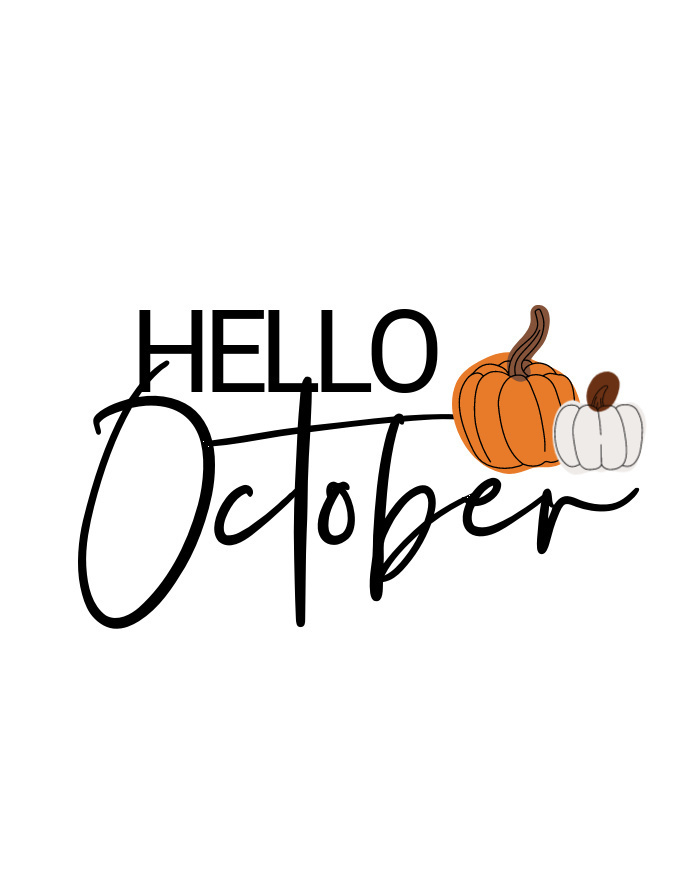 Congratulations, Mr. Victor Longmire! Mr. Longmire was recognized today for nearly 30 years of service to Wahluke School District. He was awarded a crystal apple statuette by WSD Superintendent Andy Harlow and SME Principal Kurt Hoffman at a special ceremony event in his honor. We are grateful and proud to have had Mr. Longmire take the lead in many roles in our transportation department and elementary nutrition department. WSD offers our heartfelt congratulations to him in recognition of this service milestone. His positivity and friendliness will surely be missed. Thank you for so many wonderful years of kindness and dedication to our students and staff, and best wishes in your retirement. New adventures await 🎉 Here is a special moment with Mr. and Mrs. Longmire, WSD ❤️ you! ___________________ ¡Felicitaciones, Sr. Victor Longmire! El Sr. Longmire fue reconocido hoy por casi 30 años de servicio al Distrito Escolar de Wahluke. El superintendente de WSD Andy Harlow y el director de SME, Kurt Hoffman, le otorgaron una estatuilla de manzana de cristal en una ceremonia especial en su honor. Estamos agradecidos y orgullosos de haber tenido al Sr. Longmire trabajar en muchos roles en nuestro departamento de transporte y en el departamento de nutrición de la escuela primaria. WSD le ofrece nuestras más sinceras felicitaciones en reconocimiento a este hito de servicio. Seguramente extrañaremos su positividad y amabilidad. Gracias por tantos años maravillosos de amabilidad y dedicación a nuestros estudiantes y personal, y los mejores deseos en su jubilación. Te esperan nuevas aventuras 🎉 ¡Aquí tienes un momento especial con el Sr. y la Sra. Longmire, WSD ❤️ tú!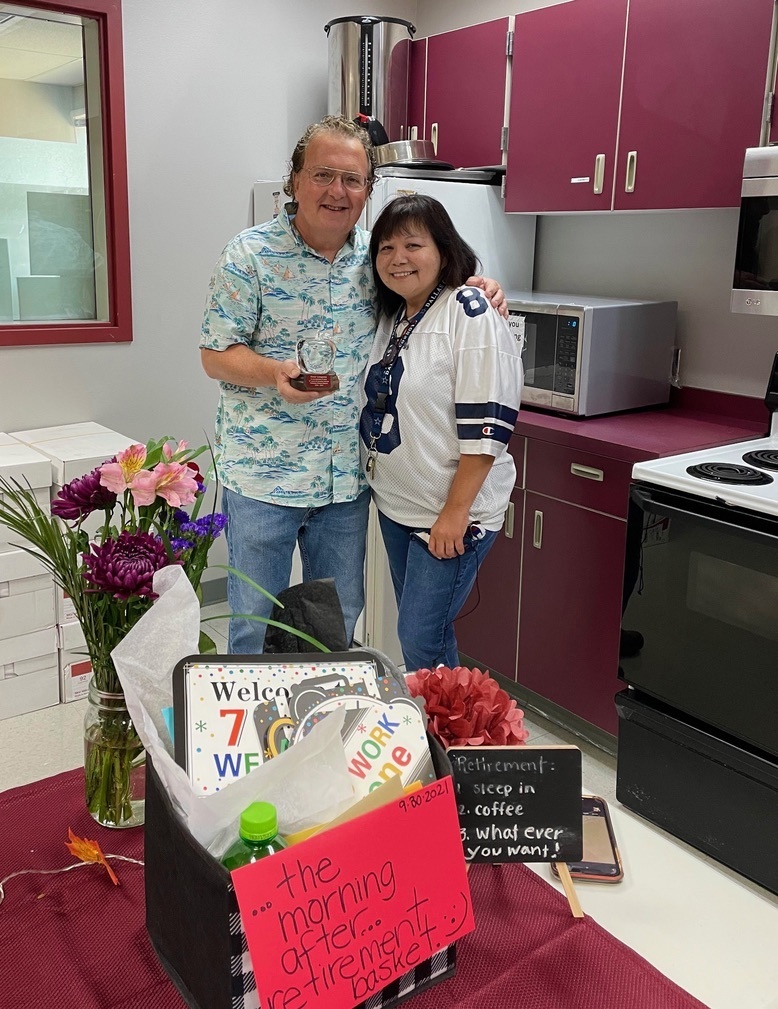 Happy Monday, Wahluke Families! A reminder that the Community of Mattawa will be hosting a food distribution drive on Tuesday, September 28th, from 3:30 PM -5:30 PM. __________________ ¡Feliz lunes, familias de Wahluke! Un recordatorio de que la Comunidad de Mattawa organizará una campaña de distribución de alimentos el martes 28 de septiembre de 3:30 p.m. a 5:30 p.m.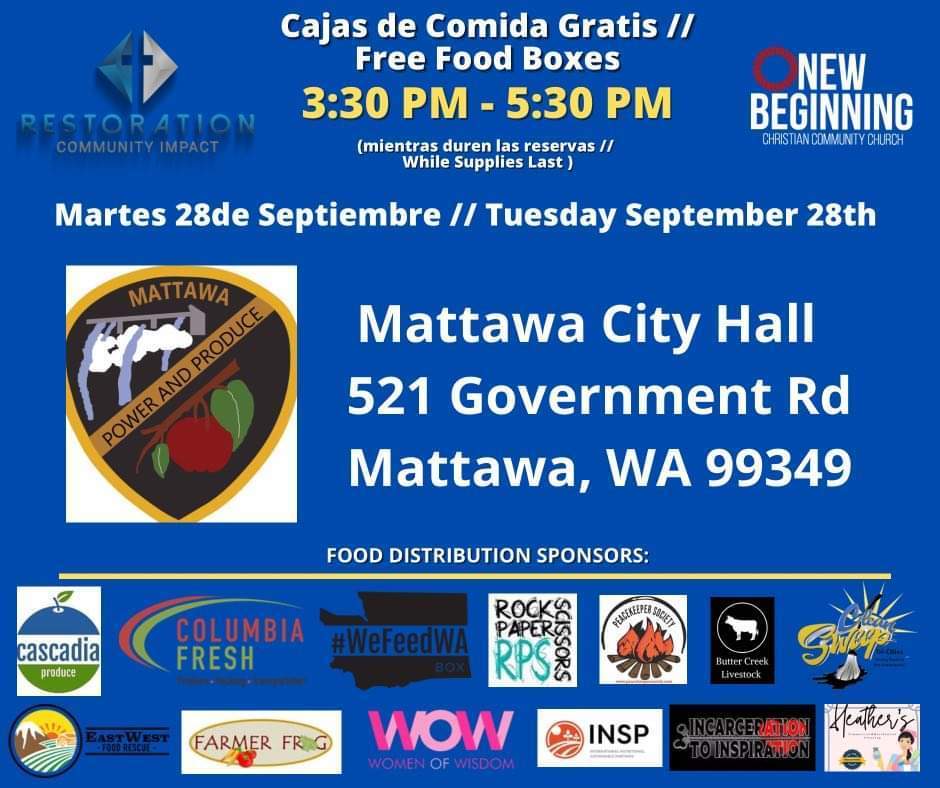 Thank you, WSD IT Team! #NationalITProfessionalsDay is this Tuesday, September 21st. Whether on desktops, laptops, mobile devices, applications, servers, networks, databases, or cybersecurity, IT professionals keep us connected. Shout out to all the talented IT members of the Wahluke School District! Thank you, Mr.Victoria, Mr.Gonzalez, Mr. Rinehart, and Mr.Sherman You are appreciated for all the work you do to help our staff and students succeed! 💻💻💻💻💻💻 ¡Gracias, WSD equipo de tecnología! Hoy es día nacional de equipos de tecnología - martes 21 de septiembre. Ya sea en computadoras de escritorio, portátiles, dispositivos móviles, aplicaciones, servidores, redes, bases de datos o ciberseguridad, los profesionales de TI nos mantienen conectados. ¡Saludos a todos los talentosos miembros de TI del Distrito Escolar de Wahluke! Gracias, señor Victoria, señor González, señor Rinehart y señor Sherman ¡Se les agradece todo el trabajo que hace para ayudar a nuestro personal y estudiantes a tener éxito!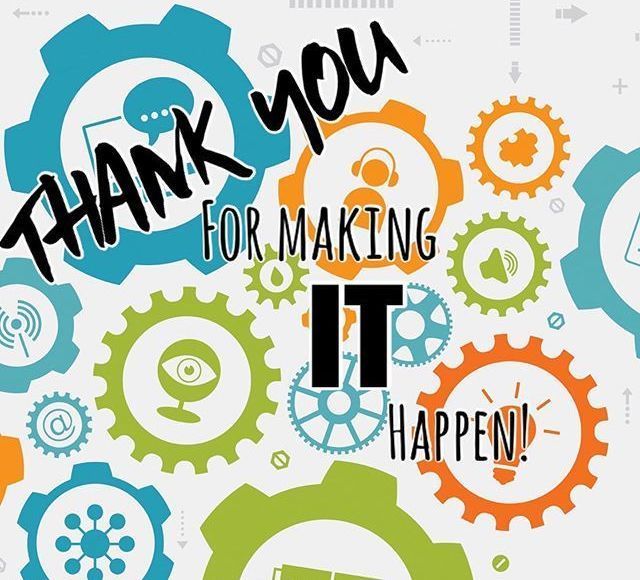 Wahluke School District would like to give our condolence to the Melvin family and give our respects to the late Deputy Sheriff Jon Melvin Deputy Melvin had served with the Grant County Sheriff's Office for 35 years. He was serving as a contract city deputy in the Desert Aire community in south Grant County, where he lived, before his death. He also served as our District Resource officer and a boating deputy for many years. WSD honors Deputy Sheriff Melvin's legacy of hard work and dedication. A memorial service will take place today, September 16th at the Cave B Estate Winery in Quincy at 1:00 PM. __________________________________________________ El Distrito Escolar de Wahluke desea dar nuestras condolencias a la familia Melvin y dar nuestros respetos al difunto Sheriff adjunto Jon Melvin El ayudante Melvin había trabajado en la Oficina del Sheriff del condado de Grant durante 35 años. Se desempeñaba como diputado de la ciudad por contrato en la comunidad de Desert Aire en el sur del condado de Grant, donde vivía, antes de su muerte. También se desempeñó como nuestro oficial de recursos del distrito y asistente de navegación durante muchos años. WSD honra el legado de arduo trabajo y dedicación del alguacil Melvin. Un servicio conmemorativo se llevará a cabo hoy, 16 de septiembre en la bodega Cave B Estate Winery en Quincy a la 1:00 PM.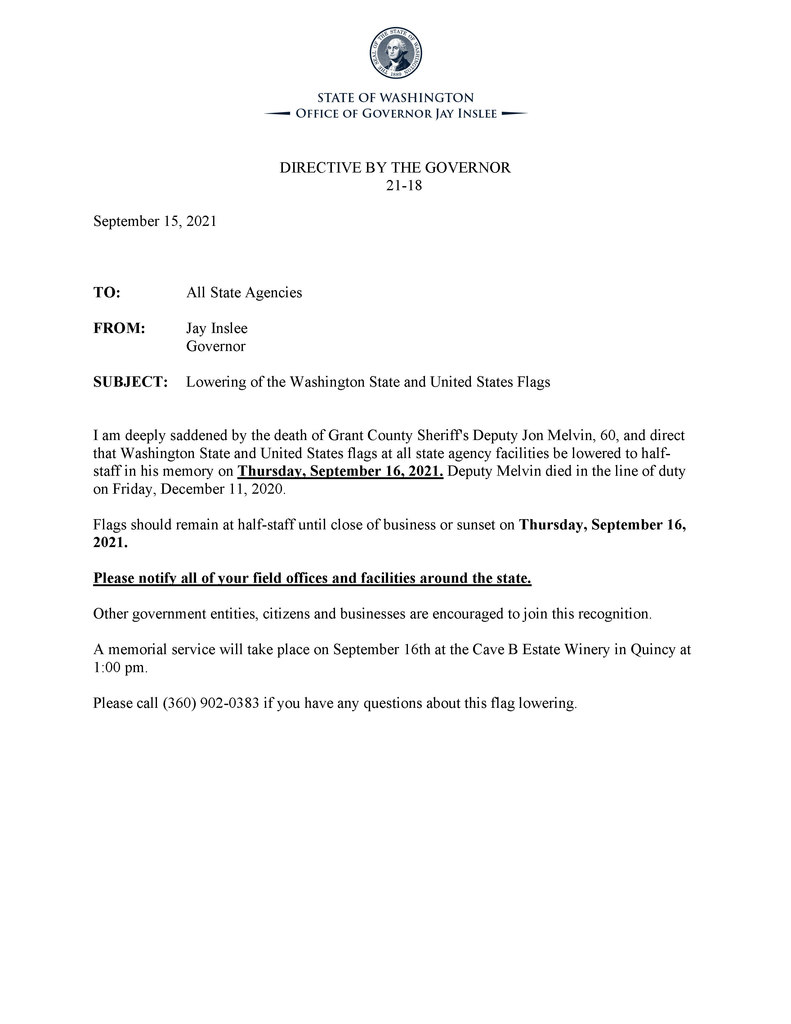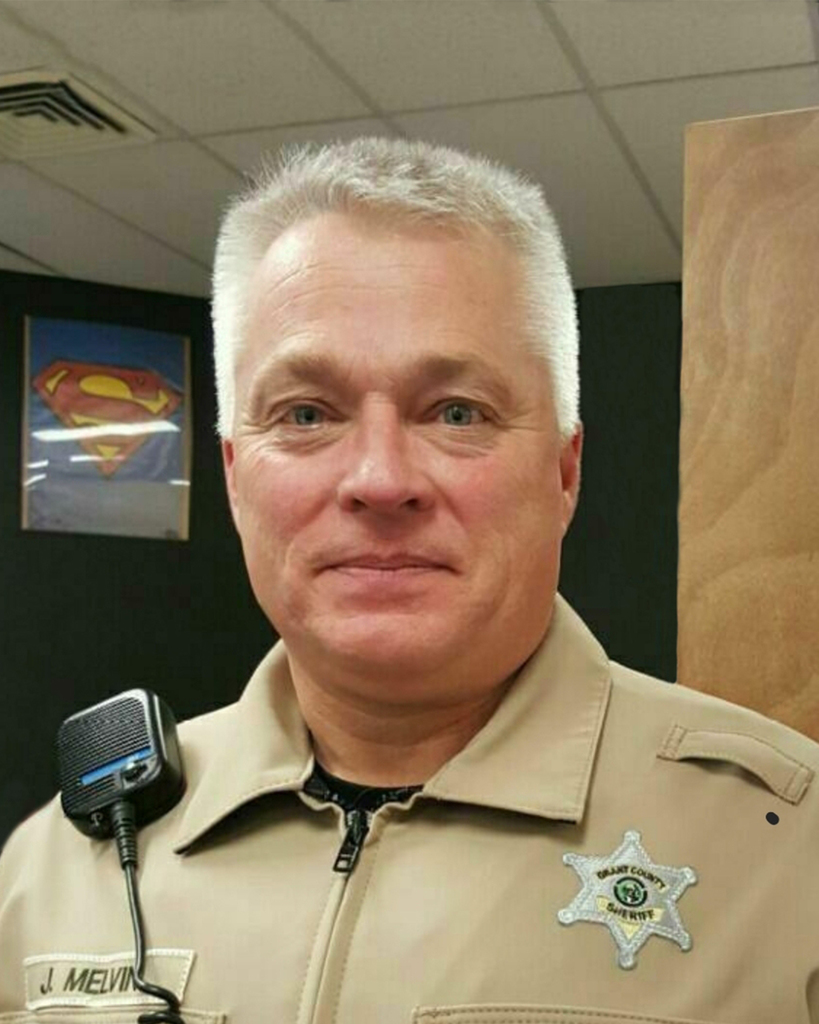 🚌 Transportation Announcement Update: For September 16🚌 Starting Thursday, September 16, 2021 Bus Route 3 and route 4 will be going back to normal pick up times. Route 3 for roads 26 and U road. Starting pick up time will be at 7:15 AM and dropped off at 3:15 PM. Route 4 for roads 24 SW and U road Starting pick up time will be at 7:00 AM and drop off at 3:10 PM. Thank you for your patience as WSD and the Transportation Department do our best to accommodate our transportation process. ––––––––––––– 🚌 Actualización del anuncio de transporte: para el 16 de septiembre🚌 A partir del jueves 16 de septiembre de 2021, la ruta de autobús 3 y la ruta 4 volverán a los horarios normales de recogida. Ruta 3 por carreteras 26 y carretera U. La hora de inicio de recogida será a las 7:15 a. M. Y la de regreso a las 3:15 p. M. Ruta 4 para las carreteras 24 SW y U La hora de inicio de recogida será a las 7:00 a. M. Y la de regreso a las 3:10 p. M. Gracias por su paciencia mientras WSD y el Departamento de Transporte hacen todo lo posible para acomodar nuestro proceso de transporte.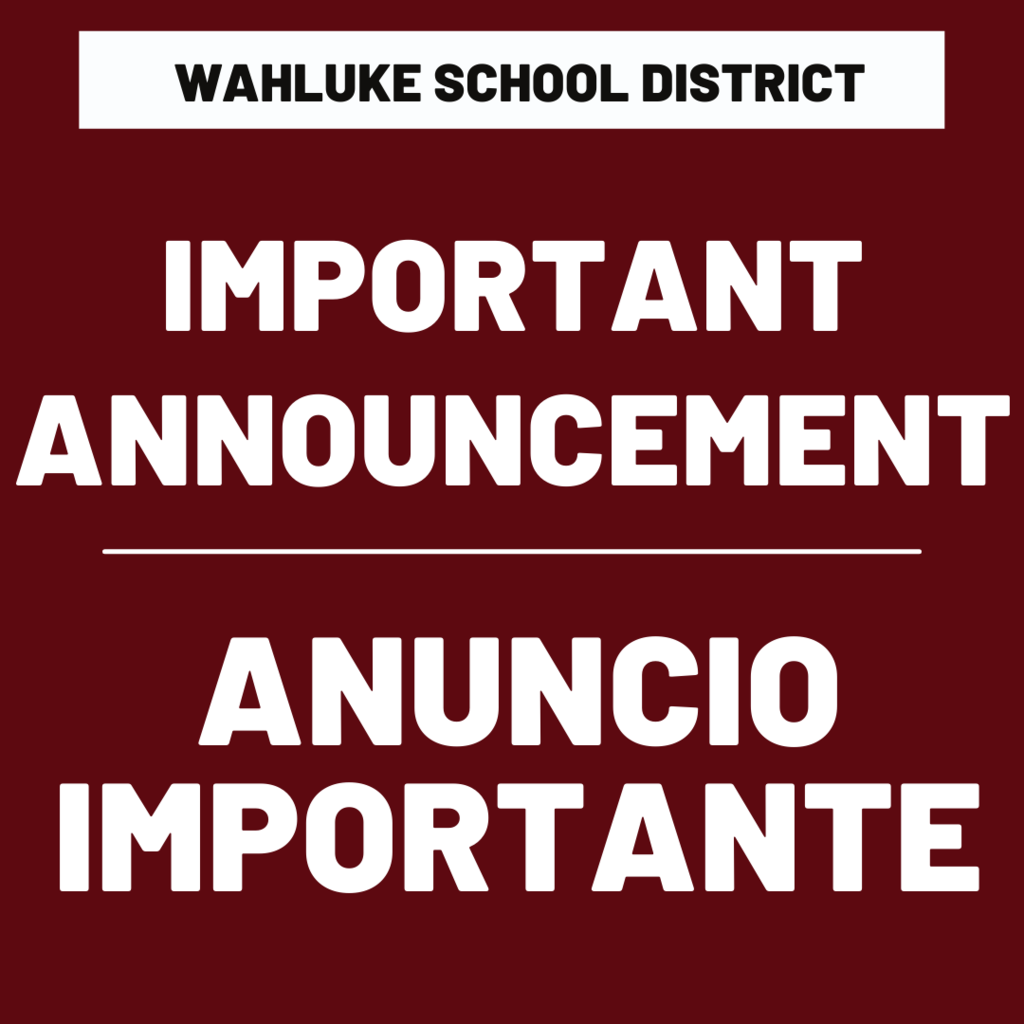 Today is the first day of National Hispanic and Latinx Heritage Month! Hispanic Heritage Month is from September 15 to October 15 and celebrates the histories, cultures, and contributions of American citizens whose ancestors came from Spain, Mexico, the Caribbean, and Central and South America. 🇲🇽 🇬🇹 🇨🇴 🇸🇻 🇵🇷 🇧🇴 🇨🇱 🇨🇷 🇨🇺 🇩🇴 🇪🇨 🇭🇳 🇳🇮 🇵🇦 🇵🇾 🇵🇪 🇪🇸 🇺🇾🇻🇪 The day of September 15 is significant because it is the anniversary of independence for Latin American countries Costa Rica, El Salvador, Guatemala, Honduras, and Nicaragua. In addition, Mexico and Chile celebrate their independence days on September 16 and September 18. Starting today WSD will be sharing informational facts about the Hispanic and Latinx demographics, culture and history every Wednesday. ________________________________ ¡Hoy es el primer día del Mes Nacional de la Herencia Hispana y Latina/o! El Mes de la Herencia Hispana y Latino es del 15 de septiembre al 15 de octubre y celebra las historias, culturas y contribuciones de los ciudadanos estadounidenses con antepasados queue vinieron de de España, México, el Caribe y Centro y Sudamérica. 🇲🇽 🇬🇹 🇨🇴 🇸🇻 🇵🇷 🇧🇴 🇨🇱 🇨🇷 🇨🇺 🇩🇴 🇪🇨 🇭🇳 🇳🇮 🇵🇦 🇵🇾 🇵🇪 🇪🇸 🇺🇾🇻🇪 El día 15 de septiembre es significativo porque es el aniversario de la independencia de los países latinoamericanos Costa Rica, El Salvador, Guatemala, Honduras y Nicaragua. Además, México y Chile celebran sus días de independencia el 16 y 18 de septiembre. A partir de hoy, WSD compartirá datos informativos sobre la demografía, la cultura y la historia de los hispanos y latinx todos los miércoles.